Ombre (or shaded dyeing) is a fashion trend that's been around in both hair and clothing, but how to wear it so it's flattering and what to be wary of so you don't buy an unflattering garment.
The thing to remember is the rule of advancing and receding colours
Dark colours recede and make things appear less noticeable
Light colours advance and draw attention.
So look for an ombre that is lighter where you are happy to draw attention, and darker where you'd like to camouflage the area.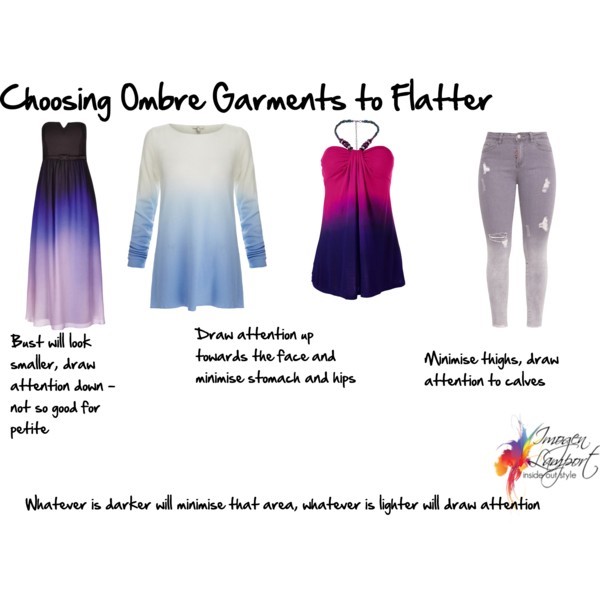 Let's look at the pics in the image above and analyse who they would work for.
Dress on the left: the dark top will minimise a larger bust and it's still dark over stomach and hips so will minimise those areas before drawing attention downwards. Because of the focus being down at the knees and feet, it's best for average or taller women, not so great for petites. Ideal for Tall V shape or large busted X shape.
Two middle tops above: These both are lighter/brighter up at the top of the garment, drawing attention upwards towards the face, broadening shoulders and making the decolletage the feature, minimising stomach and hips. Ideal for A shape, X shape, 8 Shape, O Shape (colour wise).
Jeans on the right: Because the top of the jeans, stomach, hips/thigh area is darker these will minimise thighs and draw attention downwards, so like the first dress, better for taller rather than shorter women. Ideal for X shape, A shape, 8 Shape, H shape.
Not sure of your body shape? If you'd like my professional opinion you can get this as part of my 7 Steps to Style program, or you can do my free body shape calculator quiz here.