Hi Imogen. I am working on making a wardrobe capsule. The colors are brown, red, grey and white. I have an argyle sweater that I would like to build the capsule around. Would like to have some print pieces in the capsule. My question, what print patterns would work with the argyle sweater or should I just stay with plain fabric? Thank you for your help. Lynda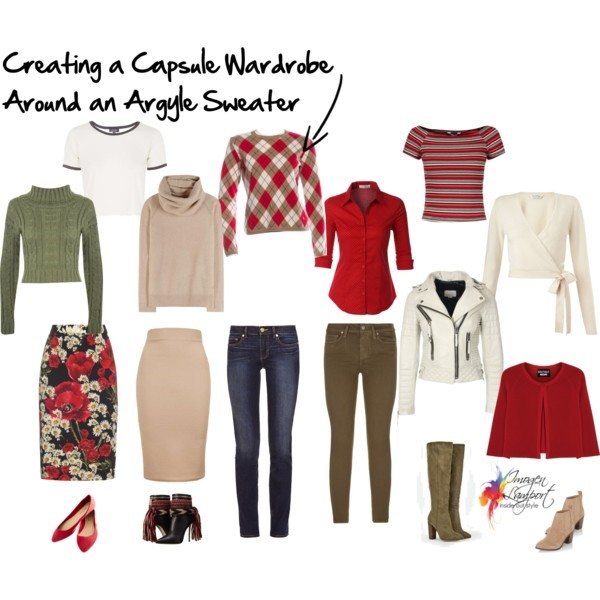 Here's a simple capsule created around an argyle sweater in camel, white, red and grey.
Here are My Secrets to Mixing Prints in a Capsule Wardrobe
With regards to whether you should avoid all other pattern – my answer is no, if you can find another pattern that colour matches your sweater and relates well to it. Here I've gone quite "out-there" and chosen a floral patterned skirt as part of my capsule. The colours revolve around the colour in each of the prints too.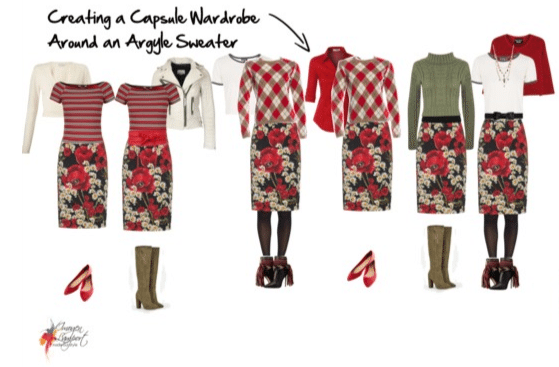 So I've taken the skirt and created a bunch of outfits with it (6 here, but you could layer the tops differently for more outfit options should you choose to!).
You can see that I've also included a striped top as well (so 3 patterns in this capsule), but all have colours in common which is why they work. Plus the patterns are different from each other.
Stripes work with any other pattern. You can, when mixing prints, basically consider stripes to be a solid.
The floral is a very different scale to the scale of the other patterns which allows it to work with both smaller and larger scale prints. This print is great as it has both very large and also medium scale elements which gives it more variety.
See too how the floral is a curved pattern, whilst the argyle and stripes are both straight patterns. You wouldn't want to mix checks with the argyle as it would make it rather unpleasant to look at (and kind of hurt your eyes).
14 Days of Layered Outfits from 13 Garments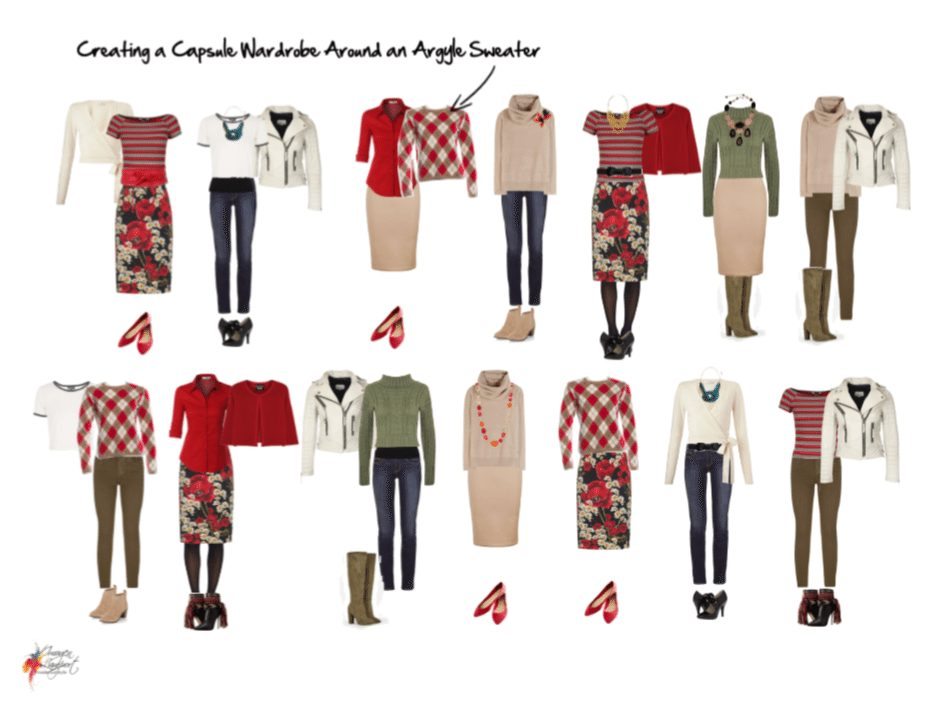 Here's 2 weeks worth of outfits created with this capsule wardrobe. It's just the start of the outfits you could create from this capsule of 13 garments.
Notice that I've added in accessories to create interest and variety. Alternative colours not included in the capsule can also be added by accessories to give more interest and excitement to the capsule (and so you feel you're not stuck wearing the same few colours).
Notice that apart from black shoes/accessories, there are not any solid black garments in this capsule.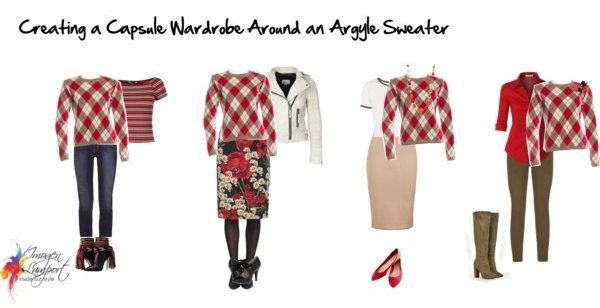 You can see here that the sweater is more a top layer, and can be layered over many of the tops in the capsule, or under a jacket if necessary. Plus it goes with all the bottoms chosen, giving you the best variety and alternatives for mixing and matching your wardrobe.
Get more tips on creating wardrobe capsules around a patterned hero here.
Watch the video on how to create 72 outfits from 12 garments here and it includes a couple of patterns.
Plus get my free guide on how to mix but not match prints and colours here.
And of course you can download my printable guide to creating wardrobe capsules here and also discover more about planning outfits here.