After my post on Highlighting Your Assets, some commenters seemed to have trouble working out what their assets are, they've spent so long being told about and focussing on their 'flaws' but never 'assets'. I see everything as an asset, and don't believe in flaws. It's just that some assets you may want to highlight, and some assets you may wish to camouflage.
For example, asset – a large bust, some situations I might want to draw attention to it, and sometimes draw attention away.
Some women love their booty (another asset) and want to draw attention to it with pocket detail on their jeans, others would rather that it wasn't the focus of attention.
There is no absolute right or wrong, it's how YOU feel about your body, the situation and appropriateness for that situation.
Over the years I've met clients who have trouble finding any part of their body they consider to be an asset (and as
Duchesse commented
, don't ask your sweetheart, he'll tell you everything is an asset). Instead ask a trusted friend. You may be surprised about what they see as your most attractive assets that you have completely overlooked.
Metscan commented that she wasn't sure what to highlight, but mentioned she has long calves, is tall, and is short waisted, so for a quick idea I did this Polyvore.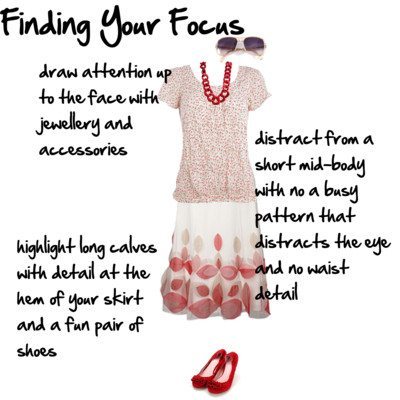 This is a simple outfit that creates two focal points, the lower legs and above the decolletage.
Add a bracelet and you'd draw attention to your forearms, wrists and hands, choose some glittering earrings to draw attention to your face.
Homework for today: go and ask a friend what they think your assets are and report back – are you surprised what others see as assets that you ignore?