Focal points are created by detail on clothing – whether it's colour, shiny fabrics, pockets, distressing on jeans, ruffles, pattern, belts, beading or jewellery. You can use detail to draw attention to your assets and away from areas you'd rather people didn't notice.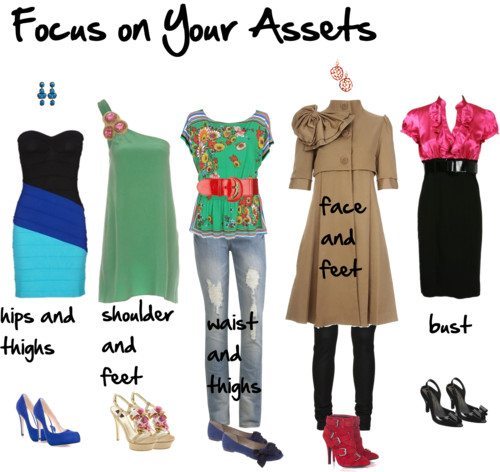 You can see from this collection how the details draw attention to different areas of the body, depending where the colour, accessories, sheen and pattern sit.
Face: draw attention with jewellery and detail high up on garments.
Neck: necklaces and high ruffled collars.
Shoulders: interesting lapels and shoulder detail.
Arms: cap sleeves and sleeve detail.
Wrists/hands: cuff detail, bracelets, watches and rings.
Bust: ruffles, sheen, graphics and brighter and lighter colours can all draw attention.
Waist: belts and colour changes at the waist will highlight.
Hips/thighs: distressing on denim, colour blocking, hems that end at the thighs draw focus.
Calves: horizontal feature bands at the hem, ruffled skirt and dress hems.
Feet: Shoes with sparkle and detail, alternate coloured shoes.