I was over at Academic Chic who all LOVE belts, in a big way. This week, S is doing a course on belting, if you're interested in following along.
Belting is something that you need to try out for yourself, some of us have bodies that belt well (body shapes -I, X, 8 A, V) shapes and some of us find it much harder to find a belt that is flattering (H, O).
So what are some of the quick and easy rules?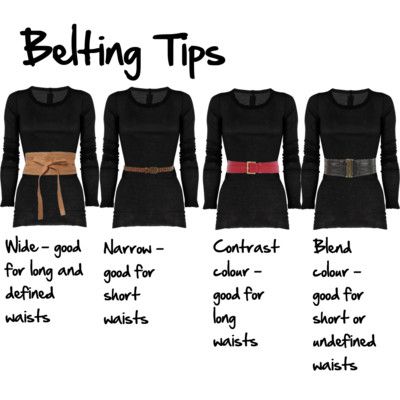 If you have a defined waist, show it off! Belt away, if you have a long waist wider belts work, if you have a shorter waist, go for narrower belts so they don't further shorten your torso. (Not sure about your body proportions, start reading here)
Also, if you have a short waist, think about colour blending the belt, rather than contrasting the colour of the belt. And of course the opposite applies to the long waisted gal.
H shapes (those with undefined waists, similar width hips, shoulders and very little waist definition, and not long through the body) will find belting difficult, as belts just exaggerate their non-existent waist and make them look even more waist-less – they don't have that 'cinching' effect that we would so desire. Instead, try a belt that is curved, sits higher at the waist, and drops down at the front to sit more on the hips, this will give you an illusion of a more waisted shape.
A large bust will also make you look shorter waisted, and belting will make your bust look larger. Belting works well on many women with smaller busts.
O shapes are best to belt at the hips, in a non-contrasting colour.
You will also find that it's easier to belt a longer garments, such as a dress or a long cardigan, than a shorter garment, if you have a shorter waist. This is because the length of the fabric creates a longer vertical line, so some breaking up is not so shortening, as the visual shortening of an already shorter garment.