How to Choose Jeans
Whether it's pocket placement or shape, there are a few things you need to think about when choosing a flattering pair of jeans.
These 7 for All Mankind jeans (right) will flatter someone with a boyish shape and make their hips look curiver. They are murder on someone who is already conscious of the size of their hips. The reason is the 'whiskering' on the crotch area and that they are a skinny shape emphasises the difference in size between hip and ankle.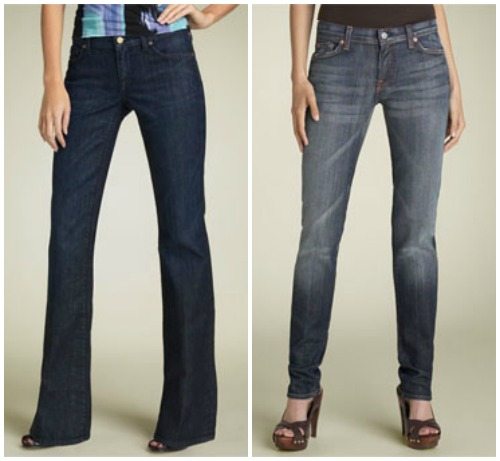 These Citizens of Humanity jeans (left) are much more flattering for a woman with hips as they are a dark wash which helps to make the legs and hips look slimmer, a boot cut which balances hips and thighs and have no pocket detail over the hips or whiskering of the fabric.
If you have a flat bottom, look for jeans with flap pockets like these Hudson Jeans (left) which will help to add some curve to your rump. If you've got lots of junk in your trunk, avoid too much pocket detail.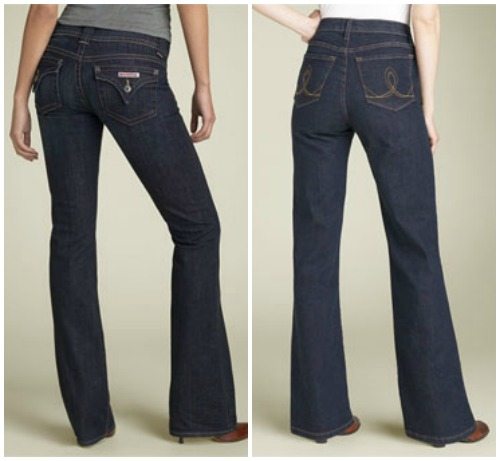 If you have short legs, look for high pockets like these Not Your Daughter's Jeans (right) to make the legs look longer.
Want more tips on choosing jeans? Then head over and check out:
How to choose jeans for your body shape
More tips on choosing jeans pockets