X body shapes (hourglass figures) have defined waists, but their shoulders and hips are the same width (unlike the A who has wider hips than shoulders). There is a longer straighter slope from waist to hips (unlike the high shelf-like curve of the 8 shape).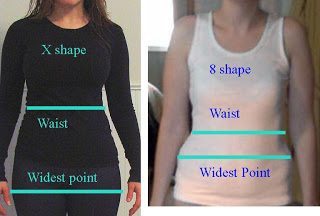 You can see that the X shape has a much lower widest point than the 8 shape.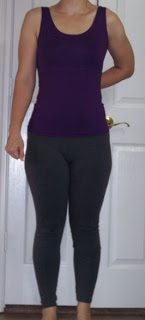 X shapes are often longer through the body, but the length can vary (like all body shapes there are a myriad of options)
Some Xs as they gain weight will start to lose their defined waist and become more H shaped. Others will keep a more defined waist and become more of an A shape.
How to dress your X shape: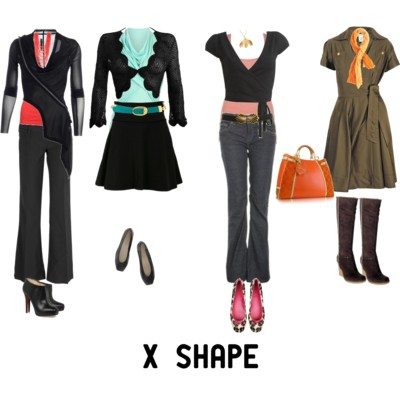 It's all about highlighting your lovely waist. Wearing a well supporting bra will help to enhance your waist and make it more defined. Don't to forget to adjust your bra straps every 3 or 4 washes.
Don't be afraid to tuck and belt.
Try belting over cardigans and jackets as well as tops.
The wrap dress is ideal for you. Dresses in general can really enhance your feminine figure. From sheath dresses to shirt dresses, try them on for size.
Bootleg jeans are ideal for your shape. If you want to wear skinny jeans, wear with knee-high boots over the top to balance, or a tunic top to mid-thigh.
Avoid whiskering and distressing of jeans.
Patch pockets on pants or coats should be avoided.
Avoid low-rise jeans – commonly X shapes have a longer rise, and need a higher rise so that when they sit down their underwear is not exposed.
You will often find that wide-waistbands sit better on your waist than narrow ones.
A-lines are your friend – whether in dress or skirt shapes. Make sure the fabric has as soft drape so that it doesn't sit stiffly away from your body.
Skirts with pleats and gathers that fall from the low hip are flattering.
You will often find that more open necklines are the most attractive, they draw attention up toward your face.
Gored and trumpet shapes can work well. Look for fabrics with some weight (but not stiffness) that doesn't cling.
Keep tops to just under your high hip bone, avoid pulling your tops down to hide your bottom or thighs, as this will actually draw more attention to them.
Darker bottoms and lighter tops are more flattering for you than the other way around.
You will probably find that skirts that end around the knee are the most flattering length.
Single breasted jackets are more flattering than double breasted. Avoid ones that end just under the bottom, keep them either shorter, or 3/4 length.
Many X shapes have shorter legs, and will find it hard to buy trousers that don't pull across the crotch. Skirts can often work better for your shape, especially if you have a longer rise.
To elongate your legs when wearing trousers, match shoe colour to your trousers, and keep the hem as long as possible, without dragging on the ground. Cropped trousers are not as flattering on your figure.
Creases down the front of your trousers will also help elongate your legs.
Look for denims with a vertical weave.
Boxy shapes are not a good fit for your body.
Celebrities with X shaped body include Fergie, Halle Berry and Scarlett Johansson.
For more on dressing your X shape read up here.