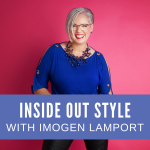 Your questions answered in this episode:
0.13 How many tops should go with each bottom your wardrobe? When shopping should a new garment work with three other items?
5.39 Dresses and skirts are easy to buy, pants are hard to find and they never fit well – what makes it so hard?
10.40 Online shopping – it's so hard to find the right things as fit and quality are not always apparent – any tips?
Wardrobe Capsules
6 Things Pregnancy Can Teach You About Building a Fabulous Wardrobe
Two Important Factors to Consider When Creating a Capsule Wardrobe
Pant Fit
Online Shopping Tips
Subscribe to my Podcast
You can now get these videos as podcasts subscribe and never miss an episode
Send Me Your Colour and Style Questions
Please do email me your colour and style questions to answer on upcoming videos!