Inside Out Style Reader Question
Online shopping tips, please! How to get a good enough match with the colour in the palette from Imogen as each of the colours in the swatch has their own names; can I use it for online shopping?
This is a tricky one – sadly there is not a fabulous answer that I can give you but here are a few tips.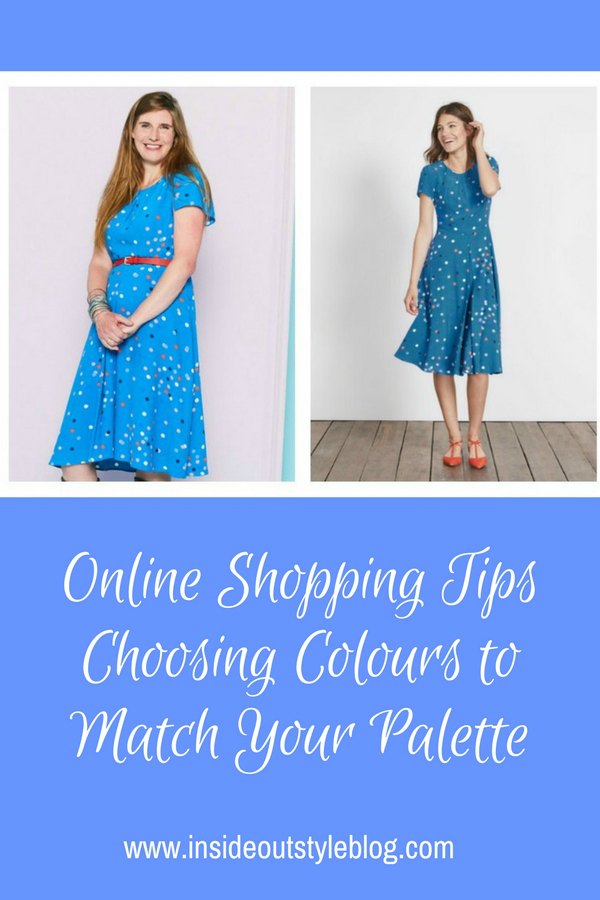 6 Online Shopping Tips For Getting the Right Colour
If you have a colour palette from a personal colour analysis, it's great to be able to match what you buy to it so that you create a versatile mix-and-match wardrobe giving you lots of outfit options (this is one of the many benefits of working with a colour palette of your ideal colours). When online shopping, it's hard to know if the colour you see on your screen is accurate.
1. Get to Know the Brand
If you are lucky enough that you can visit a brand in their bricks and mortar store and so get to see the clothing in real life as well as online – compare the colours – they may habitually pump up the colours (or even dull them down). Once you know what they do, you then have a better idea of what the colours will be like.
I know that I've often looked online at stores before heading into them to shop with a client, and have discovered that in some online stores the colours look much brighter (or warmer or cooler) than they do in person. It's good to know this!
2. Compare the Swatch as a Whole
I always recommend using the swatch as a whole when comparing the colours (don't just look for that exact colour) – whether it's on screen or in real life. The lighting in the room where you are looking at the screen also needs to be bright as otherwise, you can't compare the colours accurately.
3. Expect to Make Returns
Screen colours vary – the better the screen the more accurate the colours, but photos can be so easily manipulated that even with a great screen the colours may not be the same as in real life.
So expect to make returns on your online shopping, don't feel like it's a failure on your part at all if the colours aren't what you expected. If you expect to return (just as you don't expect to buy everything you take into a change room at a bricks and mortar store) you won't be as disappointed as you might otherwise feel.
4. Colour Naming is Arbitrary
The names of colours on colour swatches have nothing to do with the names of colours that clothing manufacturers use – and in fact, they also vary widely from one brand to the next. Don't think there is something in the name that should tell you if it really is right for your palette or not.
5. Read the Reviews
Many online shopping sites now include a review section – if it's there and there are reviews do read the comments as they will also give you an idea of if the garment is sized "true to size", smaller or larger, and often if the colour is how it appears on screen or different.
6. Do Some Online Research
Ok, so one of my lovely 7 Steps to Style members asked in our member forum about this dress from Boden. I looked at it and noticed that even in their online store it appeared to be two different colours. How to figure it out?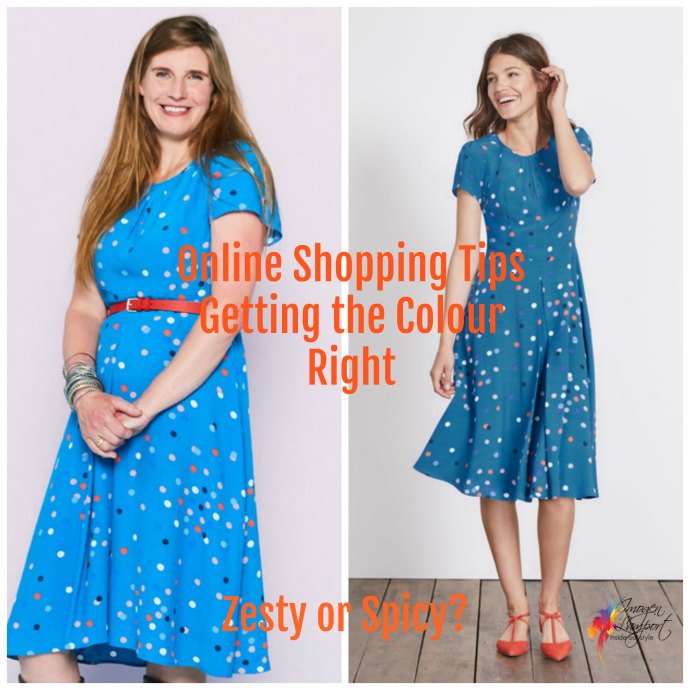 Find the name of the garment (usually the garment description on the online retailer's site) and use that as a Google Image Search – and in fact you can even save a pic from the website and do a search on the image (drag and drop it into the Google search bar) to see if you can find it again. See what other images of it come up – and then you can often tell which colour is the most accurate.
Do an Instagram search – use a hashtag (you may need to try a few, but frequently people tag the designer and mention the name of the item in their description. I found the Boden dress this way and suddenly, the answer was revealed and the colour became more obvious.
What did I find when I did this with the Boden Calissa Dress?
That my friends is about all I can offer you in way of advice for picking the colour during your online shopping trips!
More Tips for Successful Online Shopping