It took pregnancy to have me really think about building a wardrobe that was versatile, cost-effective and that worked for all the aspects of my life.  Most maternity wardrobes are great capsules.  So let's unpack what you can learn from that short gestational time in your wardrobe.
1.  It's Better to Have a Few Great Pieces that are Versatile
When you're pregnant, you know you'll only be wearing your maternity wear for a few months, not years.  This means that you are careful about what you buy, ensuring that everything you buy will mix and match, rather than buying singular outfits.
So think like a pregnant woman next time you're shopping.
Will that garment be something you can dress up or down?
Can you wear it multiple ways?
Does it work with at least 4 other garments in your existing wardrobe?
Is it good quality and will it last?
And if it needs you to buy something else to go with it and make it work.  Put it back on the rack!
2.  Finding a Palette of Colours that Works Together Will Expand Your Options
When you are creating a maternity capsules, you're careful to ensure that all the colours you choose work with each other.  You're more likely to limit yourself to a range of colours that play well together, harmonising, giving you the most options for mixing and matching every item in your wardrobe.
You're basically building a wardrobe capsule (and you can get my tips on how to build one here – 12 items making 72 outfits!).
Even when you're not pregnant, if you think about choosing colours that harmonize, you really will find that it expands your options on how many outfits you can create from the pieces you own.  This is the benefit of having had a personal colour analysis as you get a more refined palette of colours that mixes well, giving you a range of colours to play with that work together easily.
How to do it?
Choose 2-3 neutrals that mix well with each other
Choose 2-3 colours that also mix well with each other and also with your neutrals
Here are some more tips on choosing colours to make your capsule wardrobe work well.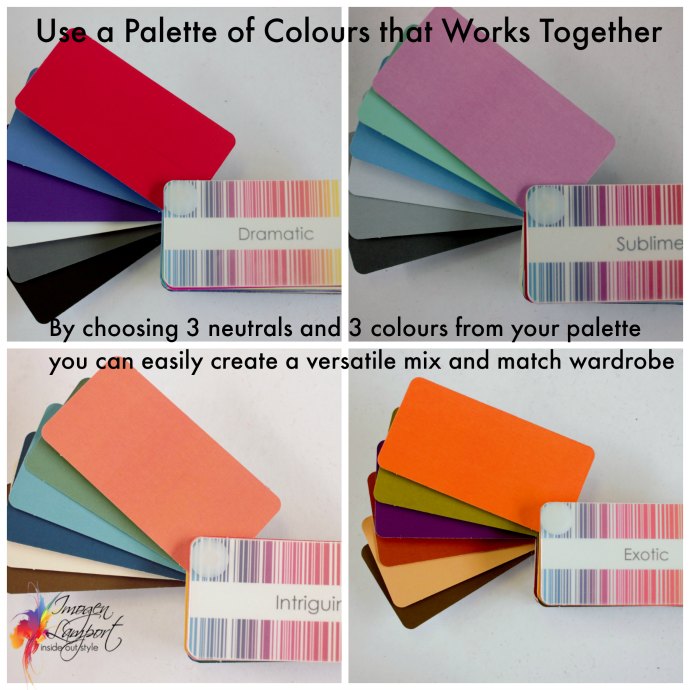 You can see from this illustration above, that you wouldn't mix the warm Exotic colours with the cool Sublime colours as they just don't go together because their undertones are different, nor would you mix them with Intriguing, even both they are both warm, they have different intensities which means they don't play well together.
3.  Accessories are Worth Their Weight in Gold
Take a basic dress and make it feminine and dressy with a blinged up necklace and some strappy sandals.
Take the same basic dress and make it more casual with a loose patterned scarf and a floppy hat.
Take that same basic dress and make it office appropriate with a pair of pumps and bold necklace.
You can replace that dress with either skirt and top or pants and a top, it's the accessories that make the difference!
Accessories change the mood of your outfits.  Use them to change the way your outfit communicates.
Accessories don't care that your belly is expanding.  They still work.  They make a limited wardrobe feel much larger and more exciting.

4.  Spending Your Money Wisely
When you're pregnant you tend to think hard about what you will buy for your maternity wardrobe as it doesn't have a long shelf life.
This means we think clearly and well, we consider what else that garment will work with, we make sure that it will be a great addition, adding to our options, and something we'd want to wear all the time.
Yet, how often do we spend the same kind of mental consideration on regular clothes?  We think, yes, this'll come in handy some day, rather than, I can wear this today, and tomorrow and next week.   We buy clothes that are orphans, that don't suit our lifestyle, on a whim, or for an emotional reason rather than for the pure practicality of building a fabulous wardrobe.
5.  How to Be More Creative
Pregnancy is the time we figure out how to be more creative in our wardrobes.  When we are limited, we are more likely to:
Try styling clothes different ways.
Adding accessories to make it feel like we're wearing something different.
Layering in ways we've never considered before.
We look for creative ways to add interest and detail, to change things up, to wear our regular (non-maternity) clothes by adding a long layer underneath (so we can leave our pants unbuttoned) or wear a skirt as a dress, or wear something back to front, or upside down.
6.  Stop Being Obsessed with Your 'Flaws'
Pregnancy is freeing in many ways for our body image.  We accept that our bellies will get larger, our butt's are also likely to expand to balance us out, that we gain weight all over.
Yet, I know for me, I just didn't care.  It was the most mentally freeing time of my life for my body image.  I celebrated that growing baby and my expanding body, rather than constantly trying to hide any lump or bump that may be there.
Wouldn't it be great to take some of that body love to our bodies the rest of the time?
What amazed me a few times is that even when I was 5-6 months pregnant (and obviously pregnant) people wouldn't really notice if I wore a column of colour and didn't draw attention to my tummy by creating a focal point in my portrait area.  It made me realise that maybe people don't notice my regular sized pouchy tummy, it's just me who is obsessed with hiding it!
It made me understand that nobody else notices your perceived flaws unless you keep pointing them out or dressing to draw attention to them.
So tell me – what lessons in building a wardrobe did you learn from pregnancy?
Read my tips on 6 Brilliant Strategies to Building Your Perfect Wardrobe here.