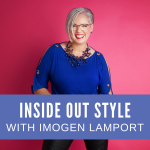 In This Episode
0.08 Now that I'm in my sixties my waist is still very defined as an 8 shape when viewed from the front or the back but my weight seems to have shifted to the front.
That causes my dilemma. I want to hide my protruding stomach, but I look hideous in shapes that don't emphasize my waist. What am I to do?
I've always found it easy to find, make and wear well-fitting business wear, party dresses and evening wear but I'm struggling to find a stylish wardrobe for my semi-retired life.
I need these exaggerated collars, the large jewelry and oversized bags to look balanced. But the style has a tendency to look overdressed, or not the most comfortable to walk around in casual settings.
Do you have any specific suggestions?
3.49 I am having a horrible time finding pants. They fit in the front, but then they wrinkle under my butt. My behind is flat, so I don't know if that is causing the problem. If I go up a size, they will be too big.
8.52 I am an average height I-shape with a narrow build and delicate features. As I've grown older my appearance has become less waifish and more fragile, vulnerable and inconsequential.. What is are good ways to convey strength through clothing? Are there particular lines, fabrics, colors or patterns that convey strength and presence that are appropriate for someone with delicate features? Bold statement pieces seem to overwhelm me.
Dressing an 8 Shape Body
Finding the Right Pants that Fit
Ways to Convey Strength through Clothing
If You'd Like to Define Your Style and Discover Your Colours
If you're sick of wasting money on clothes that don't work and you know there is a better way, then join my 7 Steps to Style program and get the right information for you and your style.
Subscribe to my Podcast
You can now get these videos as podcasts subscribe and never miss an episode
Send me Your Questions
Please email me your questions to be included in my Q&A Lucky Dip!