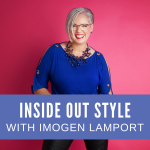 In This Episode
0.08 How do I see the whole picture of my outfit instead of paying too much attention to the details?
1.33 Finding dresses for summer that aren't the latest trend of frills and tiers? They are just not my style.
3.11 My latest bra fitting is creating unsightly back rolls – how can I combat this and still get the support I need?
Stylish Outfit Ideas
How to Take the Extra Step to Complete and Upgrade Your Outfits
Dressing during Summer Season
3 Easy Ways to Add Interest to Your Summer Outfits When It's Too Hot to Add Layers
B is for Bras
If You'd Like to Define Your Style and Discover Your Colours
If you're sick of wasting money on clothes that don't work and you know there is a better way, then join my 7 Steps to Style program and get the right information for you and your style.
Subscribe to my Podcast
You can now get these videos as podcasts subscribe and never miss an episode
Send me Your Questions
Please email me your questions to be included in my Q&A Lucky Dip!