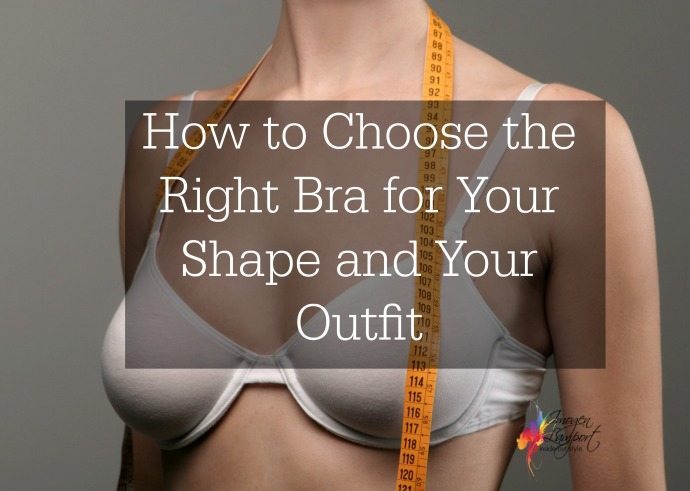 Guest Post by Renee Mayne, Bra Queen
There are three reasons why you need to know what's going on with your bra.
It forces you to improve your posture… shoulders back no slouching.
It gives you a beautiful shape, lift and the right shape bra for you even makes you look slimmer.
It's a small thing you can do to make you feel good.
Style is feeling good everyday so always look for bras that look great and also function like an everyday bra. How can you take that dreaded bra shop and turn into a good time. It can be done trust me. My aim for this post is to arm you with an abundance of bra knowledge so you know exactly what to for before you even leave the house to go bra shopping.
We all know the importance of wearing a good fitting bra and the most common mistake I see is women always think they are bigger in the back then what they really are. Often it works out that they are smaller in the back and bigger in the cup.
How a Bra Should Fit
• You need a bra that fits snugly around the back & sits even from front to back. Don't worry about back fat because it's much more slimming to have you're girls lifted so it creates shape and gives you a shapely silhouette.
• Under wires must sit flush against your chest- its common in bigger cups for the underwires to stick and this means it's the wrong bra for you. No matter the sales assistant says.
• Your whole breast in the Cup with NO spillage or gapping- You do not want 4 boobs but you don't want them swimming around in there either.
• You should be able to fit two fingers comfortably under the straps. If you have indentations on your shoulders the bras you're wearing are not strong enough and they aren't supportive enough around the back.
How to Choose the Right Shape Bra
The shape of your bra is just as important as the fit, for years we've heard everyone bang on about the fit but they forget to mention anything about the shape. You know when you buy a bra and it's your size but it's really uncomfortable to wear? The underwires maybe digging in or you're readjusting yourself all the time. It's the wrong shape for your body. Let me take a minute to tell you about some bra shapes.
ALL bras anywhere are 4 basic shapes.
It's the materials, colours and quality that vary. Companies change the names and different countries call them different things however it's not my aim to get technical my aim is to keep it simple so you know exactly what you're doing and what to look for in a bra.
Plunge Bras
Plunge Bra- the triangle shaped ones. A common error in these bras is that they create space in the top. These are good if you are full up the top in other words: your breasts haven't gone south.
If they are not full on top as they don't encase the breast tissue entirely it will create bounce and where bounce there is NO support.
A plunge bra is always good to have because they are very handy bra to have for clothes with a plunging neckline.
Balcony Bras
Balcony bras are great for smaller cups A to D it will give you lift and shape and make them look fuller. It's also great for the women who have lower set breasts its way more flattering to your body.
Also if you have wider set breast so if you've said "This bra is my size but it's tight across the back" this bra is awesome!
Balconette Bra
It's in between the balcony and the plunge it's kind of like your sweetheart neckline. It's more then a balcony but less then a plunge. These are great for bigger busts whether you're full or even if they have gone south. They give great shape, lift and will give you the support you need so you won't want to rip them at the end of the day. I love this cut it suits the majority of women!
Full Cup Bra
We all know a full cup bra it's like your sports bra or your t-shirt bra. Its covers your entire breast. It's always good to have a good full cup bra and now there are heaps of pretty full cup bras available
TOP TIP- Look for a shape that brings them forward, you don't want them under your armpits! Quality materials not only look great but ensure optimum comfort and support and a longer lasting bra. It will also give you shape and you won't feel the need to rip your bra off the first chance you get!