Taking the extra step to complete an outfit is where many women fall down. They put on clothes, not outfits. My clients will tell me that they don't know how to create an outfit. They see other women look put together and wish they could do the same. They don't know what to wear with what, how to accessorize or even where to start and often get so overwhelmed that they give up.
Putting together an outfit is all about the aesthetics of design – incorporating aspects that create harmony when put together.
How to Put Together an Outfit Rather than Just Putting On Clothes
Accessorize Your Portrait Area
I was picking up my daughter from kindergarten one day and one of the other mothers commented that I always look so stylish and that she never felt stylish. I looked at her outfit and it was very similar to mine. The base of her outfit is the same – we both had on jeans and a long sleeve t-shirt. The difference was I was wearing a feature necklace and a pair of sparkly ballet flats and she was wearing a pair of sneakers and no accessories. I told her the difference between your outfit and mine is that I've accessorized in my portrait area and I'm wearing sparkly belly flats rather than a pair of sneakers. The next time I saw her she had a scarf on and told me, "This is so easy. All I had to do was change one little thing – I just had to add a scarf and it made all the difference. I feel like I'm wearing an outfit rather than just wearing clothes."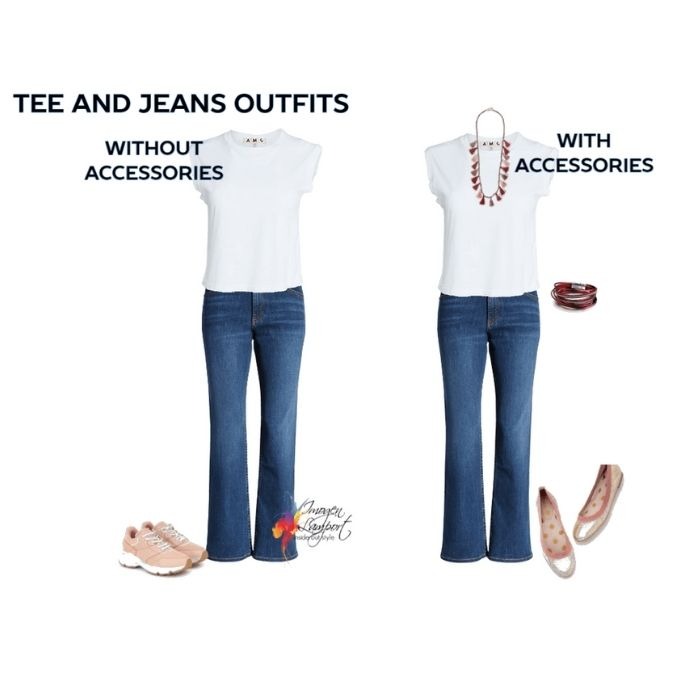 By just slipping on a scarf before heading out the door, you can make any relaxed outfit appear more put together and polished. It's an instant style upgrade. So, the next time you're rocking jeans and a T-shirt, try elevating your ensemble with a scarf.
There are other ways to add a focal point to your portrait area – necklaces, brooches, and big feature earrings particularly if your hair's back or short.
If you don't like adding accessories or you aren't in the habit of accessorizing, look for for built-in detail in your portrait area – some interesting detail around the neckline or the shoulders in garments that helps to create some interest in your portrait area.
Little Changes Make a Big Impact
Often it's the little details that make the biggest difference to outfits. Adding the right accessory or swapping out your usual top for something unexpected can take your look to the next level. A pattern or embellished top adds some interest rather than everything being in solid plain colours.
If you're keeping your outfit casual and the day calls for jeans, consider adding an element of surprise by switching out a standard tee for a statement top and your sneakers for embellished flats. Add a third piece such as a jacket or a blazer and continuing stepping things up a notch by adding your favourite statement necklace and small, chic handbag.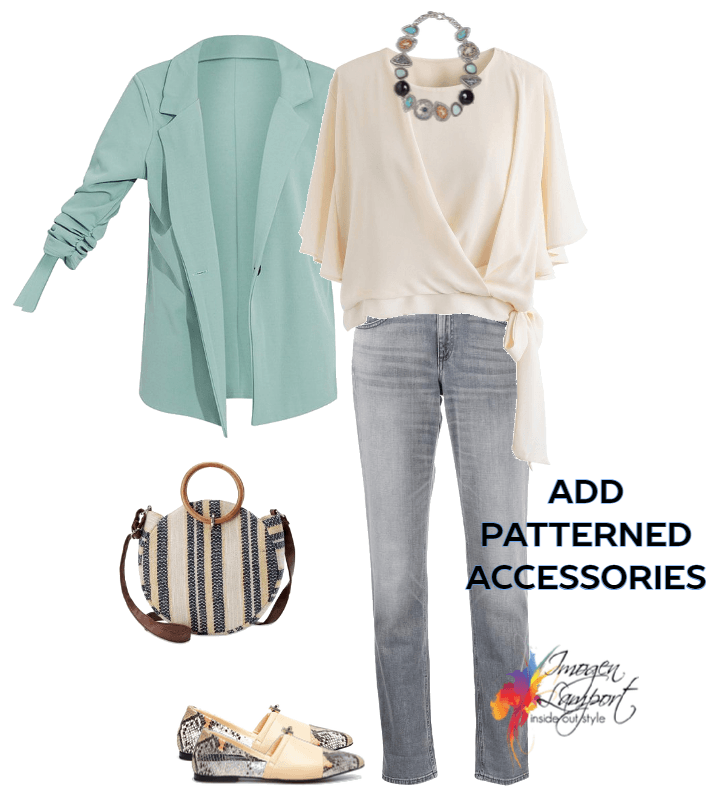 As an outfit, a denim skirt and a long sleeve t-shirt is perfectly serviceable. Switching out a plain tee for stripes and adding a co-ordinating waterfall cardigan and a scarf takes it up another level. For extra polish, finish the outfit with a patterned handbag. Taking the extra step to complete an outfit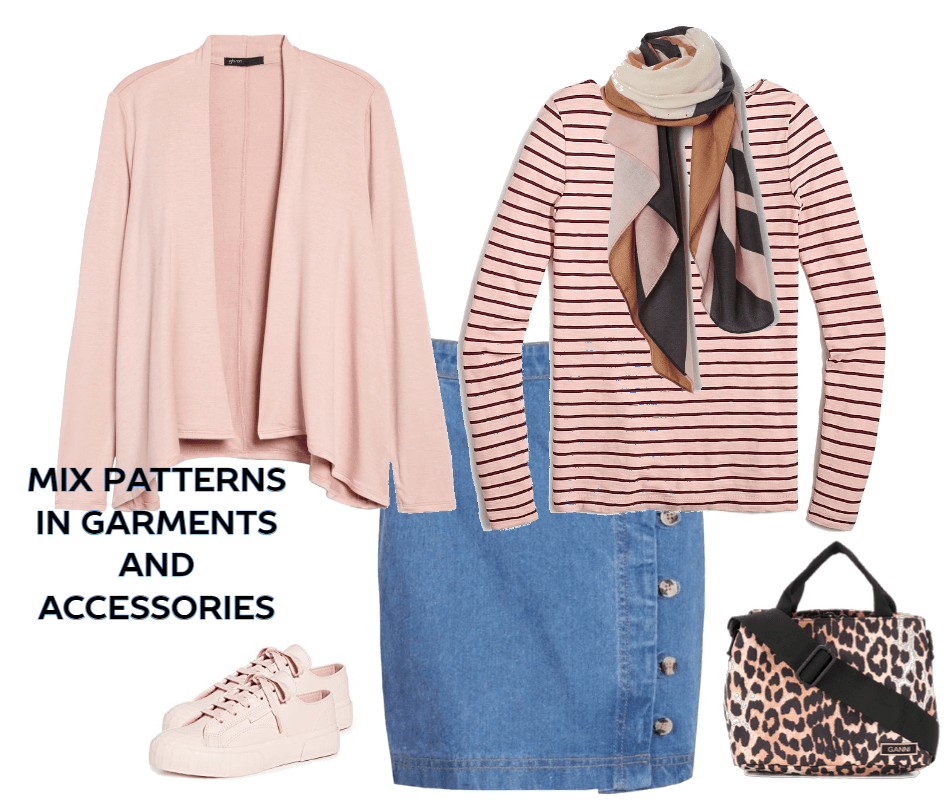 Patterns are an excellent way to add some life and fun to your wardrobe, and mixing patterns is even better. So, if you've been sticking to basic block colours for the past ten years, now's the time to be bold and embrace checks, stripes, florals, gingham, and more. Just remember to make sure that your patterns complement rather than clash. If the thought of mixing patterns makes your head spin, check on my post on How to Mix Patterns Like a Pro.
Experiment With Different Accessories and Garments
Everything you need is probably already hanging in your closet; it just takes the right inspiration to know what to mix and match.
I challenge myself to put outfits together differently as much as possible – I don't purchase many new garments (just one here and there), so I spend a lot of time reworking what I own into different outfits to keep my style interesting and to stretch my style muscle. Sometimes the outfits work well, other times they don't. But if I'd never experimented, I would never have discovered my style.
Part of my Evolve Your Style challenge is to accessorize. There are days where it's focused on an accessory because particularly if it's something you don't do it's worth thinking about and experimenting and then taking photos seeing how it looks. By trying something new or different from your "standard" (which is the whole point of my Evolve Your Style 31 day challenge) you'll discover if you actually enjoy wearing something other than what you already know. Taking the extra step to complete an outfit
Further Reading
Do You Need Interesting Basics or Understated Staple Garments in Your Wardrobe?