It is not uncommon for women to experience a shift in their body shape as they age, particularly during menopause. As women lose estrogen, they tend to gain weight in the upper body, resulting in less-defined waists. This can lead to a shift from an 8 shape to an H shape or even an O shape. It's important to note that these changes are common and natural, but they may influence the styles of clothes and how you accessorize your outfits.
What Body Shape Tells You
Where to add horizontal lines
Where to add vertical lines
Where to add detail
Where to keep plain and free of details
So if your body shape has changed from a 8 shape to an H shape, horizontal lines created by accessories such as belts will no longer work for you in a way that they did in the past. Keep reading to see more about which are the best shapes for each body shape.
Understanding the Difference between an 8 Shape and an H Shape
Both the 8 Shape and H shape are balanced shapes, meaning that the visual width of the shoulders and hips is equal. Though an 8 Shape can also be unbalanced and have narrower shoulders than hips (like an A shape, but with an 8 Shape hip).
An 8 shape is a body shape that has a high hip shelf and a defined waist, whereas an H shape has a less-defined waist. It is still possible for an H shape to have some waist, but it is not as defined as an 8 shape.
To determine your body type, you can try on a garment with a thin belt that sits at your natural waist (which is about the height of your belly button, between the end of your rib cage and your pelvis bones, it's not on your rib cage) and see if it makes your waist appear smaller or wider. This simple test can help you figure out if you have an 8 shape or an H shape. If your waist appears smaller with a thin belt, then you likely have an 8 shape, but if it makes your waist look wider, then you are likely an H shape.
Unsure of your body shape, check out my post on Body Shapes Explained – Defining Points or try my Body Shape Calculator Quiz. If you'd like my professional opinion on your shape you get this as part of my 7 Steps to Style program.
Tips for Dressing and Styling an 8 Shape
If you have an 8 shape, you should mark your waist when dressing and styling. This means wearing clothes that emphasize your waist, such as dresses that are fitted at the waist, belts, and high-waisted skirts or pants. You can also experiment with clothes that have different necklines to highlight your bust.
When dressing an 8 shape, it is also important to avoid baggy or shapeless clothes that can hide your curves and make you look boxy. Instead, choose clothes that show off your curves and create a balanced silhouette. For example, a wrap dress or a tailored blazer that shapes in at your waist can create a defined waist and flatter your figure.
Just because you do have a defined waist, doesn't mean you have to wear belts! Many find them uncomfortable, so don't feel you have to belt because you can. Just remember that clothing always needs to come in at the waist rather than to bypass it or be boxy – these styles are not your friend.
Notice the details in the image below and how that 8 shape dress and coat both have horizontal details at the waist. The overall silhouette is very similar to the H shape here, and in fact an 8 shape could wear all these garments well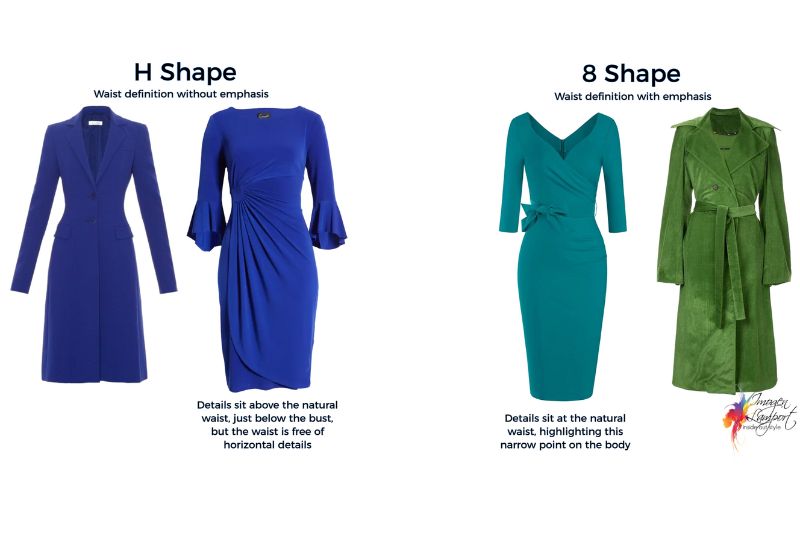 The added horizontal details on the 8 Shape dress and coat will just make the H shape look boxier and draw emphasis to their lack of a waist.
Tips for Dressing and Styling an H Shape
If you have an H shape, you should avoid marking your waist when dressing and styling by adding details. This means avoiding clothes that emphasize your waist, such as belts and featured waistlines on garments. Instead, choose clothes that create a more straight streamlined silhouette. For example, you can wear a straight wrap dress where the narrowest point is just under your bust, and shift dresses that have no waist details or emphasis.
Some looseness of fabric around your waist is great if you have a post-menopausal tummy (or just post-baby tummy too).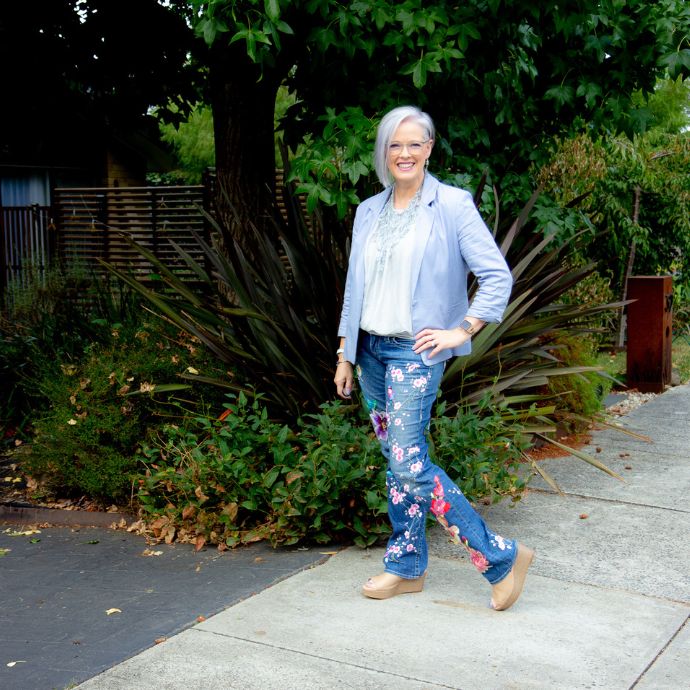 When dressing an H shape, it is also important to avoid clothes that are too baggy or too tight. Instead, choose clothes that are fitted but not clingy. For example, a fitted jacket or a tailored blouse that ends at your hip bones can create a more defined shape without drawing attention to your waist.
Here are examples of the differences you may find between the shapes and what works for each shape. Because the H shape doesn't have a defined waist and often is most conscious of their tummy, they want their tops to skim past their tummy without drawing attention, this is why a looser top with a curved hem is ideal for the H shape body.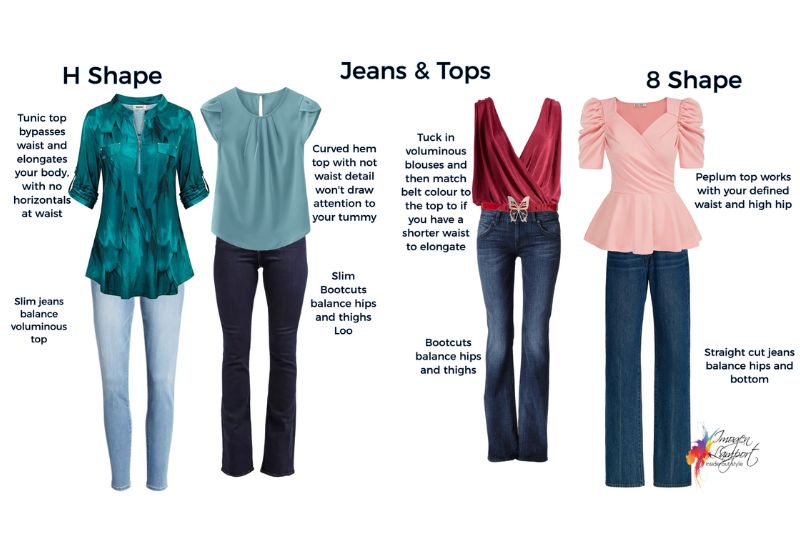 Alternatively, the 8 Shape has a narrower waist and so looks great in clothes that highlight this feature, tucking in blouses or voluminous tops and then blousing works well, and if you are a short-waisted version of the 8 shape you can fool the eye into thinking your waist is longer by colour matching belts to tops (rather than trousers). Or go for peplum tops that highlight your waist and then give your high hips room to breathe.
Get Your Style Education
Understanding your body shape can help you choose clothing that flatters your figure and makes you feel confident. Dressing for your shape is about enhancing your best features and feeling comfortable in your clothes.
if you want the complete low down on all aspects of style – what suits your shape (what your shape is specifically) along with body proportions, scale and all other aspects of your physicality, as well as understanding your colouring plus how you put outfits together that make you feel like the best version of you – which relates to your personality- then my 7 Steps to Style program is what you've been searching for. Find out more about it here. Knowledge really is power when it comes to style!
Further Reading
3 Essentials to Consider When Your Body Doesn't Fit One of the Standard Body Shapes