One of the many benefits of my 7 Steps to Style program are the monthly Q&A sessions. We get together on Zoom and I answer member's questions so they get the support and information they need to keep on improving and defining their own personal style.
This was the question of a fabulous member, and I thought you might be interested in the answer too:
Could you please talk about some options for wearing open jackets when you have a defined waist and need to wear fitted tops.
I am an X-Shape, or was until I lost a lot of weight around my hips, and I now look more V shape on my upper half.
I also have a long torso and short/skinny legs.
I love the look of open jackets, but they often make me look too wide on top and throw out my proportions (think: adult body on top of a child's legs).
I get bored with wearing my jackets closed (and hiding my nice blouses), even though it looks best proportionally. Is there a way I can open them up?
How to Wear Open Jackets on a Waisted Body Shape
1. The Shape and Style of the Jacket Matters
Look for jackets that are shaped in at the waist – they will have darts and panels and seams that draw the fabric in at the waist, so even if they are worn open, your waist will still be shown. Yes, there is a trend for boxy and wide jackets, but this is not the style for you if you have a waisted shape.
Single breasted not double-breasted jackets are key too. Double breasted jackets are designed to be worn closed – then they have shape, but if you want to wear an open jacket, it must be single-breasted otherwise you'll lose your waist completely.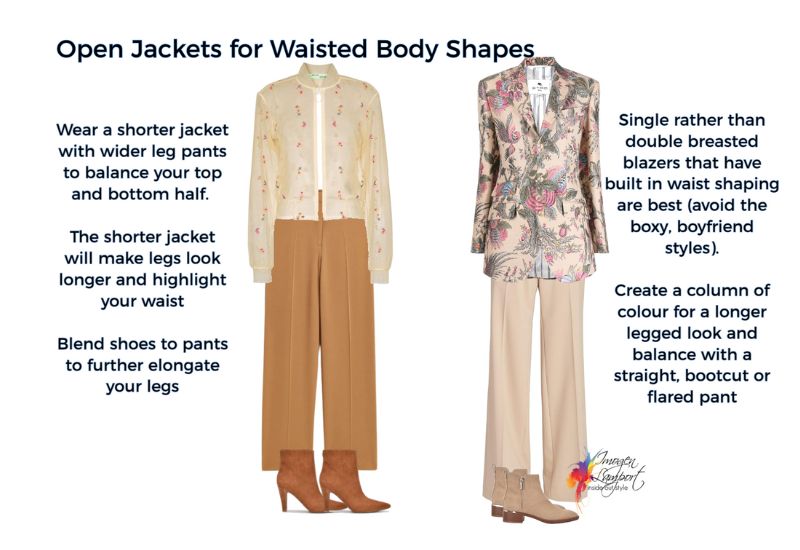 2 .Think about Balance and Proportions
Your whole outfit matters. Your top underneath needs to be fitted to your torso or tucked into your bottom to highlight your waist.
Then you want to balance your shoulders with a flared, bootcut or wider leg trouser rather than a skinny leg that will just emphasise the shape you are wanting to balance.
A shorter jacket style that ends at the waist – such as a bomber or shorter moto or denim jacket can be great too – as they end at the waist and ususally shaped to come in at the waist.
3. Use a Column of Colour (or Modified Column)
To make your legs appear longer, create a column of colour – you can do an inner column (same colour top and bottom – different coloured jacket), or an outer column (same coloured jacket and bottom, different coloured top).
A modifed column where the background of the print in your jacket, as an example is the same as the colour of your bottom, this still creates a flow from bottom to top rather than breaking up the body.
Don't forget, when you have shorter legs and want to elongate them, to blend shoes to trousers, tights/hoisery or legs, rather than opting for a shoe in an alternate colour or neutral.
Get Your Style Sorted
If you'd love to get ongoing style support in a warm and friendly environment, with no fluff or an expectation to shop anywhere else than in your wardrobe, then I'd love you to join my 7 Steps to Style program so I can get to know you on our monthly Zoom calls and answer your specific style questions.
More Tips
5 Simple Steps to Choosing a Patterned Garment in a Column of Colour