When building a wardrobe capsule, it's essential to have pieces that can be mixed and matched to create different outfits. Most capsules (with the bare minimum) are a combination of tops, bottoms and outer layers. Wardrobe capsules are a really valuable tool, particularly if you are having to rebuild a wardrobe for any reason – weight loss or gain, pregnancy, change in lifestyle, travel, new work dress code and the list goes on. If you need some help creating a wardrobe capsule, check out my downloadable, printable guide here that you can keep and use when organizing your wardrobe, or for packing when you go travelling and only want to take a small amount of luggage.
If you've already built a wardrobe capsule, you may be looking for ways to expand it and add more variety to your outfits. One way to do this is by adding a dress to your capsule. Unlike adding one extra outer or top, it will add variety in a different way.
Why is this so?
Well, when you add a dress, the only other garments it must mix and match with are the outer layers and so you get more freedom of colour choice which can make you feel like you're wearing more different colours, than just those you've limited yourself to in the rest of your capsule.
Here are some tips and tricks to help you expand your existing wardrobe capsules with a dress.
Choose a Dress that Complements Your Existing Capsule
When adding a dress to your wardrobe capsule, it's important to choose one that complements your existing capsule. This means selecting a dress that can be worn with other items in your capsule and that matches your existing color palette.
For instance, if your capsule is mostly made up of neutral colours, you may want to choose a dress in a complementary colour or alternatively a print or pattern that works well with your neutral outer layers. Or if you select the right palette of colours, you can even mix a print dress with a patterned jacket like I've done here below!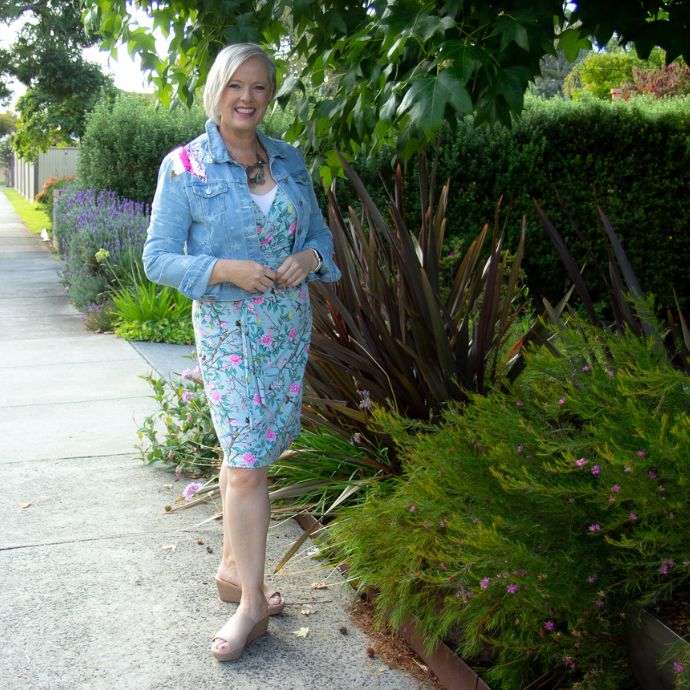 Similarly, if your capsule is more vibrant, you may want to choose a dress in something more neutral that is in harmony with the colour in your capsule.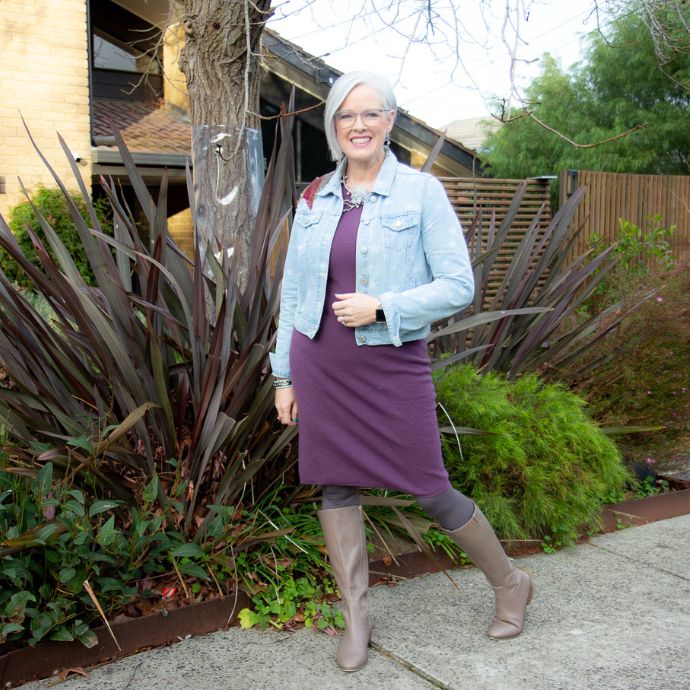 You can see that the same denim jacket works with both these dresss above so could both be added to a wardrobe capsule to create more and different outfits for greater variety.
Consider the Dress Style
When adding dresses to your wardrobe capsule, it's important to consider your lifestyle and personal preferences. This will help you to choose dresses that are both practical and stylish, and that you will actually want to wear. Think about the occasions you typically dress for, such as work, casual weekends, or special events, and choose dresses that are appropriate for those settings. Some dresses like this wool knit in a neutral grey works well with both solid-coloured outer layers as well as patterned ones like my butterfly denim jacket.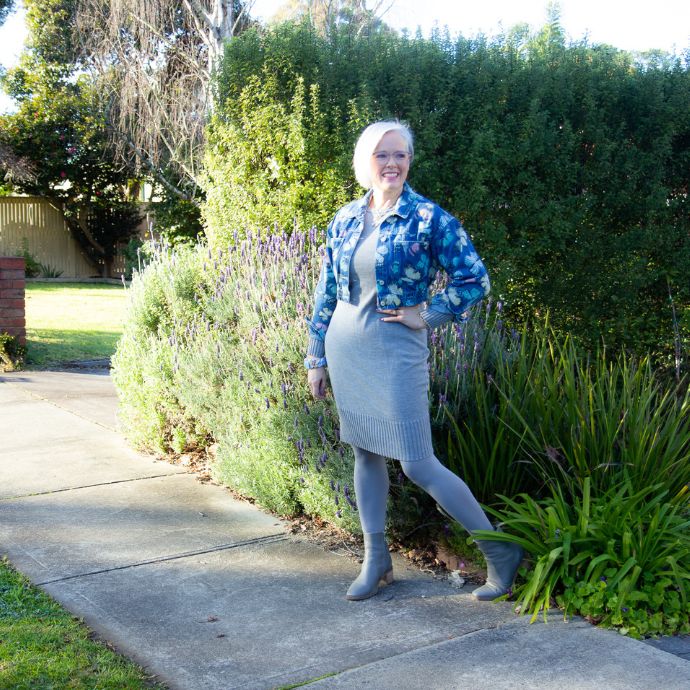 Additionally, consider the types of dresses that you feel comfortable wearing. If you prefer more relaxed and casual styles, choose dresses made from comfortable materials such as cotton or jersey, or styles like shirt dresses or maxi dresses. If you prefer a more polished and professional look, opt for more structured styles such as shift dresses or tailored wrap dresses.
For instance, if you're more active and spend a lot of time outdoors, you may want to choose a casual dress that is comfortable and easy to move around in. On the other hand, if you attend formal events frequently, you may want to choose a more formal dress that can be dressed up with accessories.
Accessorise Your Dresses
Don't underestimate the power of accessories to change up your outfit and they can be particularly powerful when used with a neutral dress. An accessory bundle in red will give the outfit a very different feel than one in green or blue and can make that neutral dress outfit feel like it's more varied than it really is.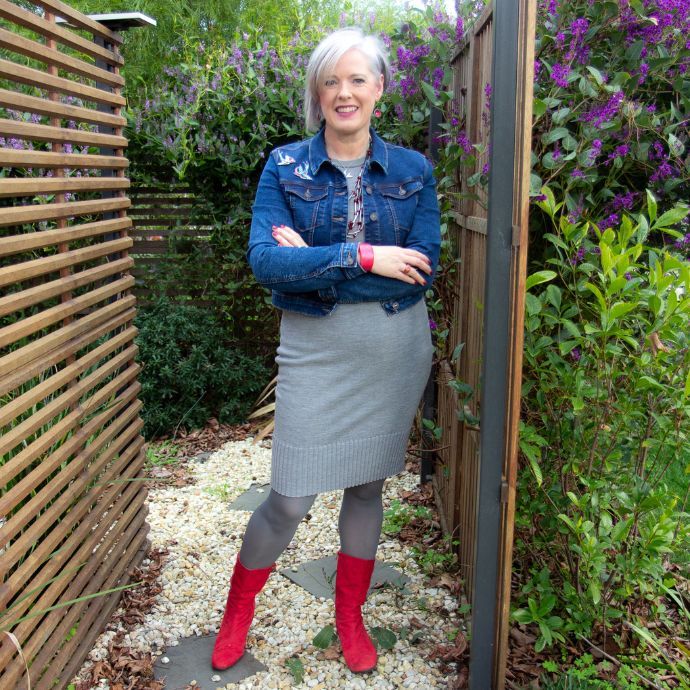 When you select a neutral dress as part of your capsule, you give your accessories a place to shine and be the star.
Think About Versatility
When building a wardrobe capsule, it's important to choose versatile pieces that can be mixed and matched with other items in your capsule. The same is true when adding dresses to your wardrobe. You want to choose a dress that can be worn in different ways; for different occasions and different seasons. For example, a maxi dress can be worn with sandals for a casual day out or dressed up with heels and jewellery for a formal event. A shirt dress can be dressed up with a blazer for a professional look or dressed down with sneakers for a casual day out. A wrap dress my work perfectly at work and then also when you accessorise differently or change your outer layer to a denim jacket be perfect for a casual brunch. By selecting a versatile dress, you can create more outfit possibilities with your existing capsule.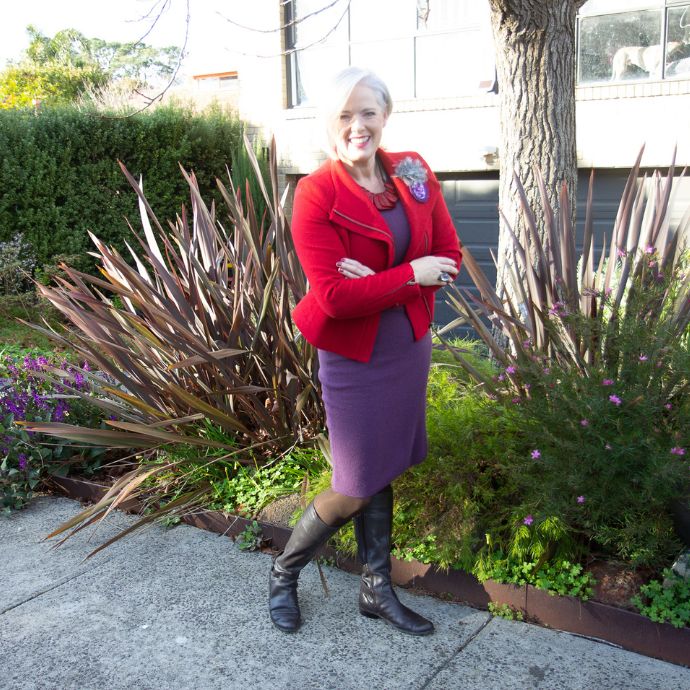 Here's the same plum dress but dressed up with a more formal jacket rather than the denim one above.
Layer with Other Capsule Items
One of the benefits of adding dresses to your wardrobe capsule is the freedom they provide when it comes to mixing and matching with outer layers. Since a dress doesn't need to be paired with tops or bottoms, it opens up a wider range of outer layer options, such as blazers, cardigans, or denim jackets. This can help you to create a more versatile wardrobe capsule, as you can easily mix and match your dresses with different outer layers to create a variety of looks. For example, you can wear a denim jacket over a floral dress for a casual look, or pair a blazer with a solid color dress for a more professional look.
Another way to maximize your wardrobe capsules with dresses is to layer them over tops and bottoms. This creates a completely new look and can turn a dress into a skirt or a top. A button-up shirt can be worn underneath a sleeveless dress to create a new top and the right dress could also be worn over trousers. For more tips on wearing a dress over trousers, check out my post, 7 Essential Guidelines for Wearing a Dress Over Pants
Incorporating dresses into your wardrobe capsule is a great way to add variety and flexibility to your outfit choices. Mixing and matching with layers and accessorizing can further enhance the versatility of your dresses and create a range of different looks with just a few pieces.
Discover Your Colour Palette
When you have a colour palette that works with your colouring, you'll discover it's super easy to create wardrobe capsules as the colours in your wardrobe naturally go together well. If you'd love to find your ideal palette of colours you can get on online colour analysis with me here, or join 7 Steps to Style if you'd love the full colour, style and wardrobe education so you can really figure out what works for you.
Further reading
Wardrobe Capsules, Outfit Formulas and Uniforms – Which is Right for You?