When you're petite, finding the right clothes can be a challenge. Along with dressing for your body shape, your height and proportions matter, too. When you have a straight body shape like an H shape, there is not much definition between the shoulders, waist and hips. As with all H shape bodies, petite, average or tall, your aim is to create the illusion of a waist, without drawing attention to the lack of it while creating the illusion of being taller.
If you're not sure of your body shape, do my body shape calculator quiz. There are no measurements required and it will give you an idea of what your body shape is and the clothing design elements that will work best for you.
1. Horizontal Lines Broaden and Draw Attention
Don't draw attention to your waist with any sort of horizontal detail across your tummy, as horizontal lines make an area appear broader. This means no belts at the waist, no tucking shirts, unless they are voluminous and well bloused over your bottoms, no pockets on jackets around the waist. Tops with curved hems are a great and flattering way to remove horizontal lines from around your mid-section. This creates the illusion of longer legs. For more on how curved lines work, check out my post…
2. Columns of Colour
Columns of colour are brilliant for all who wish to be taller, and H shapes in particular. An inner column of colour makes your tummy disappear because you aren't chopping up your tummy with a horizontal line. This works well if the inner column is darker with a lighter jacket or cardigan, or the inner column is in a cool overtone colour (blues/greens/greys) and the outer layer is in a warm overtone colour (pink, red, yellow, orange). This creates a beautiful vertical detail, elongating your body.
3. Fabric Choices – Be Wary of OverwhelmingYour Figure
Don't overwhelm yourself with fabric. Loose and wide clothing can make you appear less slim, and if you are petite too much volume will overwhelm you very easily. Make sure you wear clothes that skim and glide over your shape. Ensure that your tops end just past the peak of your tummy so it doesn't cup it and actually emphasize it. For more tips on where to end your tops and jackets, check out my guide….
4. Patterns Can Distract
Busy, dense prints and patterns are another illusion that works for petite people. Where there is no obvious start or stop, the eye is tricked into continually moving, like fashion camouflage. Wearing prints is also an easy way to inject vibrant colour into your wardrobe. Here are some tips on how to select a slimming print for your body.
5. Use Focal Points
Create a focal point in your portrait area to draw attention up to your face and draw attention away from your tummy. You could use a necklace, statement earrings or a cluster of brooches. Focal points create a place for the eye to stop and rest, drawing attention away from body parts you choose to camouflage, distracting, like the magician distracts you as they perform their illusions. Check out how to become your own style magician here.
Remember, that if you are petite and want to wear a statement necklace – choose one made from multiple smaller pieces (like the one I have on below) rather than one large item, as the scale of the individual pieces needs to relate to your overall scale. Here are more tips on choosing the scale of details and accessories based on your personality, and tips on upscaling jewellery without overwhelming your features.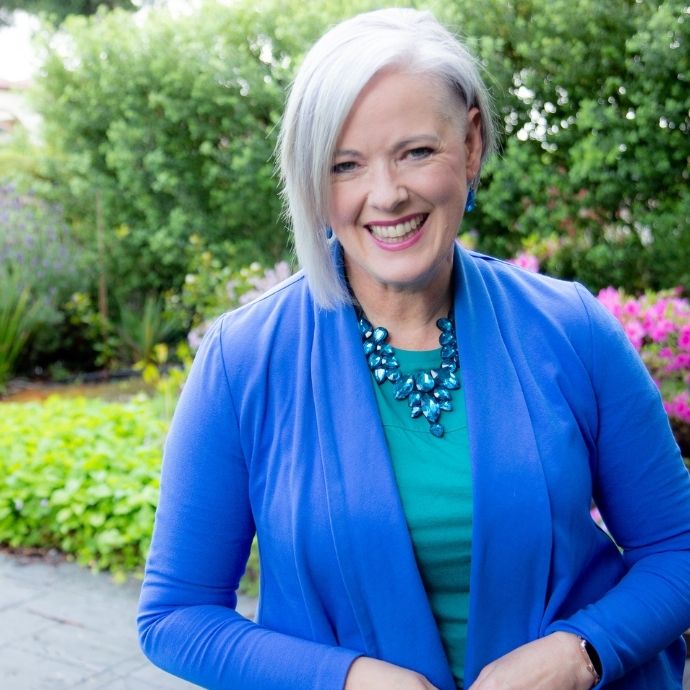 Would you love to discover all the different aspects of colour, style and shape for clothes and accessories that work with your unique body? If so, please do consider joining my online style program 7 Steps to Style. It's the best style education you'll ever get. What you'll learn has been gleaned from many years of training plus over 18 years of working with women define their style and find the clothes that flatter and harmonise with their features as well as suit their lifestyle and body. You'll get a body shape analysis from me, plus colour analysis as part of the program. If you're currently using the hit and miss approach, or the be safe and only buy one sort of garment because you're not sure what else you can wear, then this is the program to help you get out of your style rut and give you the wardrobe confidence you need.
Further Reading
7 Things You Must Consider When Choosing a Flattering Floral Print for You