I suppose I'm "of a certain age" in some circles at least – look young 40s but I'm actually mid 50s – and the jewelry thing has me stymied. I have delicate features and small bones, so need smallish jewelry. Chunky or large things are just completely out of scale on me! I no longer wear just "post" earrings, having found some short dangles (about an inch and a half long, half inch wide), and wear them nearly every day.
How do I find/wear "larger scale" jewelry that won't overpower my smallish features?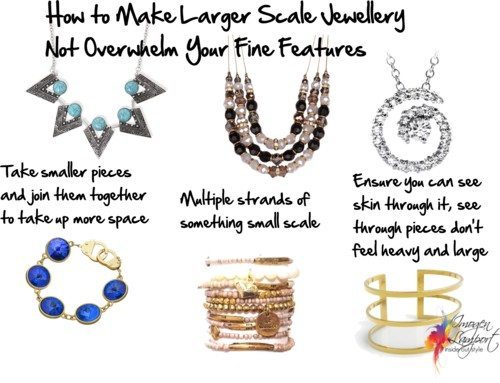 Here are some easy ways to wear larger jewellery if you're petite or have fine features, but still make more of a statement with it.
1. Wear pieces that are made from multiple smaller pieces
2. Layer many small beads to create one larger scale piece
3. Make it see through. If you can see skin through it, it won't feel so heavy or large and dramatic.