Today I am answering a question about how to incorporate feminine elements to a classy outfit.
When we think about classic style, we're talking about conservative and traditional items of clothing. Classic style comes from traditional men's businesswear. It's all about the Yang – smooth, crisp, straight and structured elements. A straight vertical line, opaque fabrics in solid darker neutrals, smooth fabrics, low on detail – nothing tizzy, frilly or overdone here.
Feminine dressing will look different for each woman as we all have our uniqueness and individuality. Feminine is a Yin element, adding softness and curve to the silhouette of your outfit. The silhouette of the hourglass shape highlights the female form; soft fabrics that skim and drape and delicate or nature-based prints – florals, butterflies, paisley, polka dots, and any sort of curvy line. Feminine jewellery tends to be delicate and pretty, never chunky or bold. It is likely to sparkle and gleam.
If you're unsure of what styles you prefer, check out my free Personality Style Quiz to help you figure out how your personality influences your style choices. In this quiz you'll discover, what I call your BASE or CORE personality dressing style. This is an important part of your personal style, but nobody is limited to just one of the personality dressing styles you'll pull from when creating your outfits each day. This is why you can add two or more of these dressing styles together easily – Classic + Feminine to create your own blend.
Watch the Video
Use Yin Elements to Add Softness to a Structured Classic Outfit
Just by changing up one or two things in an outfit and you can completely change the whole feel of them. Check out my yin and yang table for the specific details of how to soften up something that's more classic or how to strengthen up something that is more feminine.
If you have stronger classic tendencies, you may feel uncomfortable with some of my suggestions below. Trying things out is important so play with these concepts. Each time you flex your style muscle, you will learn something about your style, what does and doesn't work and why. There is a world of stylish possibilities waiting for you when you claim your right to experiment and try something different or new in your outfits.
Try adding softer elements to your structured Classic garments – such as a soft silky scarf, or a blouse rather than a stiff cotton shirt.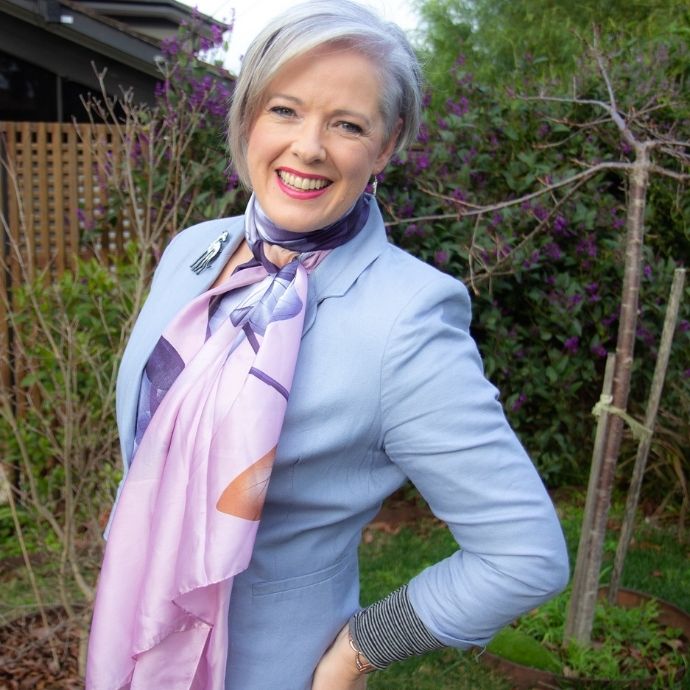 Show a little skin
There's a common misconception that showing more skin is equal to being sexy or alluring. Part of the attraction is the anticipation. Revealing just a bit is much more enticing and sexy than letting it all hang out. Wearing a sheer top or a lacy camisole under a structured jacket can add a layer of femininity to a classic outfit. For more tips on how to wear a sheer top without showing too much skin, check out my post here…
Create Curves
Curve-hugging garments reveal your silhouette. A lower neckline combined with a modest hem or a shorter skirt or dress pairs well with a higher neckline. Create an hourglass shape that comes in and out again with clothes that nip at the waist. An hourglass figure is proportional; if you have strong or broad shoulders and a small bust, you can create the illusion of a larger bust by strategically placed ruffles around the bust as they create the illusion of more volume, as long as you keep the focus on the waist. For more ways to create the illusions of a hourglass shape, check out my post on How to be a Style Magician
Garments should hug your curves, not constrict them. Make sure your clothing fits you well but doesn't cut into you or show bra and panty lines. What you wear under your clothing is as important as what wonderful outfit you put together. Your undergarments – bras and briefs are your foundations, and clothing will only look great if the foundations work for you. If you notice that your underwear digs in and creates extra lines or marks underneath your clothing, this is a sign that they are too tight and it's worth looking into buying some new ones that fit well.
Shoes Matter
Wearing heels will always elevate your look and it will make you look sexier too. Heels do not have to be sky high. A modest size heel such as a kitten heel is still classy, sophisticated, and more feminine!
If you've been reading here, you know I don't give out kind of externally imposed lists. I want to give you a style education, to help you define your style so that you can have a wardrobe full of clothes that you love to wear. I want you to feel confident shopping , knowing you are making great style decisions based on you – your personality, your body and your lifestyle. My 7 Steps to Style program is designed to give you all the building blocks; show you the tools and provide a road map for you to create your style. If you are ready to start your style journey, head over there now…
Further Reading
6 Ways To Add Allure To Your Outfits Without Being Overtly Sexy