Did you catch Part 1 of the Best of Inside Out Style in 2021? If you missed it, you can read it here
Now onto some more great colour and style posts that were published this past year!
What does monochromatic really mean? It's so often a term thrown about in the fashion media and used incorrectly, so here in this post, I shared how to Identify Monochromatic Prints and Patterns along with identifying their value contrast as well.
Negative Space in Patterns and Accessories – the space in between – it's as important as the pattern and something that most people never think about… but not you anymore!
Are you a big picture or details person? If you are more into the details (which is more common) then finding ways to see the big picture can help you improve your style. Find out how to see the whole picture of your outfit in this post.
What is Smart Casual and How to Get the Balance Right is something I get a lot of questions about as smart casual seems to be something many are really not sure about.
Having a good hair day is something that most of us want and the first step is finding a flattering hairstyle – so here are 5 things you must consider to choose a flattering hairstyle.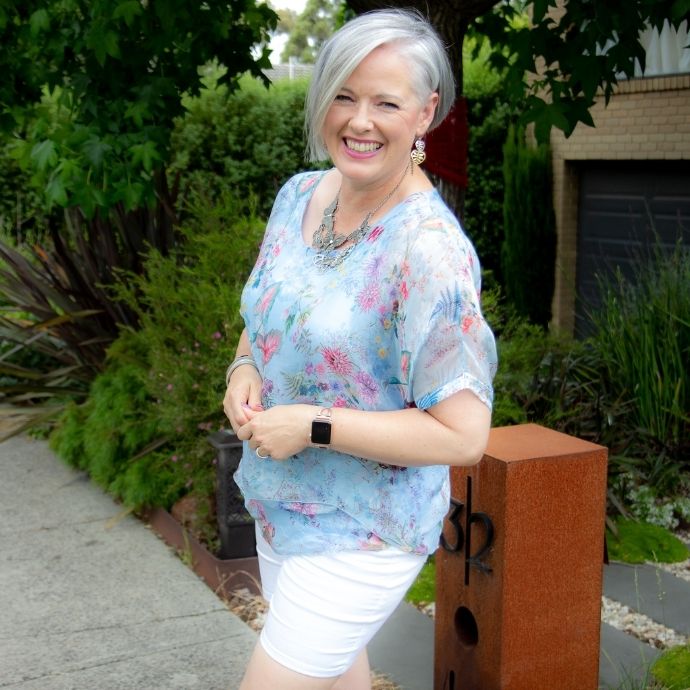 Do you run hot or cold? This really impacts on your wardrobe choices – as you may need more clothes to keep you warm, or ones that keep you feeling cool and fresh. Find out exactly how this impacts on your wardrobe choices.
How do your personal values impact on your personal style? Values are something you should be taking into consideration when choosing clothes (particularly at that buying stage) and then as you put outfits together. In this post is a 45 minute video masterclass to help you determine your values and how they impact on your style.
More reader questions answered – one on How to Choose a Handbag based on body shape and scale and another on what colour tights to wear in winter when you don't want to wear black.
Choosing colours is always a hot topic, so how to choose the best grey for your colouring (and grey is not for everyone, even though there are so many shades of grey) is worth knowing.
11 Ways to Improve Your Body Image, Self-Acceptance and Your Style was a post that got lots of comments as it's such a personal topic yet so important to us all as it impacts on confidence and self-esteem every single day.
What's inside your wardrobe is something that will change from year to year. Clothes wear out, bodies change and lifestyles morph, meaning that you need to be thinking about what you need to build yourself the most effective wardrobe that works for you which is why I've shared the Questions to Ask Yourself When Building a Wardrobe (and I'm not talking about using wood and a hammer, but what goes inside the wardrobe).
The Rule of 3 is something that is used in so many places, yet have you thought about how you can apply it to improve your style?
Is frumpy your thing? The look you're after? What no? I'm not surprised – I've never heard anyone say that they want to look frumpy, yet it's a place that is sadly very easy to slip into. This is why I wrote about How Do I look More Attractive and Stylish and Less Frumpy.
Are you sick of wearing jeans and trousers all winter but are worried about feeling cold if you wear skirts and dresses? Here are tips to help you expand your winter wardrobe to include skirts and dresses and still stay toasty warm.
Do you worry that shorts are not flattering on you and you have no idea which style of shorts to choose? Then check out my guide on how to choose the best shorts for your body shape.
There were of course heaps more posts over the past year that you are welcome to read!