Many years ago I gave a talk to a group of wonderful women who were of more advanced age. I asked them how they wanted to look and feel in their clothing. And then I asked them to put up their hand if they wanted to look and feel frumpy. Not one hand was raised, though there was a fair amount of frump in the room. It's an easy-style place to get to if you're not careful. One of the reasons is that comfort is something we value more with age and it's easy to overlook style for comfort and practicality, even though there are many stylish garments and outfits that you can wear the are not frumpy which is the topic of this video. Watch now!
Is it old-fashioned?
Clothes were not meant to be owned and worn forever. You might have one or two pieces that you've had for a decade or two but these are the exception and should not be the expectation. There are some clothing styles that are more timeless, others become dated more quickly. Here are 7 top tips to what dates and what becomes timeless.
Clothes are like milk, they go off over time because fashions change and this means clothing silhouettes change. Old fashion clothing has a dated look meaning that it does not look modern or fall in line with styles and silhouettes that are currently being worn. Take a stroll around your local mall and pop into a major department store and some mid-range fashion stores and see if you can see items similar in fabric, pattern and style to what you already have. If you can find nothing like what you have then it's dated and out of fashion. If you want to modernise your style, check out my tips here.
Does it fit well?
Fit is often a really frequent reason why something looks frumpy. It can happen when we fail to recognize that we've gained a few pounds and squeeze ourselves into outfits that are too tight or too short. Frumpy can also creep into our style when we wear clothing that is too baggy, oversized or shapeless. There is a current trend with oversized clothing. If you want to wear this trend, consider the rule of volume – only have one voluminous item at a time and pair it with something slimmer. If you want to wear an oversized sweater, wear leggings or skinny jeans. If you want to wear pyjama-style trousers, wear a tighter shirt or jacket.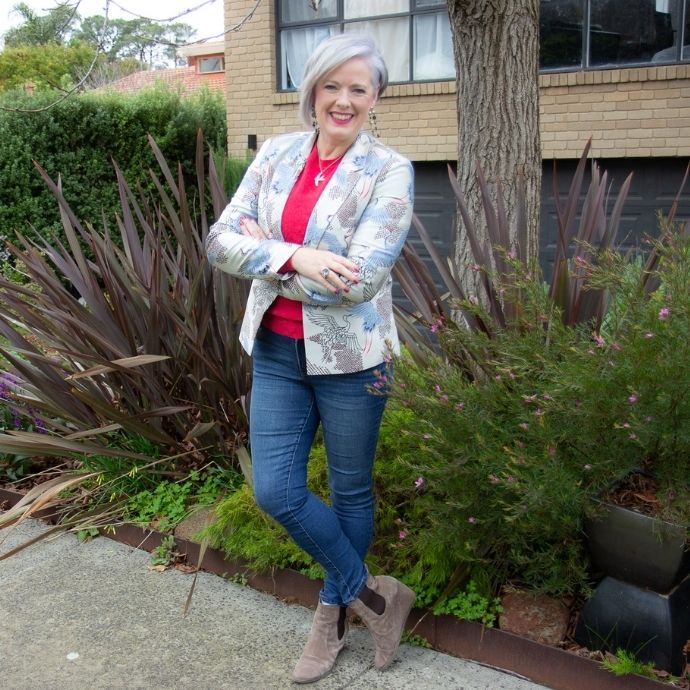 These days so many clothes have stretch in them which makes comfort easy to find without needing to go for boxy or baggy, saggy and frumpy. Most jeans have lots of stretch which makes them easy and practical to wear.
If you love a piece, then consider getting it altered to a streamlined, modern fit. It's much cheaper to have something tailored than to buy new clothes when your old ones don't fit.
Is it faded, frayed or worn or stretched out?
When you see someone whose clothing has threads hanging off, it's covered in pills and stains and is wrinkled, their grooming is 'unwashed and worn' it doesn't leave an impression that they are together, efficient, care about quality or details. So if you have pieces that are stained or have irreparable damage, there's no sense in hanging onto them. Check out my 4 easy tests if you should keep it or let it go.
Are you taking care of yourself?
Grooming makes a massive difference to how you how put together you look. You don't need to spend hours, just 5-10 minutes a day on a clean, fresh appearance with maybe a little makeup. Regular haircuts go a long way to looking stylish and less frumpy. A good hairstylist will work with you to find a modern cut that suits your face shape and lifestyle.
Don't forget to pay attention to your hands and feet. Remove chipped and old polish. Clean, short finger and toenails are better than jagged nails with worn-down polish that's past its prime. Apply extra moisturiser if your hands and feet could use a little extra hydration.
Are you supporting yourself?
Bras are a really important foundation garment as foundations can make or break how your outfit ends up looking. Correctly fitting bras will make your waist look smaller and longer; give your breasts a better shape and make your clothes look better. Get rid of poorly fitting bras and invest in a few good-quality ones that are properly fitted to your shape. You will be surprised at the difference in how you look and feel.
Are you using accessories to your advantage?
Accessories make a difference between a boring bland outfit and one that looks great. By picking accessories that complement what you are wearing they also complete your look and help you feel more confident in what you are wearing. Styling accessories is not about wearing whatever you happen to have but making a conscious choice to incorporate accessories that elevate your outfit.
Matching your shoes and handbag perfectly to each other is an old-school concept. Think about how you put together your accessories and think about co-ordinating shapes, colours, textures, sheens and metallics.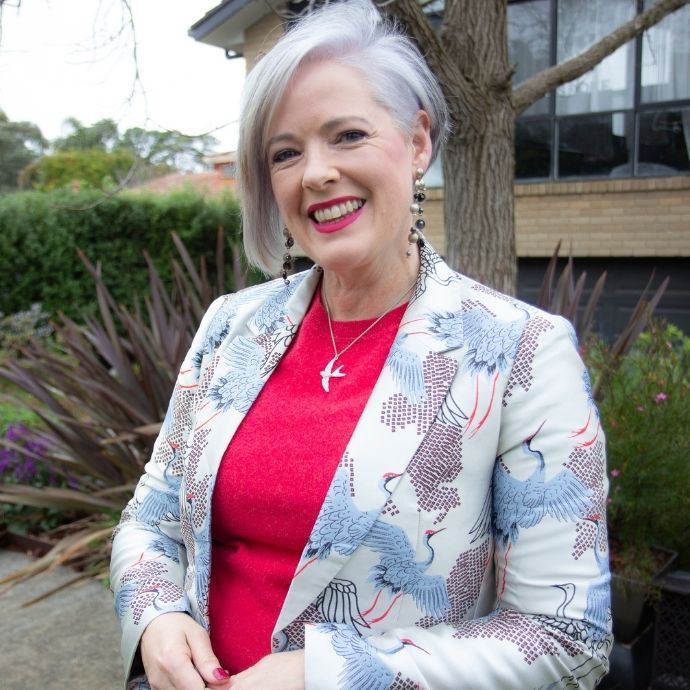 Here I've selected a bird necklace that is in theme with the cranes on my jacket and circle feature earrings that work with the dots on the jacket.
When you think about choosing a pair of shoes, you want the shoe to work with your outfit as a whole. The trick wearing shoes to elevate the refinement of your outfits is to look for one that isn't too chunky and that has some detail or interest, a statement buckle or a print such as leopard or florals
Where to next?
To help you along your way to looking more stylish and to give you some guidance to be less frumpy, why not do my Evolve Your Style 31 Day Style Challenge. Evolve Your Style is the perfect starting point on your style journey. It's a self-guided program designed to have you looking and feeling amazing in only 1 month. It will take you by the hand and lead you to begin developing improving your personal style by trying small daily style challenges that work with the way your brain works to break old habits and make new ones. You will receive daily emails with your challenges to help you focus on one aspect of your image and outfit at a time and access to our Members only area on the website with videos and articles to further assist you in creating your daily challenge outfits.