The Rule of Three and Your Style
The rule of three is a writing and speaking principle that suggests that three events, examples, or ideas are more interesting and enjoyable and you will see many examples of how we use this in our every day language, such as
Yesterday, Today, Tomorrow
Before, During, After
See no evil, hear no evil, speak no evil
Work, Rest and Play
Friends, Romans, Countrymen
Three is easy for us to remember, this is because scientists have found we can more easily recall three chunks of information or ideas rather than more. Two is easy to remember, but not as interesting. So why not apply the Rule of Three to your outfits as well to improve your personal style?
When you are getting dressed in the morning, you most likely grab two pieces – a top and a bottom. If you add a third piece, such as a statement accessory or piece of clothing, it can add excitement and personality and turn your clothing into an actual outfit. Three pieces looks more complete than just a top and a bottom.
The third piece is your hero – a garment or accessory that has enough interest or detail to draw attention to it and make the whole outfit look more exciting. It can be built into a garment, such as an element of construction or a pattern, or it could be an added accessory such as a statement necklace or a scarf. Your third piece or hero will have a stand-out or statement element – a fabulous colour; a bold pattern or print; a textured finish or an eye-catching element of construction.
What's interesting to consider is what you choose as your third piece will depend on your personality style. Someone who is more classic or more relaxed in their personality dressing style will find that their third piece is more subtle than someone who is dramatic, rebellious or creative in their personality style.
Adding a garment as a third piece
The third piece adds the finishing touches to the outfit. It takes a rather ordinary outfit, jazzes it up, and makes it look like there was some extra effort put in. This piece adds something to make the outfit feel finished and more than just jeans and a t-shirt. Your options could include blazers, vests and dusters. Some of my personal tried and true outfit combinations consist of jeans, a printed blouse and a blazer or jeans/skirt, coloured blouse with a kimono or shrug. The key is being able to see an element of all three garments.
If you're not sure how to layer a third piece jacket over a longer top, get my tips here.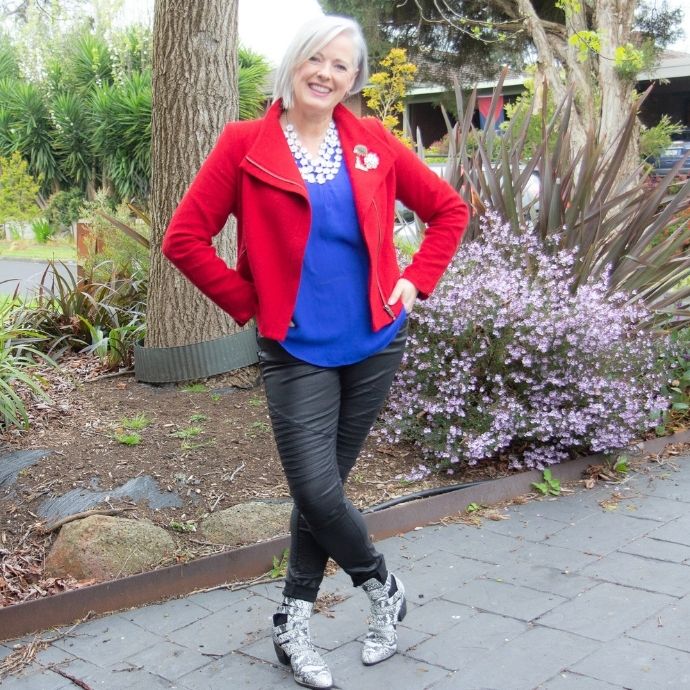 Adding an accessory as a third piece
How much will your outfit change if you wear sneakers, ballet flats, or heels? What if you add a scarf or change the jewelry? Accessories are the quickest and easiest way to change up an outfit. Remember if you are using accessories as your third item make that accessory a statement piece, it really needs to stand out and draw your focus.
There are so many options – hat; headband or hair clip; sunglasses; earrings; scarves; necklace; belts and shoes.
Using an accessory also is a great way to dress your portrait, drawing the eye towards your face or focal points where you want to draw attention.
Get lots of ideas on how to accessorize with my ebook The Finishing Touch: Perfecting the art of accessorizing so you can add different sorts of accessories to every outfit.
And for more strategies to make your outfits sing with accessories – check out my Accessorise with Style video masterclass here.
Weather matters
Layering it up is easier in colder weather so embrace scarves and sweaters to feel cozy and fashionable. Adding a layer such as a jacket in the midst of a heatwave will result in you being a hot, sweaty mess rather than stylish, but you could layer a lightweight waistcoat instead!
In summer, look for garments with built-in details – an unusual construction element such as a cutout, ruffles or fabulous sleeve or an embellishment such as beading, lace or embroidery can finish a two-piece outfit without an additional garment. You could also consider how you could wear a basic shirt differently by tying, tucking, or knotting, or trousers by rolling up the cuffs.
Improve Every Outfit
If you're keen to keep on learning and want to improve every outfit – check out my Outfit Masterclass – it's just shy of 3 hours video masterclass with a really practical and useful workbook that will have you thinking about your outfits in a completely new and revolutionary way that will change how you get dressed tomorrow and every day thereafter! Find out more here now.
Related Reading
3 Easy Ways to Add Interest to Your Summer Outfits When It's Too Hot to Add Layers