I revisited the body shape guidelines to try and answer a dilemma I have around necklines. I'm 163 cms tall, broad-shouldered, DD-E cup. After my first baby weaned I developed pigmentation in a large band around my neck and décolletage.
This skin gets red and blotchy when exposed to the sun, even with sunscreen and a hat. So my question is how do I minimise bulk up top while covering up? All of the v shape body advice recommends v and wrap necklines, which even with a scarf are too exposed. I also live in a hot climate.
It's important firstly to remember that bust size is not related to body shape, but is a body variation. Large busts can come on any body shape (as body shape is the silhouette of shoulders, waist and hips).
If you don't want to expose your decolletage for any reason (whether it's to protect your skin, or your modesty) then high necklines are the way to go. But there are a few things to consider.
1. Find Your Ideal Neckline Shape
What is the shape of your jaw? Stand in front of a mirror, pull back your hair, and trace on the mirror (whiteboard marker is easy to erase) the shape of your jaw from the base of each ear. This shape and style is your ideal neckline. Here are more tips on finding your face shape.
Now I know that you may be thinking – this shape would give me a lower neckline? But at least if you know the overall face and jaw shape – is it more of a V shape, a round shape, an oval shape, or a flatter square shape, then this will also be something that should be replicated in your necklines, even when they are higher! Creating harmony with your jaw shape in your neckline will make any top option look better.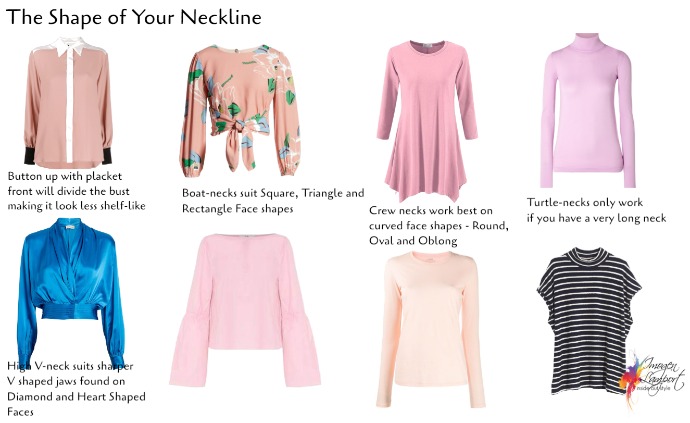 Think about selecting your best pink, beige or something more related to your skin colour, this way if you put anything on over the top, the high neckline will blend more with your skin and you'll notice the colour of the outer layer. See here for examples.
High halter necks work for V shapes – also raglan sleeves are another option – those often have a higher neckline.
2. Which Necklines and Other Garment Features to Avoid
The necklines you really want to avoid as they will over-emphasise your bust include anything with gathers – as that extra fabric creates extra volume over your bust.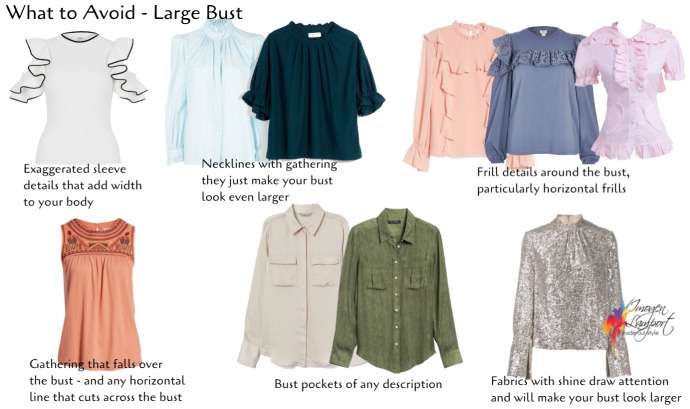 Exaggerated sleeves will add more width to your upper body, so avoid these too.
Frills are not your friend! particularly anything that sits right over the top of your bust.
Any sort of horizontal detail that cuts across your bust is also a big no-no as horizontal lines add emphasis and broaden.
Avoid bust pockets as they add a focal point to your bust and also add two pesky broadening horizontal lines too!
Also be wary of fabrics with shine as shine draws attention and also makes an area look larger, probably not what you're after if you're trying to minimise your bust.
3. Create a Faux Lower Neckline with Accessories and Garments
With any high neckline you can use jewellery to create a more flattering look as well (see post here for more tips)
Work out where your balance points are (there are two – a first and a second) and then use this for other garment placement and jewellery lengths.

Jewellery and other garments can create flattering focal points that draw the eye away from your bust
Your Ultimate Guide to 17 Necklines and Which to Choose to Flatter Your Features
How to Find Your Balance Points – For Necklines and Jewellery