Pattern, and whether or not you like it, and the kinds of patterns you like, is based on your personality and not everyone is into pattern mixing. You don't have to like or wear it, but if you do, go for it. So as a little guide, I've done up an image with a limited range of clothes (sorry, couldn't necessarily find the perfect garments, but just to give you an idea).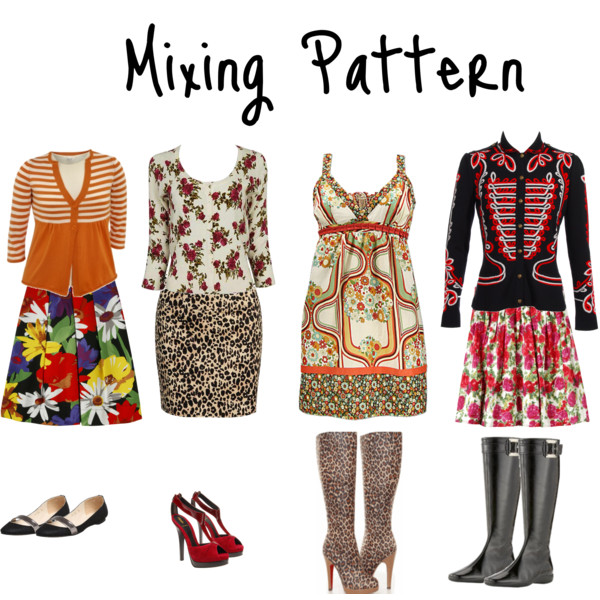 Patterns That Easily Mix Together and Why They Work
1. Floral + Stripes: Stripes are not really considered to be a pattern, so you can mix them with any print, from floral to graphic, just tone the colours in (sorry I would have preferred the cardigan to have been green, but them's the breaks), with colours in the pattern to work it back.
2. Leopard + Floral: What you'll notice here, is that the leopard is a dense small print, whilst the floral is a sparse medium print, yet they work together. We want slightly different scales, and different density when mixing prints.
3. Floral + Graphic + Leopard: Ok, I've cheated a little here and found a dress which already has the graphic, larger, sparse print, mixed with the smaller scale dense floral print, but notice how the designer has used the same colour scheme, which unifies the dress. I've gone out on a limb and added the leopard print boots, because even though a different print, again the print is slightly smaller, and it relates to the small floral print on the hem.
4. Military + Floral: It's tough dramatic chic meets feminine romantic print. Again it's the colours that link the two garments, with one more dense print, and one garment that has more negative space (that's the bit between the pattern or print). Interestingly when putting together this image, I played around with few skirt options and didn't feel that any of the more sparse prints worked as well as this dense floral. The black boots tie the look together.
If you want some real life inspiration, check out my style, mixing prints post
Do you mix your prints?
More tips on mixing prints and patterns