Now that you have your wardrobe basics sorted out (the first element of my outfit formula), it's time to add in interest pieces.
What's an Interest Piece?
An interest piece is a garment or accessory that has some interest or detail, such as:
Colour
Pattern
Noticeable texture
Sheen or shine elements
Unusual or interesting construction detail that lifts it from being a basic.
What's interesting to consider, is that one person's interest garment will be someone else's hero (or statement), depending on your personality style. Someone who is more classic or more relaxed in their personality dressing style will find that their interest pieces are more subtle than someone who is dramatic, rebellious or creative in their personality style.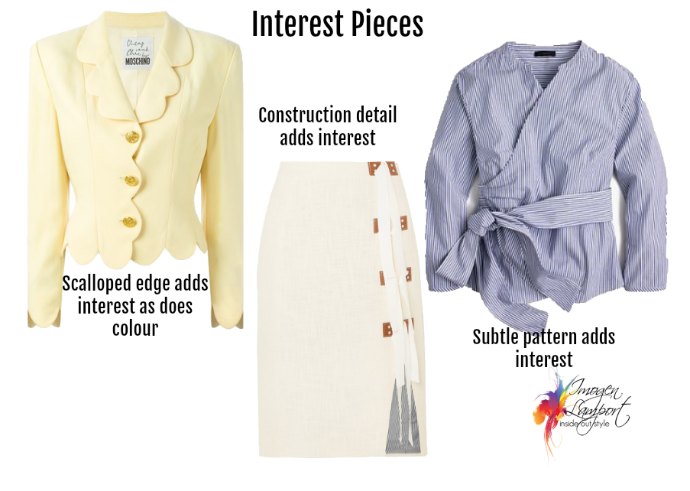 In the examples above of interest pieces, you'll see that none of them is a true standout or hero item – but each has some added detail that takes them away from being basics.
The scalloped edge of the jacket and a subtle colour. Some interesting construction details on the skirt, and a subtle stripe of the skirt (and even the tie waist) all make them more interesting.
Building an Outfit with an Interest Garment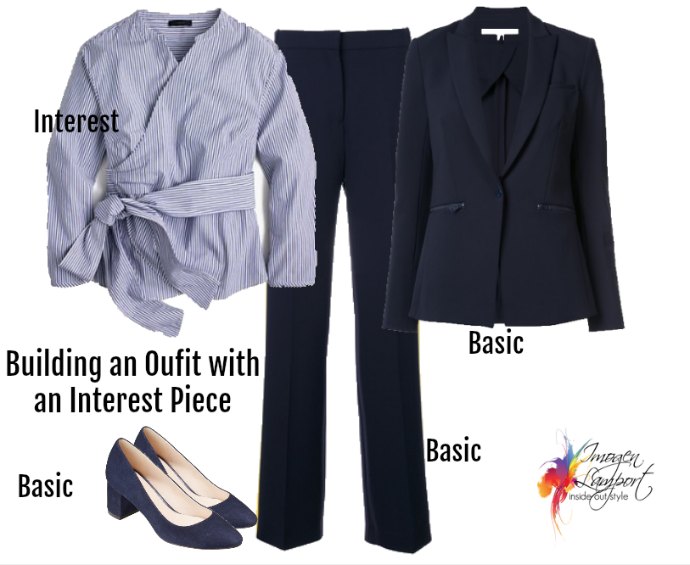 Here I've used the striped blue blouse as the interest garment and then worked it with a series of basics to create an outfit. Without the interest piece (imagine this with a plain blouse with no detail) this outfit would be classic, but rather dull.
Adding a Statement Piece to Your Outfit
When it really comes alive is when you start adding in the statement pieces (or heroes)
What's a statement piece? It's a garment or accessory that grabs attention first. It can be:
Bold or bright colour
Obvious pattern or print
Larger Scale detail or construction element
Fabric with shine
Larger scale jewellery or accessory
Accessory in noticeable colour that pulls focus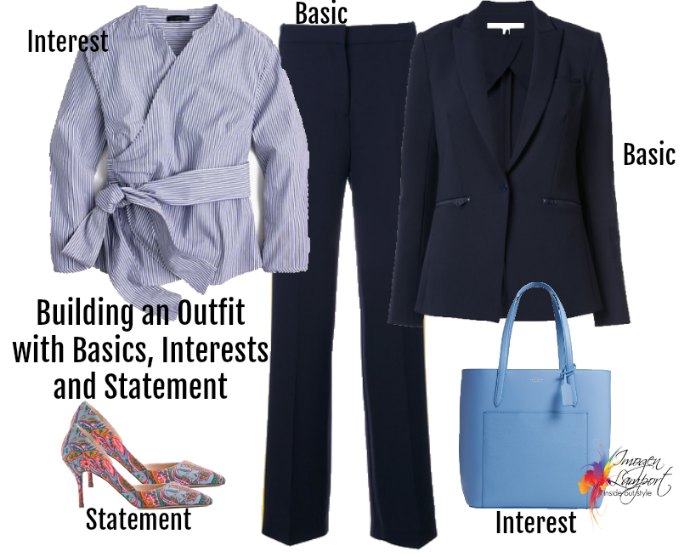 By swapping out the basic shoes for a statement shoe in the outfit above, you get a more exciting outfit. It's still a Classically styled outfit but has a little extra oomph of personality added to it.
Use Pattern
Now, what about those pieces that are statements in themselves? Sometimes one garment is the hero.
Here (above) I've built an outfit around a statement (hero) dress, the other elements in the outfit are more simple but still, on the whole, are more Interest pieces than complete Basics. Notice the scalloped edge on the shoes that addsa little something extra to them.
Use Texture
Have a more subtle style? Why not create your interest and statement with textural elements. This is the easiest way to make a monochromatic outfit fabulous.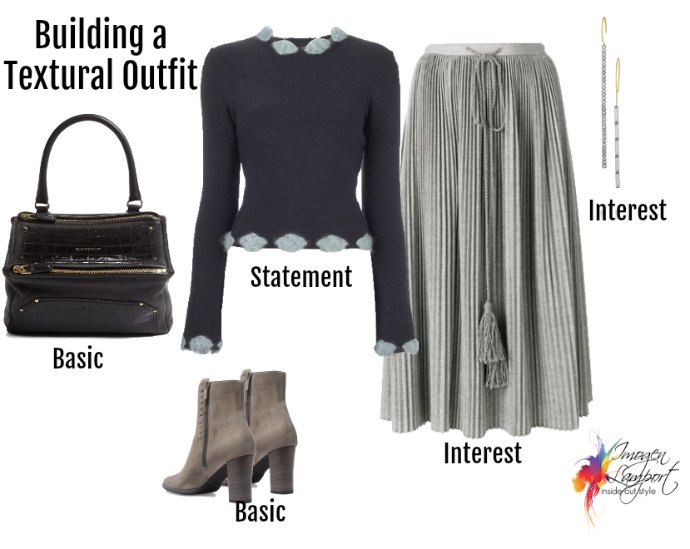 You'll find with the outfit formula, as long as you add in some interest (or a really exciting hero) that takes any outfit from bland to more interesting and expresses your personality. It's when you get stuck in basics with basics with basic that outfits can become dull.
There is no one formula that works for all – you may prefer a more subtle style or you may prefer a more dramatic or creative style. Each is beautiful in its own way – but what makes the biggest difference is adding those little touches, those interesting garments and a hero to take your outfit up to the next level.
More Tips on Outfit Creation and What You May Need in Your Wardrobe
Patterned Heroes vs Solid Supporting Acts – What do You Need in Your Wardrobe?
3 Easy Ways to Add Interest to Your Summer Outfits When It's Too Hot to Add Layers
Back to Basics – The Top 6 Essential Supporting Acts for Your Wardrobe
Bored with Your Style? 5 Solutions to Have You Looking and Feeling Great Again