My Top 6 Wardrobe Staples For Your Wardrobe
If you were starting a wardrobe from scratch what should you buy? Well using a wardrobe capsule formula (you can download and print this one) is a great place to start. We all need wardrobe heroes, but without the supporting acts, the heroes don't work (unless you are the queen of 'out-there' style). So what would I recommend as some great basics to include in your wardrobe? Having done many wardrobing sessions over the years and knowing that we all need clothes to get by, these are the pieces that I think have the broadest appeal and work for the majority of women.
1. Dark Denim
Denim is a great staple in most wardrobes (of course I don't believe that everyone has to wear jeans, but many women do). And a darker, clean (non-distressed) denim is the most versatile. Distressing makes the denim more casual, so if you only want one pair of jeans avoid whiskering or distressing of any kind. Look for a darker wash without any fading. They can be dressed up or down so make a great wardrobe staple.
2. Knit tops
Find ones in a neckline that flatters your jaw shape – so replicate the shape of your jaw with your top. If you have a pointed jaw go for a V shape, if you have a curved jaw, go for a scoop neck, if you have a square jaw, go for a boat neck or square shape.
Knit tops are great. Provided they are of a decent quality you can dress them up and down. You can wear them to work, you can wear them casually. You can get them in so many colours, you can layer them. They are a truly versatile garment. And of course, you can add your hero over the top (if your hero is a jacket or necklace) and they provide the perfect backdrop.
3. Skirt in a shape that flatters
We don't just need to wear trousers all the time. A skirt is a great staple for your wardrobe. It looks dressier than a pair of pants and it's way easier to fit (trousers are the hardest garment to get good fit on for the majority of women). Again it's a great versatile basic that you can wear to so many occasions and pair with so many different items to make it a brilliant supporting act.
4. LDD – Little DarkDress
A dark dress in your best neutral or deeper colourthat you can dress up and down is a really useful staple for your wardrobe. If you can find a fabric that crosses the border between day and night you are set. Throw a blazer over it or a cardigan and wear it to work. Add sparkles, heelsand a pashmina and you're ready to go out at night. It doesn't have to be black. In fact I recommend looking for a dress in a great signature colour – one that brings out your eyes if possible – at the more neutral end of the spectrum, so that you really can wear it again and again and nobody remembers the colour in particular, just that you look great it in.
5. Flattering Flat Shoes
Shoes that you can wear with skirts and dresses (and of course your pants too) are a necessary staple that is so often missing from wardrobes. A great comfortable shoe that you can walk in that still works with your skirts and dresses will expand what you wear and how you wear it. Many women end up in pants every day as they haven't got an appropriate comfortable shoe to wear with their skirts and dresses which really limits their wardrobe choices. It may be a ballet style flat (and many these days have padding and support), or a knee high flat boot for winter.
6. Comfortable Jacket
Ajacket that you can dress up and down, that you find comfortable, in a colour that is a great neutral for you is an excellent addition to your supporting acts wardrobe. You can throw it over a pair of jeans or wear it to the office with skirt or dress, it can take you out to dinner (though I don't think it will pay the bill). It will add that layer of warmth when you need it and that structure that makes you look smarter and more put-together.
Think a little more broadly about your jacket, it doesn't need to be a traditional suit blazer style. It could be made of a stretchy fabric or textured or be light and drapey. It just needs to work with lots of your other clothes to make the cut as a staple supporting act.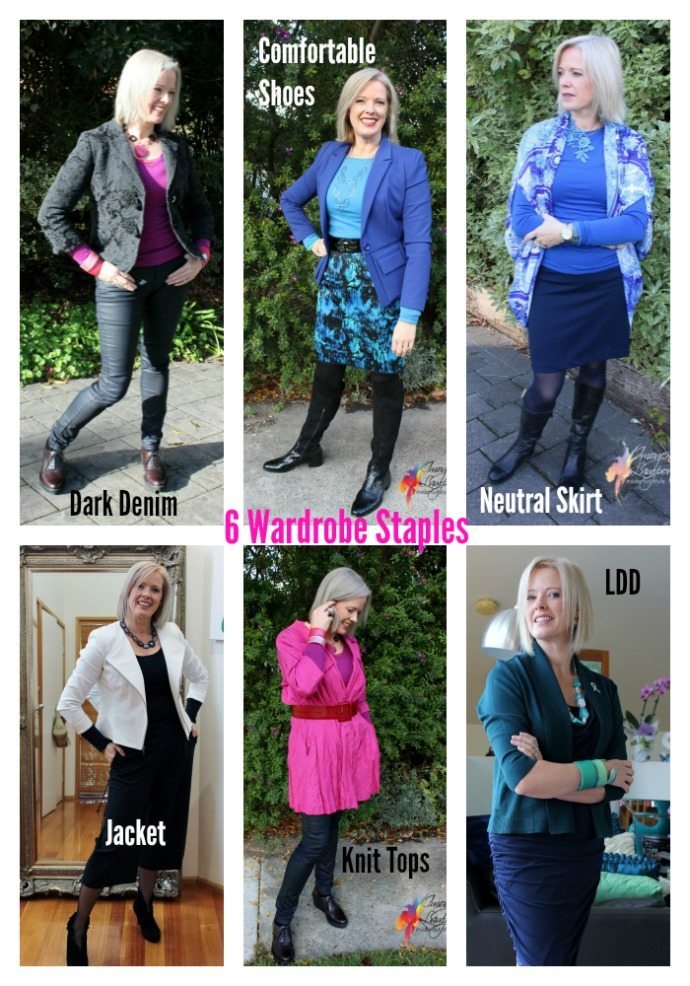 What are the garments that you consider to be staple items in your wardrobe?
Further reading:
Do You Need Interesting Basics or Understated Staple Garments in Your Wardrobe?