So you've got an LBD or LDD (Little Dark Dress which is a wardrobe staple) and you want to wear it with some colour to make it look more different.
It may be that you need to wear it to a few different events where you'll see a bunch of the same people and you want to make it look like you've got something completely different on, or just for variety for your own sake.
9 Ways to Style Your LDD with Colour (and a little pattern too!)
So everyone has seen your LDD already, then why not add a tie waist blouse over the top to make it look more like a top and skirt – just as I've done here below with the peacock green top over the black dress.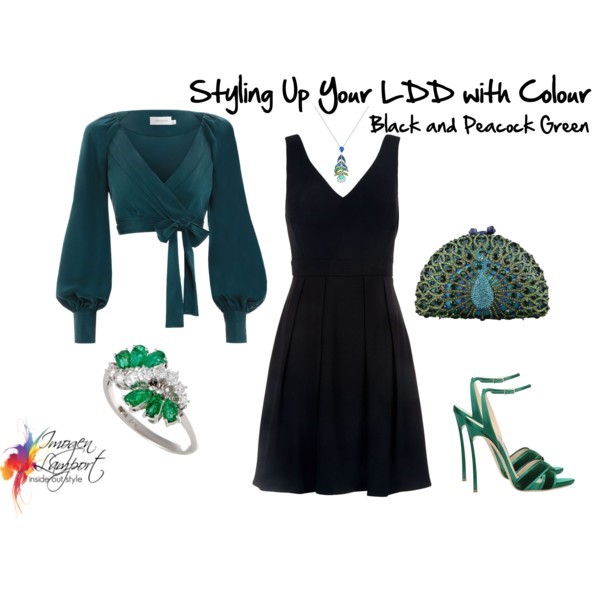 Now what happens when you also need to attend a funeral and you look much better in colour (you've got higher colour contrast and colour really is your thing, that black dress just drains you). In the past you've just slung a black jacket over the top, but you know it's not your best look.
Without going over the top with colour, find a good darker colour (a signature colour is always great) and wear a jacket in that darker great colour over the dress and add an accessory near your face in that same colour.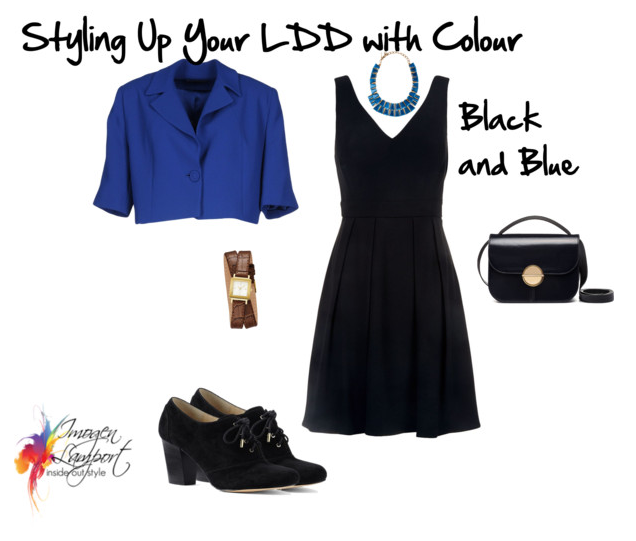 It's not lots of colour but a small hint of a darker more sombre colour that stops the black dress from wearing you. Keep your other accessories more subtle and toned to the dress, a funeral is not the time for your fun orange handbag!
Don't be shy when adding some colour to an LDD when the occasion is about fun. Chose a colour that harmonises.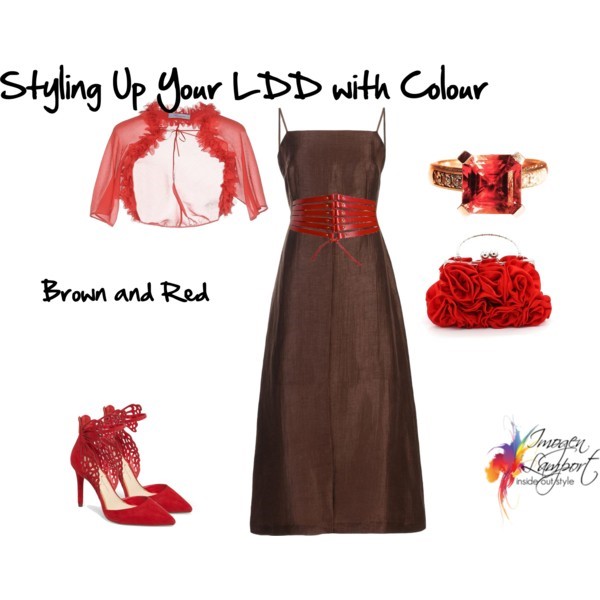 Here a neutral brown dress is given life with red (but turquoise blue and yellow are also colours that look fabulous with brown).
If you want to add more than one colour to your outfit, and you're not high colour contrast, why not try an analogous scheme.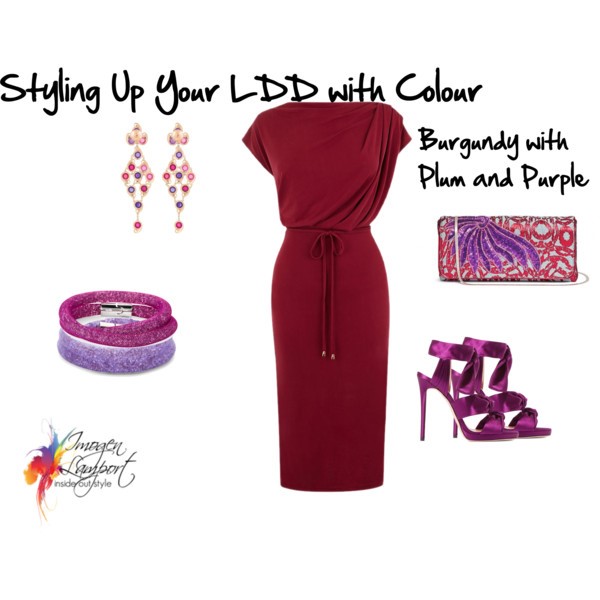 Here a burgundy dress plays well with plum and purples in a gorgeous analogous scheme, which doesn't scream or look garish.
If you want to be a little more daring, add a bright colour that's a step or two away on the colour wheel.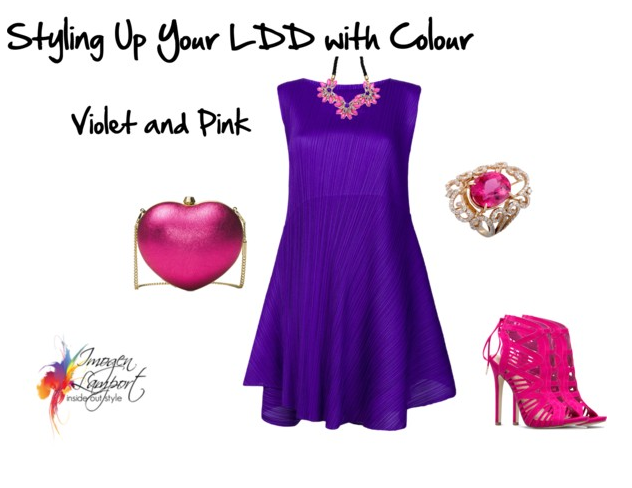 Pink and purple always look great together (purple also works really well with orange and green if you're after some other combination ideas).
You can always add lighter versions of the dress colour, or even a patterned item that includes some of the colour and has an element of another colour and then play up the alternate colour in your accessories.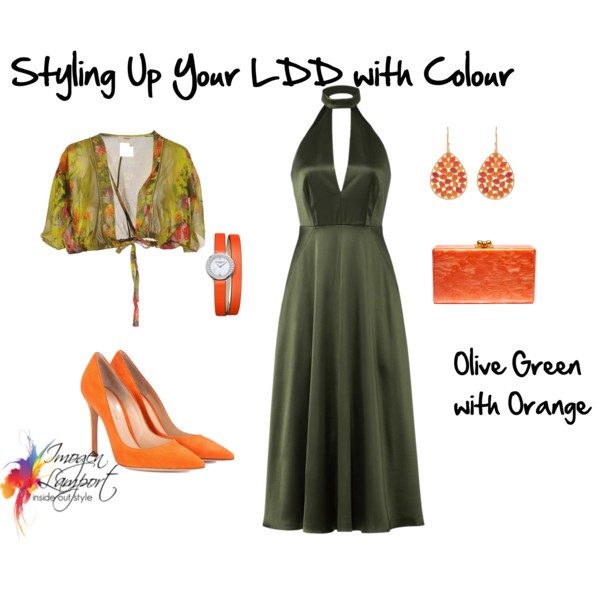 Here the lighter green floral shrug includes orange which has been repeated for pop in the accessories. This would be a perfect combination for someone with beautiful olive green eyes as the orange would work as a skin enhancer.
So you've got a few beauty bundles that you've been rocking with your LDD, but now you're bored with just one colour (or you're a high colour contrast), when the opportunity allows, why not add in some multicoloured items that harmonise together.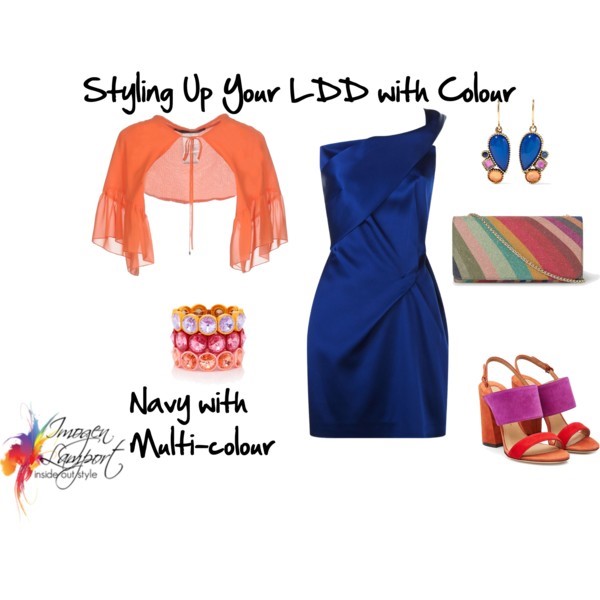 Using the bag as inspiration, choose colours from it and wear them in your accessories.
If you love patterns you can think about including a pattern theme in your accessories.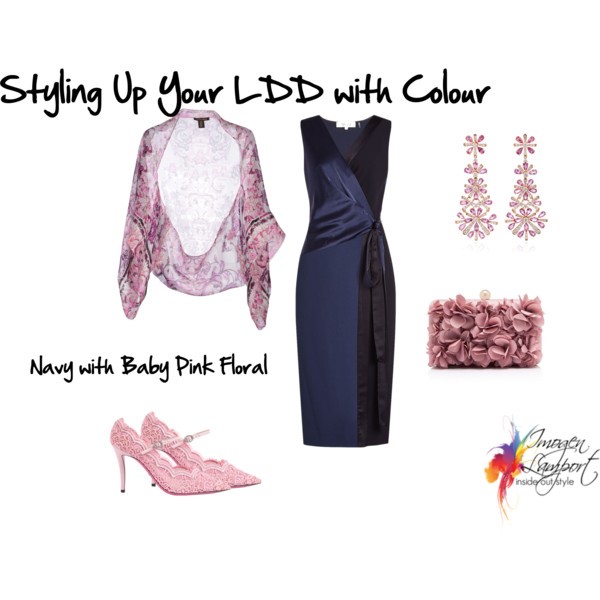 The pattern can be in a print, but it can also be in a texture as I've done here with the floral lace shoes and the floral textured bag, and in a shape, in these floral inspired earrings.
If leopard is more your style, add leopard print accents and accessories.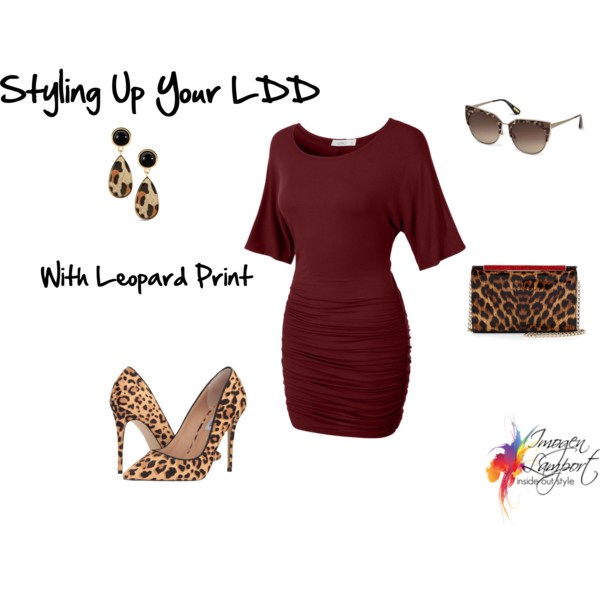 There is no end to styling a dress multiple ways with different colours, patterns and textures to take a plain LDD and turn it into a variety of outfits. Remember that you can also vary the level of refinement in your accessories to dress your LDD up or down (if it's a dress that has that kind of versatility).
If you're not sure of your colour contrast and would like my professional opinion, this comes as part of my 7 Steps to Style program (plus you'll also discover your ideal colour palette and signature colours, along with your body shape and other physical and psychological aspects to your style). Alternatively, you can work through my 3 Step Process to find your contrast here.
More Ways to Style Your Dresses
One Dress, Four Ways at the Melbourne Spring Racing Carnival