Accessories can be a great way of adding contrast in your outfit.
You can add interest with pops of colour in accessories and create focal points for which to draw attention and encourage the eye to linger.
You can raise your colour contrast.
You can raise or lower your value contrast.
This is why accessories have such great value in your wardrobe as they have a great ability to add dimension, colour and contrast.
Here are some examples of accessories you can use to create contrast.
Wear a Coloured Belt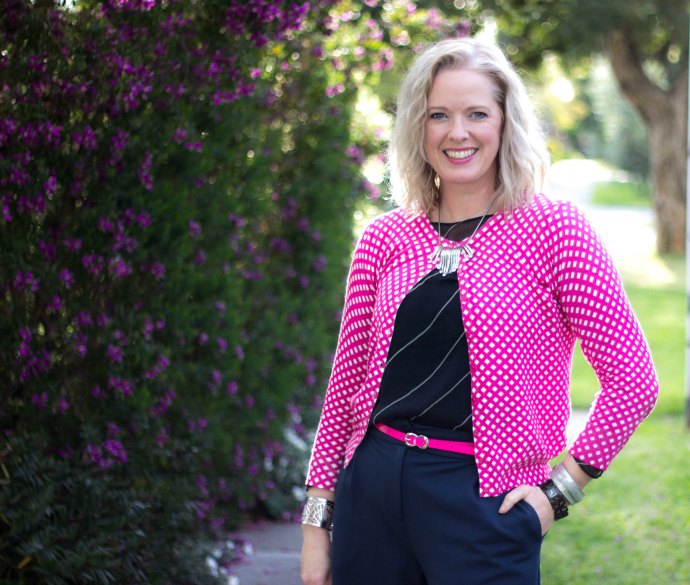 Add a coloured belt (I've repeated the pink in my cardigan) with a belt to repeat and reinforce the colour and help make the whole outfit medium value contrast (plus 2 neutrals and a colour which repeats my colour contrast).
Do it With a Shoe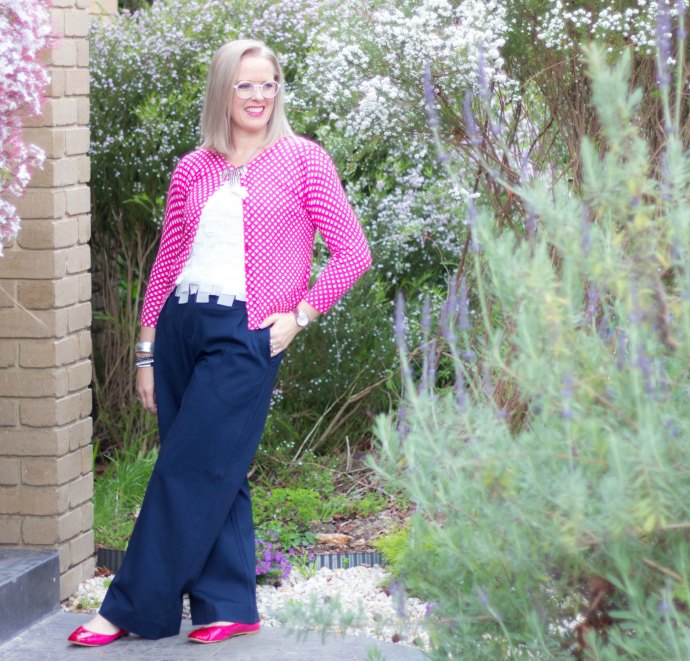 Here I've repeated the cardigan colour in my shoe which ties these elements of my outfit together.
Use a Coloured Necklace
Here I've chosen a red necklace and earrings to add a necessary colour element to my neutral outfit (as I'm neutral plus colour, colour contrast). And as the red is a medium value colour, it also helps to make sure the steps between light and dark are all covered (find out more about this here).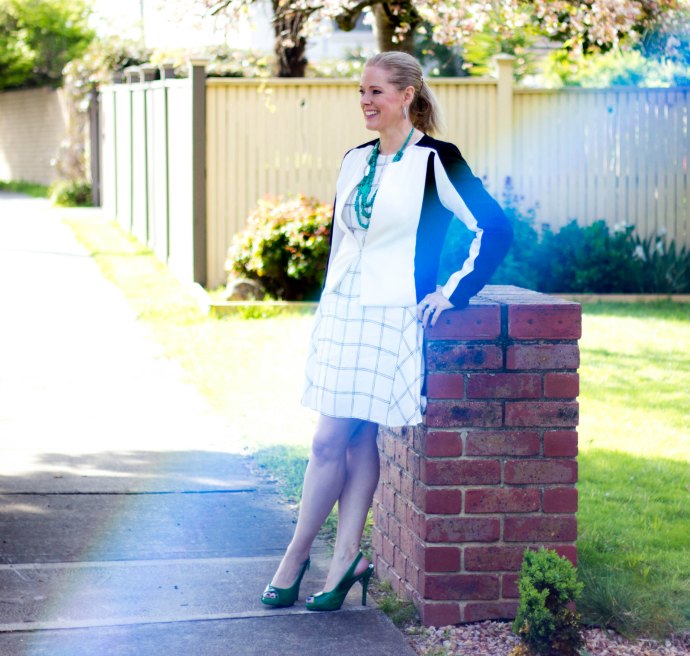 Here I've helped to reduce the high contrast of this black and white outfit using a mid-green necklace and shoes, and this also adds my necessary colour to the neutrals for my ideal colour contrast.

This outfit would be too high value contrast for me without the statement red lace necklace and earrings which provide that necessary stepping stone between the dark of my navy dress and the light of my white shirt.
Add a Bag and a Bracelet (or two)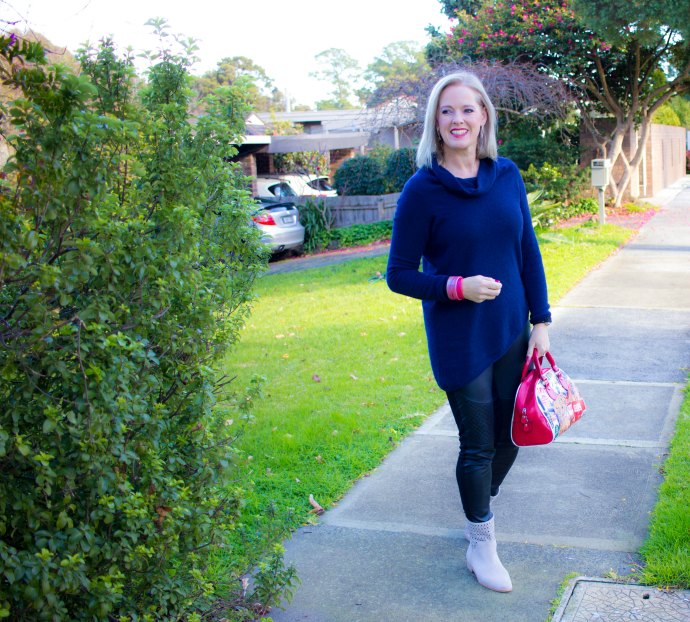 In this example I've added the red bracelets, lipstick and bag to create steps between the dark jeans and jumper and the light shoes (which match my hair), doing the necessary work to lower value contrast to medium and raise colour contrast to include colour to my neutral base.
Up Your Colour Contrast with a Scarf
Even though I'm neutral plus a colour, when I add a stronger lip colour (as I've done here) this allows me to add an extra colour to my outfit so I can play with my neutrals plus a couple of colours (here pink and green) with my navy and white outfit. Notice how the coloured elements are the smaller percentages of the overall outfit which has a neutral base.
Do it with a Necklace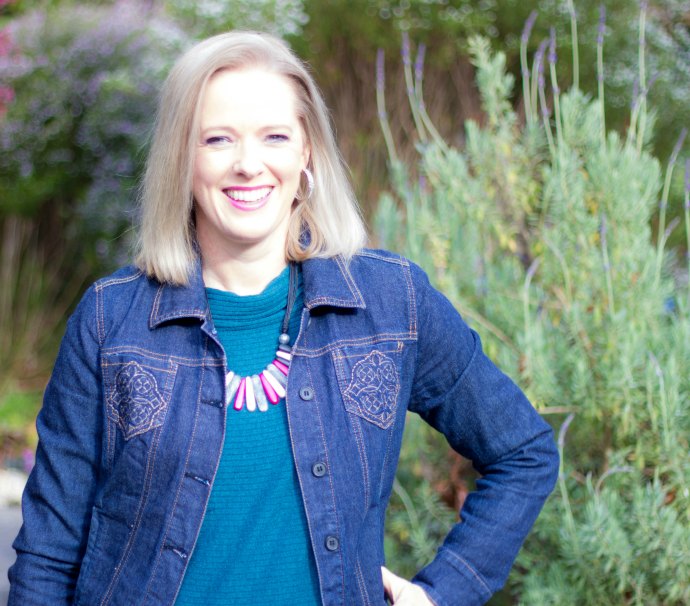 In this example, I've added the extra colour with this necklace and my brighter pink lipstick. The small proportions of this second colour to my neutral plus colour outfit means that the extra colour doesn't overwhelm me.
Don't Forget Your Brolly!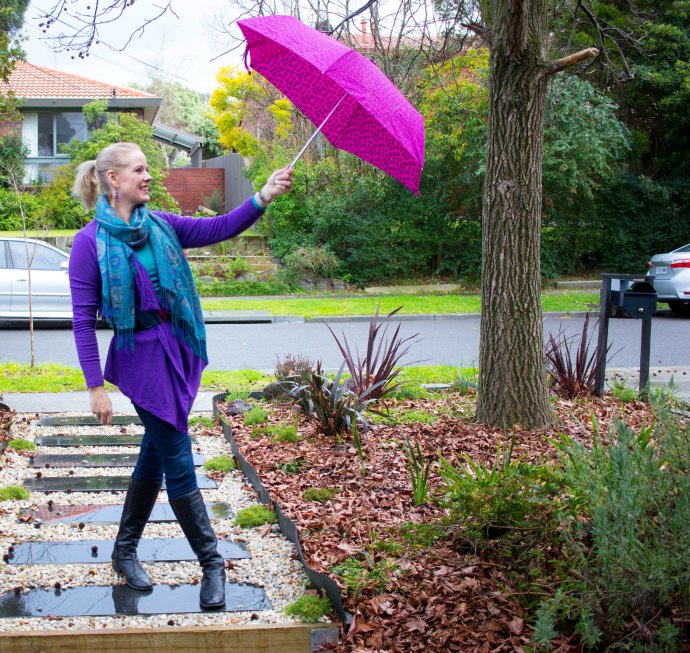 This two coloured outfit is tied together with the scarf that includes both coloured elements which are in the same value (makes them look less "different" from each other). Notice how the purple is the dominant colour with the teal the secondary and repeated in a smaller percentage of the outfit.
The pink umbrella adds a punch of colour for a grey and wet day. Given that it's an accessory that I'll put down when I'm inside I don't need to worry that I'm wearing too many colours at once.
If you'd like my professional opinion on your ideal value and colour contrasts, you can get this as part of my 7 Steps to Style program or you can figure it out reading some of these posts.
How to Find Your Ultimate Colour Contrast – Your Three Step Process
Getting Your Head Around Value and Contrast – the Celebrity Version