There is always a lot of hype in what to wear but a great topic would be on how to dress affordably and what is in this season – Personally I love Melbourne Cup but I DREAD Having to find something to wear ( Writing this to you as I'm heading out tonight in an attempt to find something) Also points of difference when it comes to attending Melbourne Cup Corporate Events or events with your friends socially.
The Spring a Racing Carnival is all about ladylike glamour. It's a time to channel old-school elegance. Its dress code is published by the VRC and I know that this year apart from the usual request to not dress like you're going clubbing, no to fake tan like an Oompa Loompa, but also a big no to bare midriff which is a current big fashion trend (and they will be turning people away from members areas and The Birdcage if they spot an exposed midriff).
But that perennial question of what to wear still remains. Headwear is imperative. Don't go bareheaded. Firstly if you want to do it well on a budget then you must work from the headwear down. Can you borrow from a friend who has a collection? Can you make something yourself? These are the wallet-friendly options.
If you manage to borrow some headwear then plan your outfit around it. If you are going to make so something yourself then plan the rest of your outfit and make the hat. If you're wearing a feature headpiece, keep your hairstyle simple.
Consider your footwear. You'll most likely be doing a lot of standing, and often on grass, so make sure it's comfortable and fit for purpose. This season you will find block heels which are a great alternative to stiletto or wedge heels.
Midi and knee-length dresses are right in fashion and suit the racing dress code to a tee.
The winners of the fashions on the field events are always demurely dressed, so take a leaf out of their books and do the same. Think 1950s elegance with a modern twist.
Melbourne weather in spring is unpredictable, so make sure you have a jacket that can be added to your outfit should the weather turn cold. You can drape it over your shoulders if you want to channel some European chic.
As far as non-official events with your friends, ask the host what they would like you to wear if they want full race day attire or just to come casually.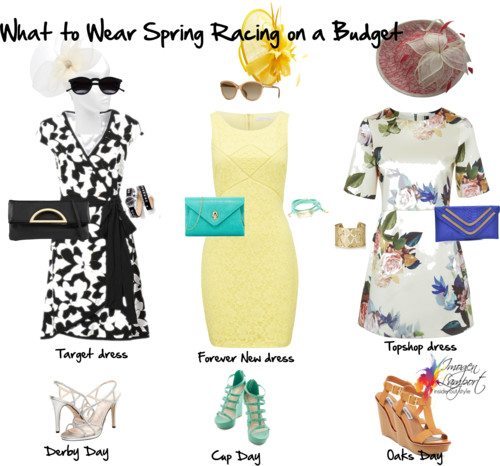 Know your event dress codes
Derby Day is black and white
Melbourne Cup is all about colour
Oaks Day is floral or feminine
How to Put Together a Spring Racing Outfit on a Budget
1. Shop Your Wardrobe
First shop your wardrobe. You may be surprised if you go through your existing wardrobe you will be able to create an outfit with a little thought and no extra cost. Or you may be able to style most of an outfit and only need one thing to finish off the outfit.
2. Borrow From a Friend
Have you thought about what your friends may already own but aren't wearing this year? Maybe they have headwear (in particular) or a dress you can borrow for the occasion.
3. Thrift It
Thrift stores are brilliant places to find racing headwear and even race appropriate outfits. Why not head down to your local thrift stores (you may need to go to a few to find what you're after) and see what you can pick up. These can also be great to pick up a jacket (normally an expensive item) that's more fun or floral than what you'd ordinarily wear so that you're not spending lots on a rarely used item.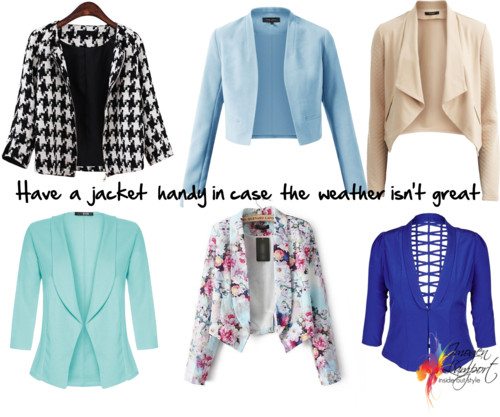 4. Discount Department Stores and Outlet Stores
Other places to try are the discount department stores (such as Target) and Outlet stores (TK Maxx) where you can pick up items at much lower prices. Target is well aware that it's coming into party season and will usually do a range of dresses and outfits that fit the race day dress code.
5. Make it Yourself
This is often a great way (if you have the skills) to get something unique that doesn't cost the earth. Haberdashery stores sell all sorts of bits and bobs to make hats and fascinators, and the fabric you need and patterns to make your own frocks!
6. Style One Dress Multiple Ways
If you're going to multiple race days or spring racing events, why not find one fabulous dress and style it multiple ways? Get more tips on that here.