Most of us know that keeping any relationship alive requires time spent together, focussing on your partner, without the distractions of work, home, chores and family getting in the way. This is why getting out on a date with your partner (either old or new) is an important thing to do. But so often we get stuck in a rut, doing the same thing over and over. So what are you going to do on your next date? I've compiled a list of date ideas to try.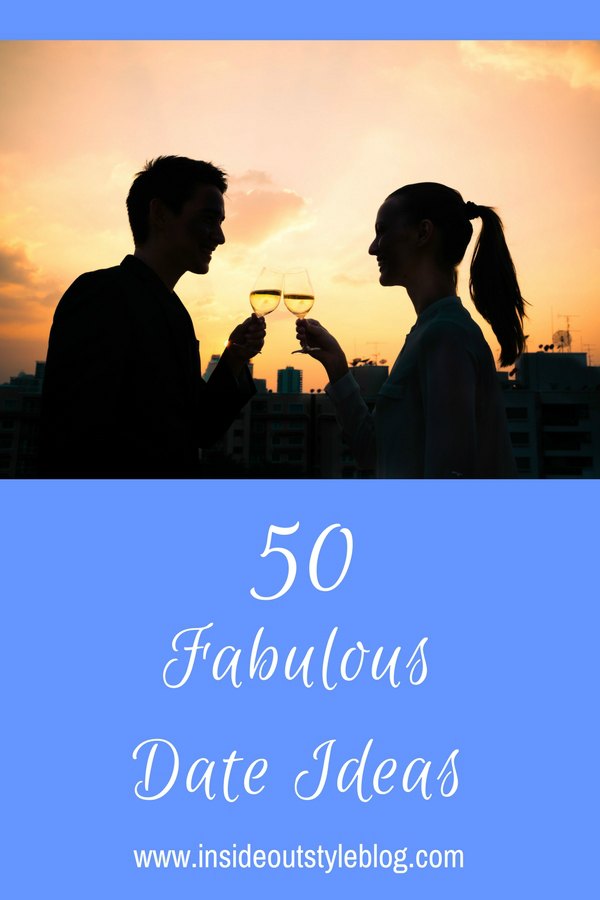 Over 50 Ideas of What to Do on Your Next Date
So I thought I'd share 50 fabulous date ideas of possible things to do to add some fun to your next "date night".
Go ice-skating or roller skating – the big kid in you should be let out every now and again
Go for a walk in a big park, the botanical gardens, or the bush (that's what we call the woods in Australia)
Pack a picnic, champagne and strawberries, something delicious to eat – take it somewhere beautiful to eat or if you've got babies and can't get out of the house, set up your lounge with a picnic blanket and picnic at home
Visit a gallery – there are so many galleries with different kinds of exhibitions to see and discuss (I love the NGV in Melbourne which always has a great range of exhibitions).
Take in a movie then go out for a drink or dinner afterwards to discuss
Go to the fresh food market together then cook up a delicious meal together
Take a cooking course together – then you can practise your skills at home
Join in a pub trivia night – always good for a laugh
Go on a wine tasting tour together (Mornington Peninsula just outside of Melbourne is a fabulous option)
Be tourists in your own town. Make a plan to see some of the sights you've never got to in your own city. My husband and I did this in Melbourne.
See a concert or band that you both love
Go out for dessert. Forget the main course and find a place that sells delicious sweet treats and just enjoy the experience sharing a few desserts
Take a dance class, from hip hop to Argentine Tango, there are dance classes for every style of dance
Go bowling or do some laser skirmish if that's more your scene
Go for a trail ride, whether it's a horse or a motorbike, get out together. Active dates create great shared experiences to remember later.
Hit the dance floor at a club. From ballroom dancing clubs to night clubs, you can dance away the night together.
Get on a boat, from an evening booze cruise to a sailing boat. Even taking the ferry across town and back again can be a fun way to spend time together.
Head down to the pool hall, take turns in shooting and being the commentator (I always loved watching Pot Black as a kid for the whispered commentary)
Cocktail night – head to a cocktail bar and enjoy the experience of trying some different combinations, or even set yourself up at home with your own home made cocktails
Head to your local comedy club – see a stand up comedian or two and laugh the night away
Take a class together – find a weekly class at a local college or adult education campus and learn a new hobby or skill together.
Go to a microbrewery and make your own beer
Have a coffee in a bookshop and browse the shelves


Where's the cheese? Go cheese tasting and experience some new flavours
Head to the fun fair – if you love a thrill ride, take the roller coaster together, then go crazy on the bumper cars
Tick it off your bucket list – why not create bucket lists and then take turns working through your bucket lists – those things you've always wanted to do
Spend a night in a swanky hotel – get away from home and get pampered, order in room-service or head out to a restaurant, take in a show – enjoy a night on the town
Get out of town – find all those places 1-2 hours drive from where you live and then start visiting them together, or consider a weekend getaway to Bendigo if you're based in Melbourne.
Walk around your neighbourhood, go up and down those streets you've never been up and take in the gardens and houses in your local area.
Go to an open garden or open house and get inspired
Take in a film festival – go see those small budget quirky films from around the world, in Melbourne ACMI always has an interesting program on offer.
Jump on a trampoline – there are so many trampolining venues that you can jump around like a kid again
Pizza, popcorn and Netflix on the couch at home
Visit the zoo – if you don't have kids you won't have been in a while, enjoy a stroll around your local zoo
Visit the museum as they've come a long way since I was a kid, you're sure to find an interesting exhibition or two
Spend an afternoon walking through display home, discuss what you do and don't like and how you could replicate what you do like at home
Go up as the sun goes down – take a trip up your local "tallest building viewing platform" at dusk and watch the sun set over your surroundings
Relive your first date – go to where you met or had your first date and reminisce
Row a boat – rent a boat and go for a row, take a picnic and enjoy a lazy afternoon
Climb a tree (or do a skyline tree top obstacle course like this one that I did with my kids too – and they loved it!)
Go to an art fair or art show and discuss which are your favourites (and which you hate)
Rent your dream car – then take if for a spin around the fanciest neighbourhoods in your city, cruise by the big houses and discuss how you'd spend your millions if you won the lottery
Enjoy and adult brunch, like I did recently at Magic Mountain Saloon
Attend a book reading – bookshops are always hosting book readings by authors, check out what's happening in your local stores (here is one I went to recently)
Try different cuisines, from food truck parks to local restaurants, go out and eat a cuisine you've never tried before
Go on a ghost tour – you'll surely be holding hands by the end of it!
Rent bikes and ride around town
Play a game of mini-golf
Race go-karts for an adrenaline fuelled experience
Go glamping – yes that's short for glamorous camping! And a way better experience.
Go to dinner (yep it's pretty standard, but sitting down and eating a meal together gives you time to have a good conversation)
Want to download and print this list?
52 Fabulous Date Ideas
Download and print this list for easy reference when you've run out of ideas for your next date.
What to wear on a date? Get my tips here plus tips on summer date attire.
What's your favourite date idea? How about the wackiest or most unusual date you've ever been on? I'd love to know what they are! Share your experiences in the comments here!