Last weekend my husband and I decided to be tourists in our own town. We had thought about going away (it was a long weekend here) but couldn't decide where to go and then I thought, why not do all those touristy things in here which I've never got round to doing!
So we booked a night at a city hotel and packed our bag and took the train into town.
Now many of you are aware I live in Melbourne (Australia) but have no idea what it's like or even where it really is. Here on the world map you can see the Melbourne is at the bottom of Australia, which is a large land mass – about the same land mass as the USA, it has a much smaller and more spread out population.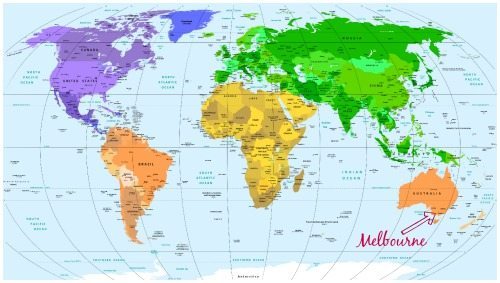 So where is Melbourne exactly? Well it's at the bottom on the right hand side (the majority of the population of Australia live on the Eastern coast of Australia. There is lots of desert and not much in between the east and west, and if you want to drive from one side to the other it's a non-stop 3 days and nights drive.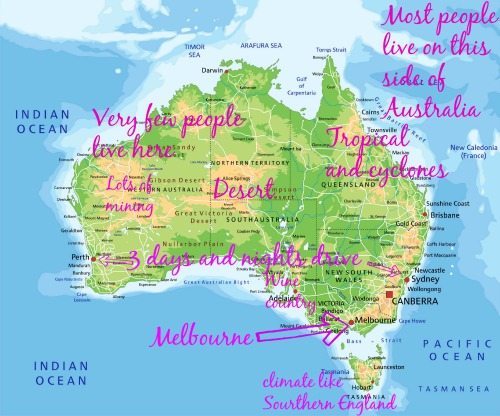 And Melbourne is down the bottom of the mainland (yes that little triangular island called Tasmania is part of Australia). We don't get floods, snow, ice, hurricanes, cyclones or most other natural disasters in Melbourne. We have a temperate climate, hottish dry summers and wetter but not really cold (no snow) winters. I've been told our climate is something like San Francisco. The population of Melbourne is around 4 million people and is slightly smaller than Australia's largest city Sydney.
There is always something go on in Melbourne, a couple of weeks ago it was the White Night Festival where they light up some of the buildings and create all sorts of lighting displays.
And this weekend was the Moomba Festival which is set in the city on the banks of the Yarra River which winds its way from the mountains outside of Melbourne through to Port Phillip Bay.
The first thing we did after dropping off our luggage was to go into Melbourne Central (a large shopping mall area) that is covered by a glass cone that houses and old Shot Tower (where bullets were made a century ago). I never realised that there is a small museum there and you can go inside the shot tower (I'm always shopping with a client and just passing it by).
Then we crossed over Swanston St and went to the State Library of Victoria, a grand old building where lots of students study and those interested in genealogy spend lots of time researching.
We jumped on a tram (trams are free in the CBD area of Melbourne) and rode it down to Flinders Street Station where we got off and walked over the bridge to the National Gallery of Victoria as we wanted to see a couple of exhibitions.
One of my favourite parts of the gallery is the Leonard French glass ceiling. We went to the exhibition of Mid-Century Nordic design where we learned about the Artichoke Light which has been copied so much!
We also took in this amazing exhibition of this Reflection model by Takahiro Iwasaki
Then we wandered up the river to Eureka Tower, the tallest building in Southern Hemisphere and took the lift to the skydeck.
Where we gazed down on the Moomba festival on the banks of the Yarra.
One of the other great (and free views) of Melbourne and the MCG (Melbourne Cricket Ground) is from the toilets on the 35th floor of the Sofitel Hotel. You can see all the way to the Dandenong Ranges!
It was really lovely to wander round and notice all those little details you miss when you're working and in a rush, or just going to see something specific. Plus we got to sit and people watch at a Southbank restaurant where we ate dinner by the riverside before walking back to our hotel.