So what do you wear on a date?
It can be a particularly vexing question for many women, particularly if it's with someone new or newish. We don't want to get it wrong – either seem too forward or too uninterested. Given that it's Valentines day in a few days, I thought I'd give you some guidelines to help you make a decision about what you should wear on a date, because I can tell you, that it's about you, not a generic outfit!
What do you mean Imogen that you can't just tell me what to wear? I hear you ask your computer screen?
Well I can't, because, it's about the whole you and what you want to communicate.
So how do you decide what to wear?
Well let's take it back to the concepts of Yin and Yang and choosing the clothes that suit your personality and express who you are (not some imagined version that you think he will like but is not you, it's best to always be authentic in a relationship).
Yin elements make you appear softer, more approachable, more nurturing and warm.
Yang elements make you appear stronger, more powerful, more demanding and less open.
So when thinking about what you wear on a date, you will want a combination of these both, nobody wants to be a pushover. But you will most likely wear more Yin elements as being approachable, friendly and warm are good traits when dating!
Yin elements include details such as softer fabrics (touchable even), curved patterns and lines, smaller prints, lower contrast and lighter colours (umm, yes that LBD is making you look unapproachable).
Yang elements include stiffer fabrics, darker colours, higher contrast and bolder patterns and lines.
So how do you choose what to wear from your wardrobe for a date? Think about who you are and what you love, start there and then add in what you want to communicate. Do you want to be mysterious? Do you want to seem fun?
Now how about sexy?
Well sexy and alluring are great, but is this a first date or a date with your husband? Sexy with your husband or partner is brilliant, sexy with a first date may be giving off too many of the wrong vibes. As one of my male friends once said to me "I like my presents wrapped". Leave something to the imagination!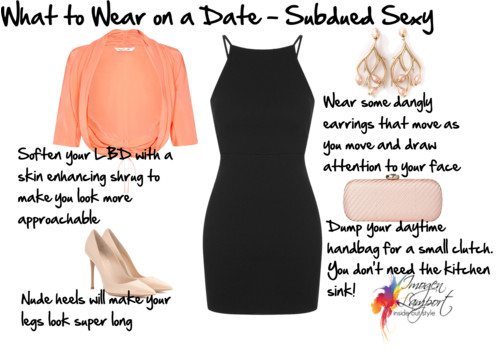 What to wear on a dinner date
Speaking of wrapping, have you thought about the power of a tie or bow? They are something that we all have a desire to pull undone. If you're having a hot date – they can be a great part of your outfit!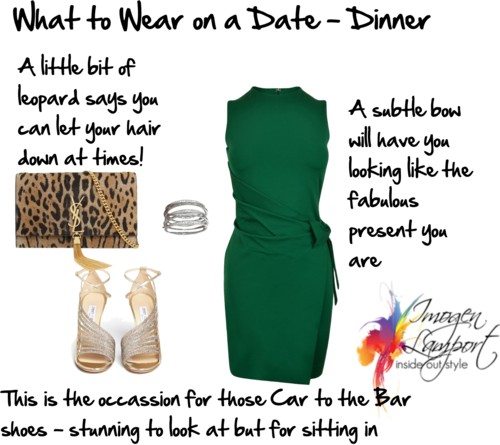 You want to wear your little black dress? Well think about how you can soften it a touch – I think this is why the pashmina wrap in a colour is such a great addition. It takes away from the cool depth of the black, or you could add a soft angora cardigan that just wants to be touched.
How to get him to look deeply into your eyes
The eyes are the window to the soul – so why not draw attention to them with a top or dress in your eye colour?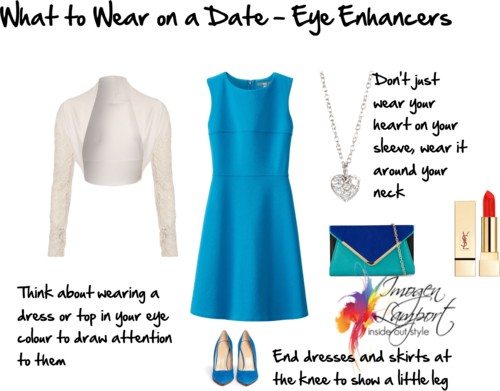 What to wear on a casual date
Now colours are another aspect that needs consideration. Did you know that research has found that red stimulates (red lipstick is the siren colour for good reason)? Given this, if this is a date with a 'happy ending' then being the woman in red can be a really good thing. But, should you wish to keep him at bay, more than a touch of red in your outfit is probably unwise.
Going bowling or somewhere casual? This is the time to bring out the red! The casualness of the outfit makes the red less overtly and overly sexy, but will grab his attention and hold onto it all night!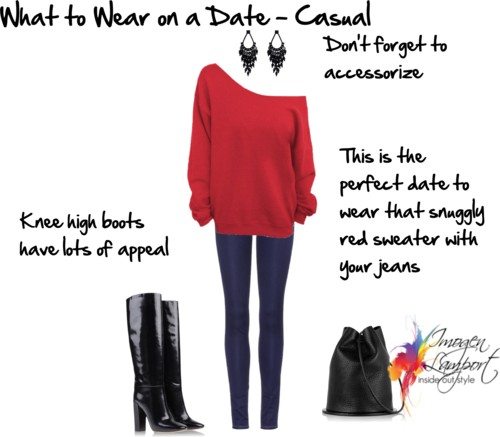 If this is a first or second date, please wear some colour! Research has found that we remember a coloured experience (over a neutral one) 70% more – so if you want to be memorable, colour goes a long way to helping his brain make your date a lasting memory.
Did you know that wearing red boosts your desirability? Find out more.
Further reading: