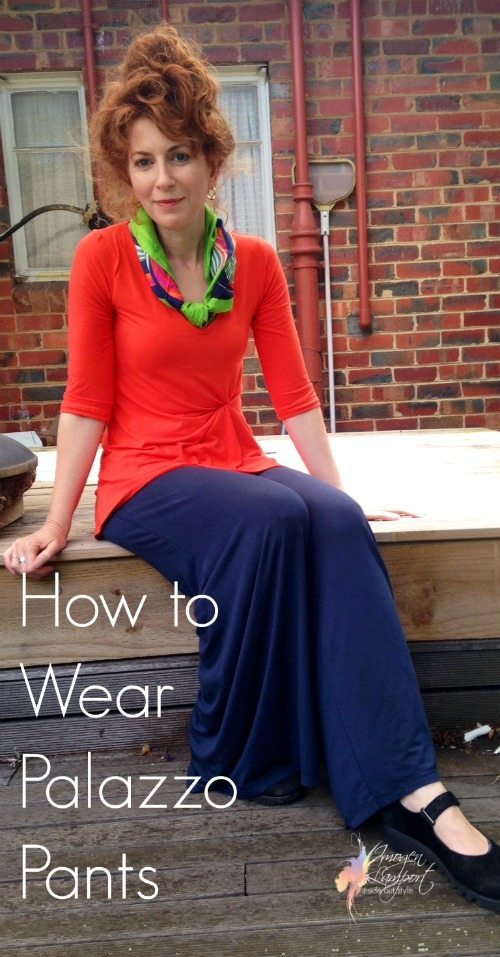 I have a question about palazzo pants. I am an A/X and have long, narrow torso and very short legs (and I am not tall either, 5'4′); I know flare pants are recommended for my figure type, but I was wondering if the billowy palazzo style would be too much and make me look even shorter?
Here is the gorgeous Alison who is also an X shape. She's not petite but does follow a few of the rules I'm going to share to make her palazzo's work.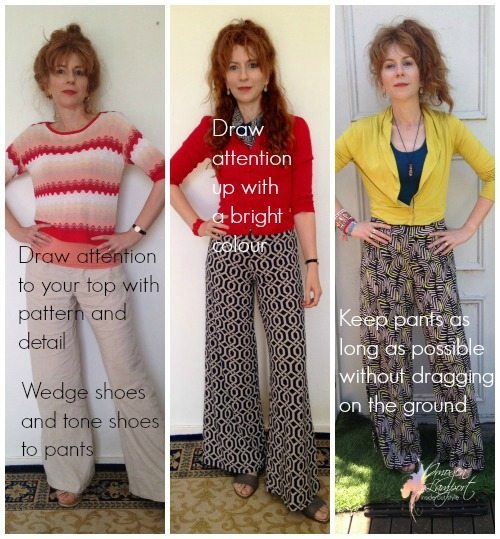 Palazzo pants are coming back into style after a number of years of slim/skinny pants only. They do have a leg shortening effect sadly, but you can get around that by wearing them with these styling tips in mind.
1. Wear with a wedge to add some length to your legs
2. Wear them with a column of colour
3. Don't have them too wide or the extra fabric will swamp you
4. Make sure your top is fitted (remember the principle of co-ordination – this the one for volume)
5. If you are conscious of hips and thighs and don't want to draw attention, keep your pants in a darker colour and draw attention up to your upper body with colour and detail in your tops
6. Wear them as long as possible, but not dragging on the ground, that just makes your legs obviously shorter!
7. If you choose to wear a patterned pant, keep the scale small (in line with your scale) and the print dense. Then make sure your top is lighter or brighter to draw attention upwards
Even if you're not petite, these rules will help all of us who don't have super long legs to rock a palazzo pant should we choose to!