The more I've worked with petite women (under 5'4″ tall) I've found that there are some elements that make a huge difference to how they appear.
Scale
Keep garments simple and uncluttered and small to medium in scale. Large patterns will swamp your frame, big collars will make you look smaller. Keep the scale of your garments in proportion to your height and weight.
Fabrics
Avoid too much fabric. Lots of extra fabric such as in waterfall cardigans or jackets, will overwhelm you. You are best in a more slim, formfitting line rather than lots of gathers, pleats and volume.
Footwear
Shoe matter. You are best in a low vamp shoe, and in a shoe colour that either blends with your trousers, tights or legs. Knee high boots are a fabulous option for you.
Colour
A column of colour is your best friend. Keeping the line of colour unbroken will really elongate your frame. Dresses are fabulous for you as they do that in one garment. Keep your dresses to either knee length, or go maxi, but remember if you go maxi, not too much fabric, a lean fluid line is what you require.
Focal Point
Only one focal point. Tall women can carry off multiple focal points. You are a smaller canvas, so one focal point at a time, but make sure you have one to direct the eye to where you want the focus of your outfit to be.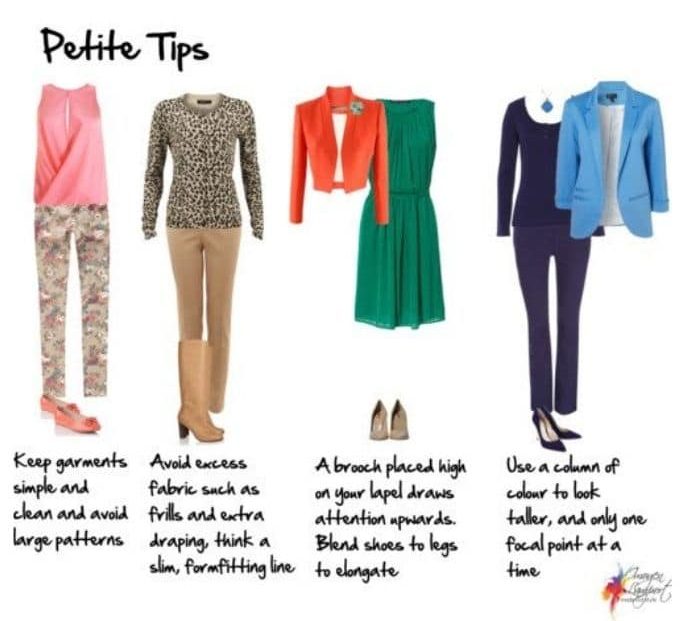 Want more petite tips? Why not pick up a copy of my ebook Never Short on Style: Dressing and Finessing the Petite Frame – it will be delivered instantly to your inbox!
Further reading:
Petite Proportions – Getting it Right with Skirts and Dresses