Inspired by your post on formality of prints I'm wondering if you could do the same examination with accessories?
So: What makes a necklace/belt/earrings casual/formal/elegant?
My aim is to have just a few clothes which I combine differently with different accessories. It's not enough clear to me how to dress it up and down with jewelry. Is it just the material (gold versus wood) or the shimmer or the size?
I thank you a lot and it's always the highlight of my day coming home and reading your latest posts 🙂
Warmest regards from Germany
Marion
There are few elements to look for when deciding on the level of refinement of jewellery.
1. The Sparkle Factor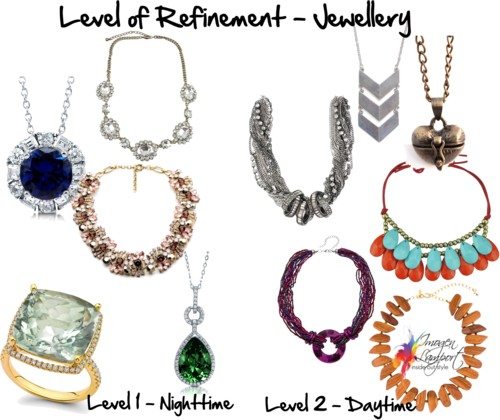 The more a piece has a lot of sparkle then it becomes more of a Level 1 piece, more appropriate at night rather than during the day (unless your personality demands daytime sparkle, more on that later).
The more the piece lacks shine or polish, the more casual it is, wood and plastic or resin are less refined than silver or gold. Sparkling cut stones are more refined than polished stones.
Next we look at the size.
2. The Size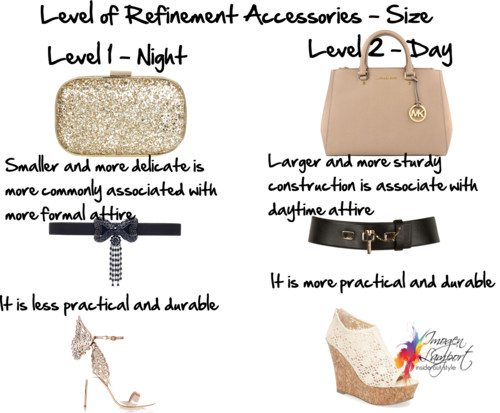 In general, evening wear is more delicate and refined than daytime wear. Even in day wear, you have the smarter end and the more relaxed and casual end, so think about how sturdy or durable the item appears, then you can figure out who formal or dressy it is. Consider how yin or yang an item is in it's construction and design.
Next the decoration
3. The Decoration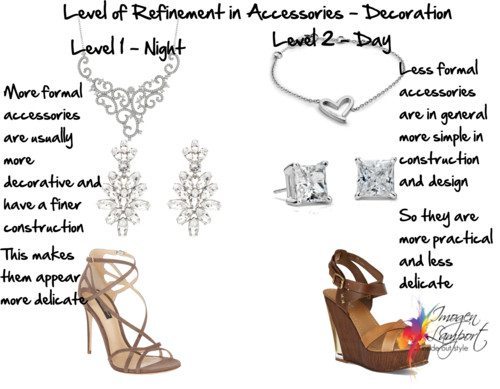 You will tend to find that the level of decoration or refinement goes up for Level 1 pieces (formal), they are more delicate and intricate in design and construction, so you wouldn't consider them practical on an every day level as they are more likely to break or snag with prolonged use.
Next the personality of the accessory.
4. The Personality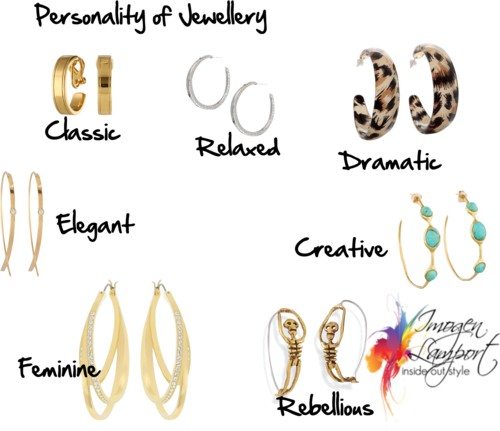 Your personality is so important in choosing what you'll wear accessory wise. Someone who is feminine will wear a more delicate piece during their smart casual life, while someone who is more relaxed would only choose that when dressing formally. People who are more naturally classic, feminine or elegant will veer towards the dressier accessory for day as well as evening wear. The relaxed and more casual person is likely to steer away from these and look for something that is simpler and more practical. The rebellious, creative and dramatic like to show their flair and style, so will put their own spin on accessories no matter the dress code, as they are the rule breakers.
Check out this post on choosing brooches based on personality style too.
Now let's put it all together.
5. From Casual to Formal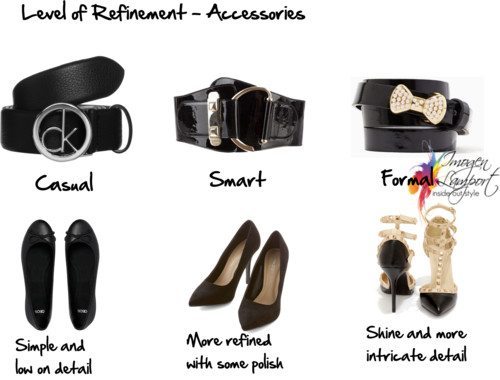 So you can see that when you add shine, or more intricate or delicate detail to an accessory, it becomes more refined and less casual.
Want more help on accessorizing? Why not check out my ebook The Finishing Touch which is crammed full of information on how to accessorize!