Inspired by your post on formality of prints I'm wondering if you could do the same examination with accessories?
So: What makes a necklace/belt/earrings casual/formal/elegant?
My aim is to have just a few clothes which I combine differently with different accessories. It's not enough clear to me how to dress it up and down with jewelry. Is it just the material (gold versus wood) or the shimmer or the size?
I thank you a lot and it's always the highlight of my day coming home and reading your latest posts 🙂
Warmest regards from Germany
Marion
There are few elements to look for when deciding on the level of refinement of jewellery.
1. The Sparkle Factor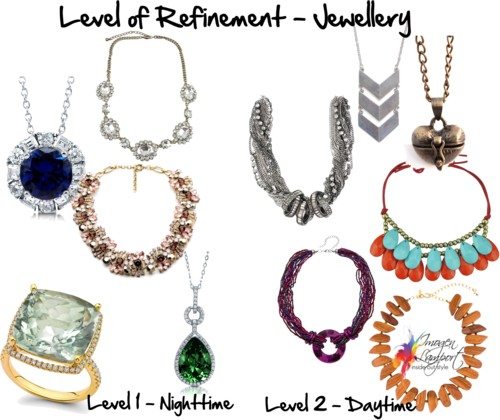 The more a piece has a lot of sparkle then it becomes more of a Level 1 piece, more appropriate at night rather than during the day (unless your personality demands daytime sparkle, more on that later).
The more the piece lacks shine or polish, the more casual it is, wood and plastic or resin are less refined than silver or gold. Sparkling cut stones are more refined than polished stones.
Next we look at the size.