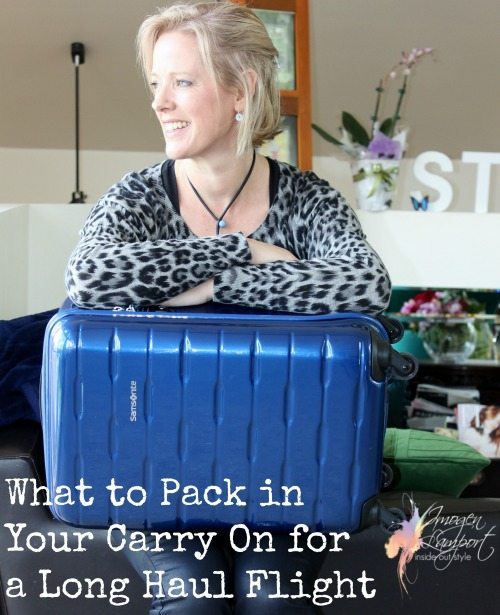 I've done a bit of travelling this year. Chicago, Thailand and now Dubai, so I've worked out what I do need in my carry on luggage to make the trip more comfortable (and I fly economy so I need to make it as comfortable as I can, as on average these flights are all 12 hours or more!).
Today I'm sharing with you what I'm packing for Dubai (leaving tomorrow night!). I like to pack a carry on size trolley case (I'm taking this one from Samsonite with me as it's super light and versatile).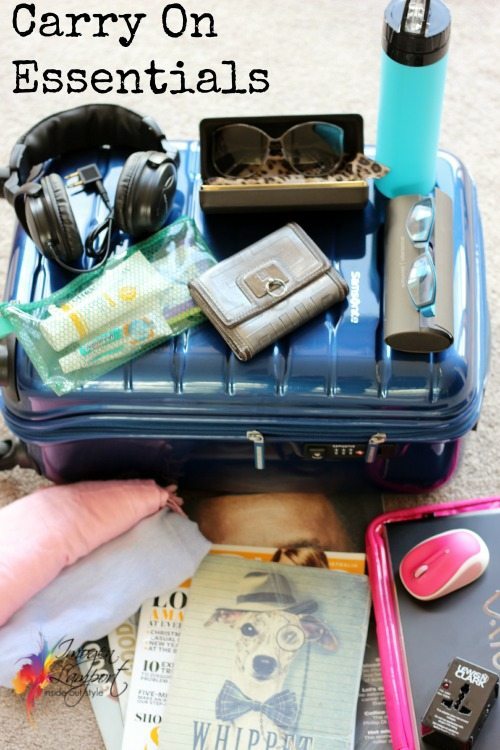 Essential Carry On Items:
Entertainment
Headphones (preferably noise cancelling ones to get rid of the roar of the engines and hum of the airconditioning) for my ipad/phone with the little adapter so I can plug into the airplane entertainment system
Reading materials – my stash of unread copies of the Good Weekend magazine, that I never manage to read during the week, but can happily read and discard along my way.
ipad- I always download a TV series or two before I leave so I can watch it when I need, to. Waiting in the the lounge at the airport or on the plane.
Computer for doing some work, with mouse and an international charger, in case I'm stuck in an airport and can find a power outlet to recharge. Blogging requires constant work!
Smart phone for listening to podcasts and music
Ear plugs to cut out the noise when sleeping
Comfort
Eye mask to cut the light so I can nap
Empty water bottle, to fill and drink on the plane and in transit, once through customs and immigration
Lip balm and hand cream as it's drying on the plane
Toothbrush and toothpaste, face wipes, moisturiser – remember no more than 100ml per item and 1L total in a clear plastic bag
Pashmina or two, can be used as a blanket or even rolled up and as extra pillow on those uncomfortable elbow rests.
Ear plus to cut out the noise when sleeping
Neck pillow for sleeping, I much prefer the memory foam ones to the ones with little balls.
A little makeup for making myself look more human at the other end
Small hairbrush
Essentials
DVT Flight Socks
Sunglasses as I will need them at the other end
Reading glasses because I'm going slowly blind in my old age
Extra wallet with local currency and frequent flyer card, then I don't have to empty my regular wallet of cards, and I just keep it in the hotel safe til the trip home
Documentation in a plastic wallet
Travel Insurance as I've heard horrendous stories of overseas hospital bills. Never travel without it. Mine is through Bupa*
Itinerary
Passport
Hotel address/details
Pen for filling in landing cards
* Exclusive Offer from Bupa for followers of Bloggerati Getaway: If you buy Travel Insurance before December 31 2014, you will receive a Travel Adaptor Kit. Conditions apply. Make sure you buy via the link or by calling 1300 555 240 to receive yours.