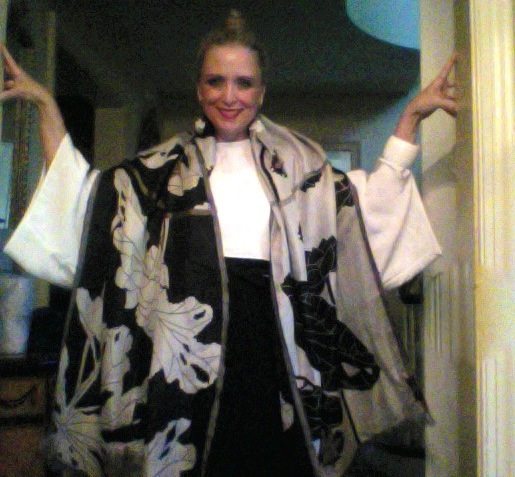 Today my Stylish Thoughts interview is with one of my great Evolve Your Style members who has a really great sense of style.  Please let me introduce  Lisa White from Chicago (USA).
IMOGEN LAMPORT; WHAT IS THE SECRET TO GREAT STYLE?
 Lisa White: The secret to great style is knowing the difference between fashion and style.  Also, knowing yourself, your personality and preferences, and the vision of yourself you want people to see.
IMOGEN LAMPORT: WHAT IS THE ONE THING YOU WOULD SPEND A LOT OF MONEY ON?
Lisa White: This is a difficult question for me as I would invest in a number of things. When I purchase, I look at the item as if I were acquiring a new tool to create a work of art. Everything I purchase is the best I can afford. Looking back over the decades, the pieces I invested in 40 years ago are still worn today.
Some examples would be a suede artist coat, Chanel boots, cashmere jackets, artist jewelry, hats, and a Balenciaga motorcycle bag.
These are the tools I use to create the story, portrait, or painting of myself.  The design and quality materials of the materials I use matters. However, I have found some amazing, creative designs at Zara, Mango, and H & M. If I am trying a new silhouette or design, I will not hesitate to make a purchase from a fast-fashion generator to give it a test-run.
The suede artist jacket in the picture above was purchased around 40 years ago. It was expensive, but the investment has been well worth it. The belt is newer (25 years ago) but worn frequently. The cashmere and silk scarf was purchased a few years back, but is a favorite.
The blue cashmere cardigan and matching fur collar was another great investment. I love these pieces. Each of these outfits create a story.
The Suede Jacket Artist theme outfit on the above is named, Mimi, after a favorite character in the Opera, La Boheme (band of artists). The navy outfit is named, Sara Bernhardt, after a favorite Art Deco diva/ actress. It has drama!
Each of these outfits create a story.  I like my outfits to tell a story.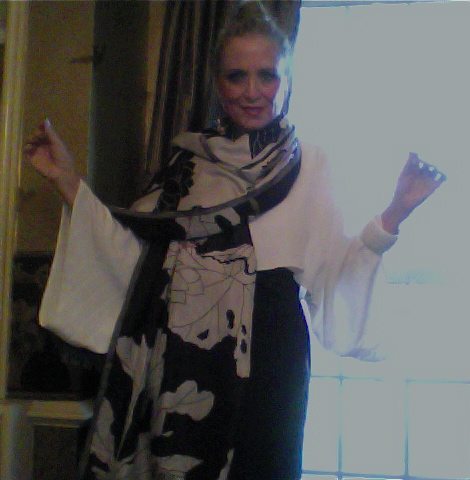 IMOGEN LAMPORT: WHAT IS THE ONE THING YOU WOULD NOT SPEND A LOT OF MONEY ON?
Lisa White: When I initially see a new silhouette or trend I would like to try, I may order it at Zara, H&M, or Mango. If it is a style that works with the artistic "vision" I am trying to express, I may look for a more permanent piece. There have been a few pieces at Zara that are unique and I have taken them to my tailor to reinforce seams. Pictures above and below feature the top from Zara. I am also wearing the harem pant from Eileen Fisher as I feel it reinforces the "Japanese" aesthetic (bold Haku Mango block printmaking technique of traditional Japanese artists.)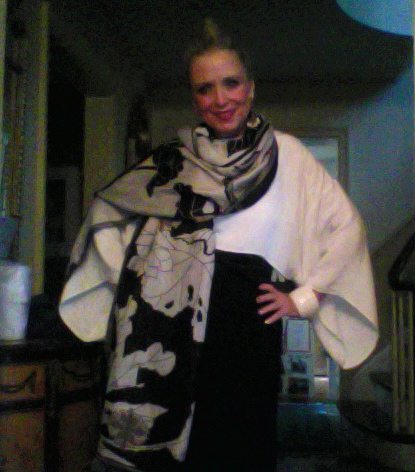 IMOGEN LAMPORT: WHAT ARE YOUR TOP TIPS FOR LOOKING STYLISH WHEN TRAVELING? 
Lisa White: Find the largest and lightest suitcase you can find that has wheels. Pack a travel steamer with dual wattage. Walk softly in front of the porter as he/she rolls your suitcase for you. Look as lovely as possible.
IMOGEN LAMPORT: WHAT IS THE SECRET TO LOOKING POLISHED?
Lisa White: Attend to the details: accessories, make-up, hair, nails, and scent. These will make or break your look. Also, look in a full length mirror before you leave the house and be sure to hold a hand mirror to make sure all is well from the back, too.
IMOGEN LAMPORT: HOW DO YOU BALANCE NEW TRENDS WITH A MORE TIMELESS LOOK?
Lisa White: Build a wardrobe to last. When I make a new purchase or try a new silhouette–which I love to do– I keep the well-loved heros of my wardrobe in mind. The new piece must work with the other pieces in my wardrobe. I am careful with trends and usually let a trend piece "marinate" for a while before I wear it. I avoid eye-watering trends like the neon trend that appeared a year or so ago.  I knew it was not for me or my beloved heros in my closet waiting to be styled. When a trend piece has earned its way to becoming a permanent member of wardrobe, it is because it works with the timeless pieces. After all, I do not purchase a new wardrobe piece because it is currently popular, but because I see the potential to wake up my wardrobe heros and inspire them into telling new and different stories.
IMOGEN LAMPORT: WHAT IS YOUR CURRENT OBSESSION?
Lisa White: Color is my current obsession. Right now I am loving sunset oranges, harvest golds, plummy plums, loden greens, maroons, brick reds….
Santa Fe Outfit named for the desert colors and vibrant sunsets of that area.
COLOR, COLOR, LUSCIOUS COLORS
IMOGEN LAMPORT: WHO INSPIRES YOU? 
Lisa White: I have had several women inspire me. Art and nature inspire me as well.
KAREN BLIXEN a.k.a ISAK DINESEN a Danish writer who wrote Out of Africa and other fine stories. Karen Blixen had a remarkable life and it was brought to film in the movie from the African period of her life. I was deeply moved by her life, resilience and the ability to reinvent herself as she experienced one tragedy after another. She always rose from the ashes like a beautiful phoenix and spun stunning tales of it afterwards. What a romantic, talented, strong person! strong person!
These are my Karen Blixen inspired outfis above.
Frida Kahlo is a another woman who inspires me. An artist possessing a singular, original style of painting. She portrays her suffering and the pride for her culture and country through her fantastical paintings. I admire her strength, creativity, and spirit.  she Frida Kahlo navigated a world that did not always embrace women artists and certainly not one carving out an unfamiliar and new pathway. Frida Kahlo was herself a living canvas and her original style celebrated her creative vision.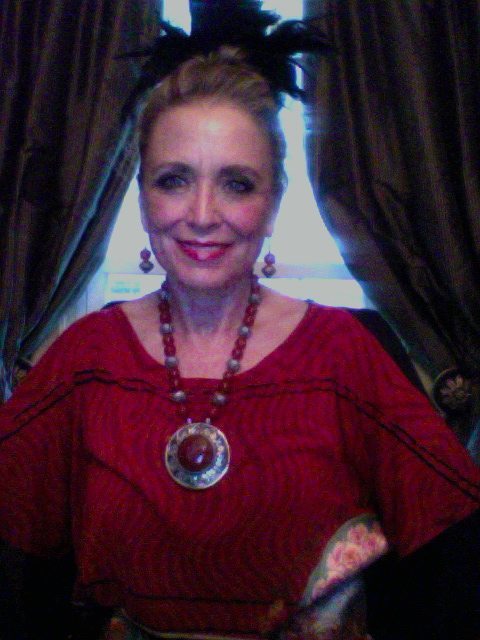 IMOGEN LAMPORT: DO YOU HAVE A SIGNATURE PIECE OR STYLE?
Lisa White: No, not really. I just have a wonderful wardrobe that inspires me to be creative. I built that creativity into it over decades inspired by the stories, art, and lives of the incredible women I have mentioned. Nature, artwork, music, and stories, that I admire or have moved me deeply are integrated into my vision and creative endeavors including styling my outfits.
IMOGEN LAMPORT: WHAT IS YOUR SECRET TO MAKING YOURSELF STAND OUT?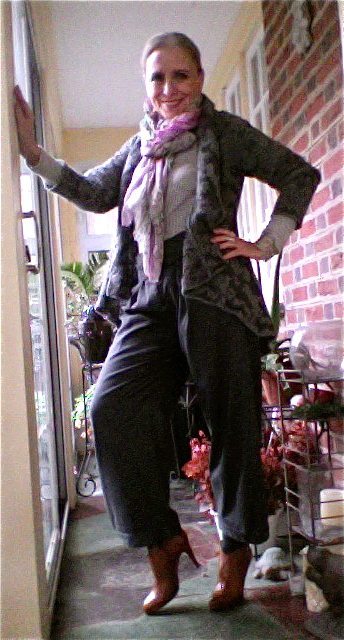 Lisa White: Bringing my personality to my style vision and using my palette of carefully chosen pieces in my wardrobe to fashion that vision is the underlying force that helps me to achieve a stand-out style. I have applied the same strategies to my style vision as I do to my paintings, woodcuts, drawings, and poetry: an artistic vision, balance, harmony, originality, beauty……
IMOGEN LAMPORT: THE ONE PIECE OF ADVICE WOMEN MOST WOMEN NEED BUT DON'T GET?
Lisa White: I am not sure that most women are not told this, but many do not seem to "get it"      There are no hard fast rules in fashion that will give you a unique style. Trends will just make you look like everyone else. It is up to each woman to create their their own unique style. There are many useful guidelines (Inside out Style for example), but it is up to each woman to find herself and express her personality on the level above guidelines, trends, and the strong influences of more domineering influences.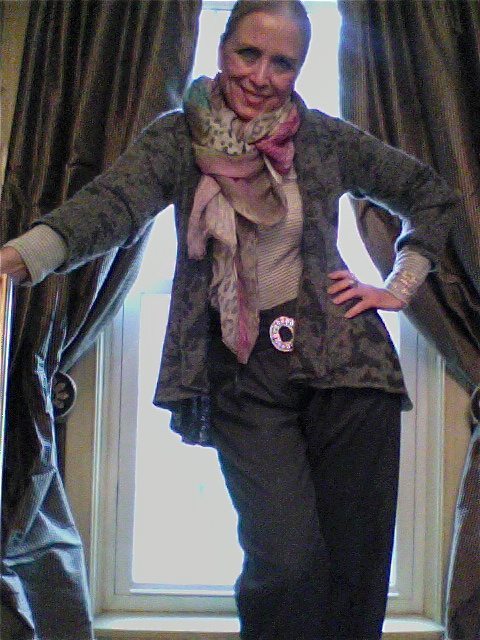 IMOGEN LAMPORT: WHAT'S THE BEST PIECE OF STYLE ADVICE YOU EVER RECEIVED?
Lisa White: Listen to your inner voice, be observant, stalk beauty, create and chart your own path.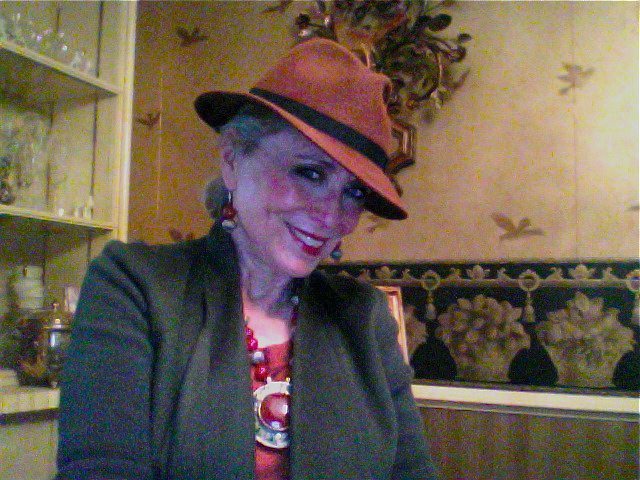 IMOGEN LAMPORT: WHAT IS YOUR FAVORITE CURRENT TREND?
Lisa White: Wide leg pants. Glad they are back! I am so tired of low rise skinny jeans.
Skinny jeans are great for tucking into tall boots, but I love the soft easy style of wide leg pants.
IMOGEN LAMPORT: WHAT IS THE WORST CURRENT TREND?
Lisa White: Pointed toe ballet flats. To me, they defy all logic.
IMOGEN LAMPORT: WHAT ARE YOUR FAVORITE WEBSITES?
Lisa White: Inside Out Style …of course!  I also follow The Beauty Plus, Paris Breakfasts, That's Not my Age, Bag and Beret, A Femme d'un Certain Age, and now Ruby's Musings.
IMOGEN LAMPORT: HOW DO YOU DESCRIBE YOUR PERSONAL STYLE?
Lisa White: My personal style is ARTISTIC. I love the process of art and the journey of discovery. I envision a story, a woodcut, a painting, a poem, an opera, a sunset, a vista, a flower…the beauty that surrounds me. I am greatly moved by beauty. I breathe it in and exhale my creative vision. One of the avenues I use to express this artistic quality is my style of dress. I am the living canvas for my wardrobe. I have a palette of paints and tools for art for paintings and woodcuts. I have rich textured yarns available in a variety of colors for creating my knitting projects. I have words for my writing and I have my wardrobe to style myself.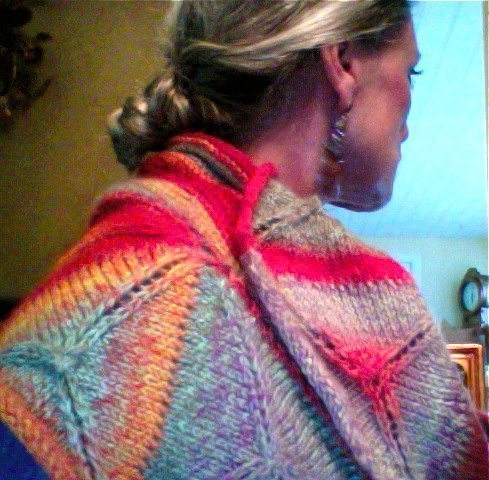 IMOGEN LAMPORT: WHO ARE YOUR STYLE ICONS?
Lisa White: Frida Kahlo, Karen Blixen, Sarah Bernardt, Clara Bow, Georgia O'Keefe, Linda Rodin, the Fabulous Fashionistas, The Olson Twins, Sue Serle, Amanda Hyatt, and Imogen Lamport….still can't get over the Waterfall Cardigan Trick.