Interesting post on upscaling jewellery, this got me thinking about your comment on showing some skin, is this also the case when for example wearing silver jewellery when you are a warm colouring of visa versa wearing gold tone when a cool colouring. I recently noticed someone who was a warm colouring wearing silver, I also noted that the pieces were see through, bangle and earrings, silver trim on watch and small to medium necklace that was sort of open.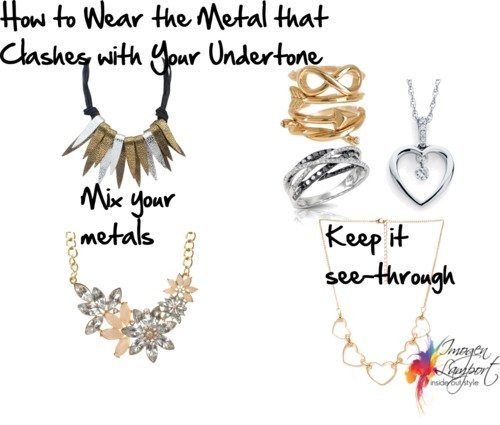 In my experience, I've found that the easiest way to wear an unflattering metal shade in jewellery (avoid it in glasses and garments though as in glasses you just see the frames, not your eyes. In clothing it will wash you out) is to wear pieces that:
Have lots of spaces open so you can see skin through them
Wear pieces that mix the metals or colours in with the metals that flatter you.
Wear a brushed metal as it's less obvious
Both warm and cool undertones can wear rose gold
Keep the scale smaller
Particularly really cool people tend to find that gold looks brassy and cheap, or garish on them, particularly 22ct gold. Silver on warm skins can look hard and cold, but it also stands out and if a piece of jewellery can create a striking look.
Those who are closer to the warm/cool mid-point find it much easier to wear either gold or silver, neither looking out of place.
Do you like to mix your metals?