Can you do a post for professional yet comfortable clothes for those who work in education?
You asked – here is my answer – as I know that it's more than just the education sector that has this same issue.
For those who work in a more relaxed business environment such as the education sector, it can be hard to look stylish and professional yet also feel comfortable.
What to Wear to Look Professional and Credible But Remain Comfortable and Appropriate in a Relaxed Business Environment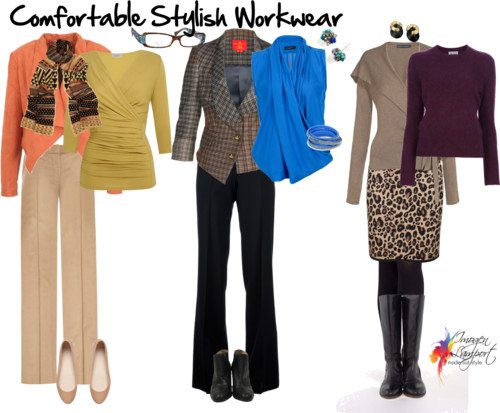 1. Shoes – Find comfortable but stylish shoes – ballet flats, ankle boots, knee high boots are all options that you can easily stand up wearing for hours yet remain comfortable. Get more tips on building the right shoe wardrobe for you.
2. Fabrics – Look for knits and soft fabrics – find tops that you can easily move in. To ensure that you look professional, make sure your tops are in good condition with no pilling or stains. Ensure the fabric is of good quality which communicates quality – and you want to be seen as a high-quality person I'm sure!
3. Hero Item – Add your 3rd piece – look for comfortable jackets or jacket-like cardigans or vests (if you're in a hotter climate) to add the collar that says professional. If you don't want to add a third piece – look for items that have built-in detail.
4. Accessorize – Don't forget your accessories- scarves, earrings, necklaces etc. will all add the finishing touches to your outfits. Express your personality with your accessories.
5. Structure – Some structure in your outfit always makes you look more professional. A blazer with your jeans or a collared shirt are two easy options to consider.
6. Grooming – Don't forget your grooming – hair that is "done" makes a massive difference to your overall appearance – particularly when your clothing is more casual – good grooming stops you looking sloppy (which reads as lazy and unaware).
More Tips on Find the Right Balance for Your Work Wardrobe
Business Casual Dress Codes – What to Wear and What to Avoid