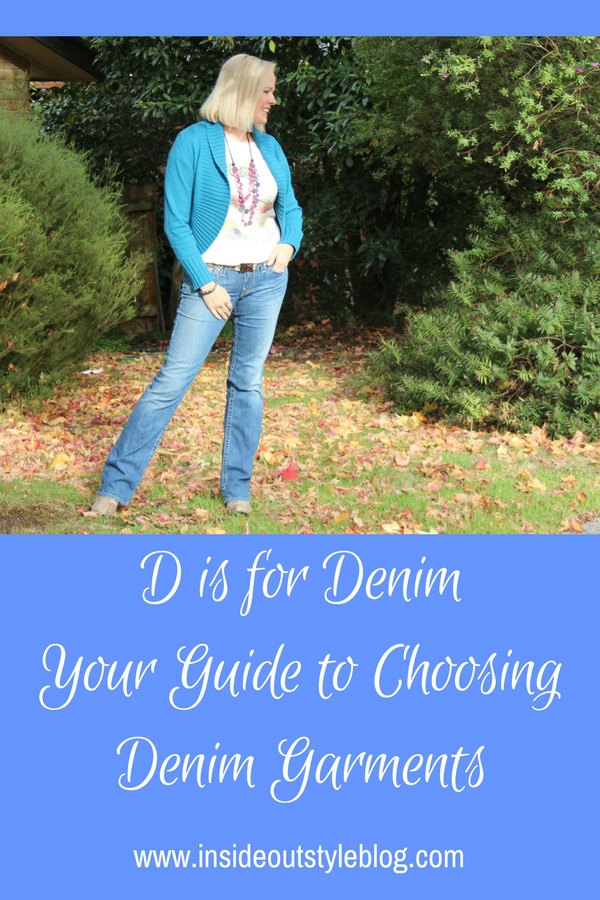 Denim is a staple in most wardrobes, and rightly so. It has many uses, is a hard-wearing fabric, and can be dressed up or down (to a certain extent). As far as cost per wear goes, most people get the maximum value from their favourite jeans.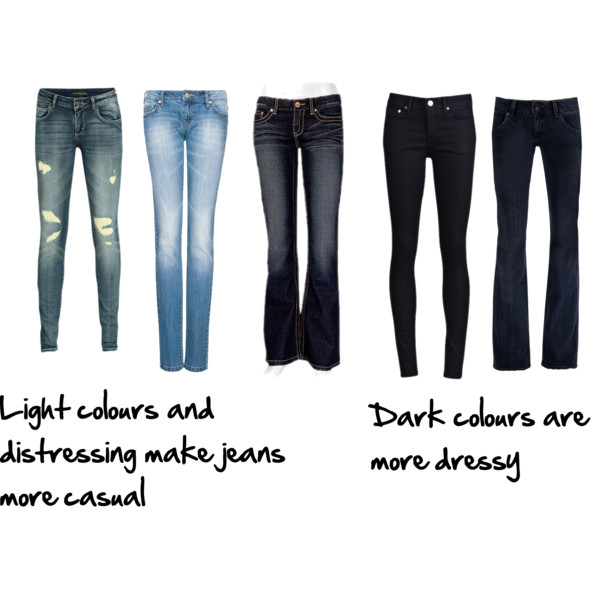 How to Choose Denim Garments (including Jeans)
Fabric drape – some types of denim are soft, and some are stiff. The curvier you are naturally, the softer denim you need to look for, otherwise, you'll find it uncomfortable. Some stretch in denim will add softness. If you have a more muscular body or are naturally very slender, choose stiffer denim with little or no stretch.
Colour – dark non-distressed denim is the dressiest. Lighter types of denim and distressing make denim more casual. Coloured denim is a fun fashion trend, but buy cheaply as it won't be the longest-lasting trend. Spend most on your dark classic denim jeans as these will stand the test of time.
Leg length – ideally you will need jeans hemmed for flats and another pair for heels. The current trend for ankle-length denim works well if you have long legs or wear them with a heel, but these again are a trend so spend less on a cropped pair. Discover how easy it is to shorten your jeans while keeping the original hem here.
Shape – even though denim jeans are timeless, shapes, lengths, waistlines all change with fashion trends. Be aware of the current shapes and trends to keep looking modern and fresh. Those jeans you bought in 2005 are making you look old and dated.
Pockets – back pockets need to be placed on your bottom to make your legs look longer. If the pockets too low they will make your legs look short. Wide pockets make your bottom appear wider, and lots of bling and pocket flaps make your bottom appear curvier. As for front pockets, the standard jean pocket is flattener for most. Large pockets on the fronts of the thighs are best for those with slim thighs.
Distressing – if you have fuller thighs, avoid whiskering (distressing at the crotch) of your jeans, as it draws attention to your upper thighs. You can look for jeans that have vertical distressing, where the edge of the jeans is dark, but the centre of the jeans is lightened down the thigh as this will provide some elongation and a slimming effect. Random distressing will make the jeans appear more casual.
Fabric weave – some denim is woven to have a vertical grain, others to have a cross-hatch or horizontal appearance. If you want to make your legs appear longer and slimmer look for denim that has the vertical grain.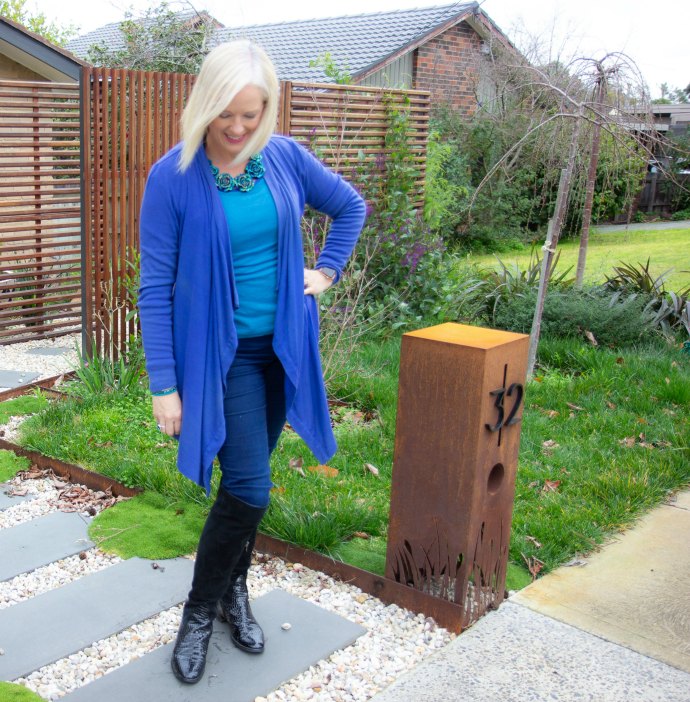 How to choose the right jeans and style them
How to choose jeans styles to flatter your hips
Tips on wearing boots with skinny jeans
Coloured and Patterned Denim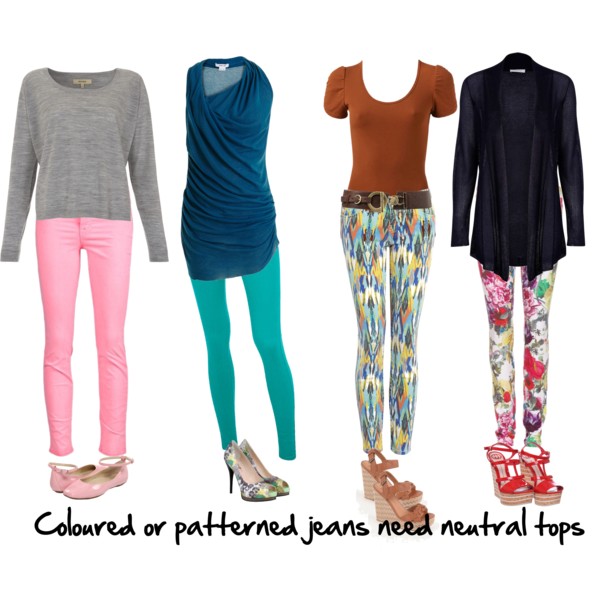 Coloured and patterned denim is a statement trend that you'll find in all markets at present, from the fast disposable fashion stores in the junior market to the mass retailers. The brighter the colour of the jeans the more you will find wearing a top in a neutral colour works best. It's the opposite of the black or neutral pant with a coloured top! Over 40? Read this post on how to wear coloured denim.
Other Denim Garments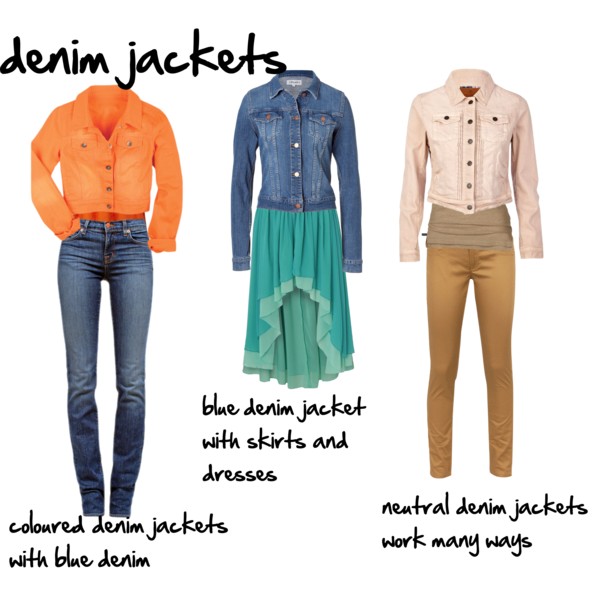 Jeans jackets are also a staple that you can keep in your wardrobe for years. Even though there has been a trend for 'double denim' unless you're young and very hip, you will look dated wearing your denim jacket with your denim jeans. Instead, toss your denim jacket over a summer frock or to dress down your black dress pants, or even with a pair of coloured denim jeans.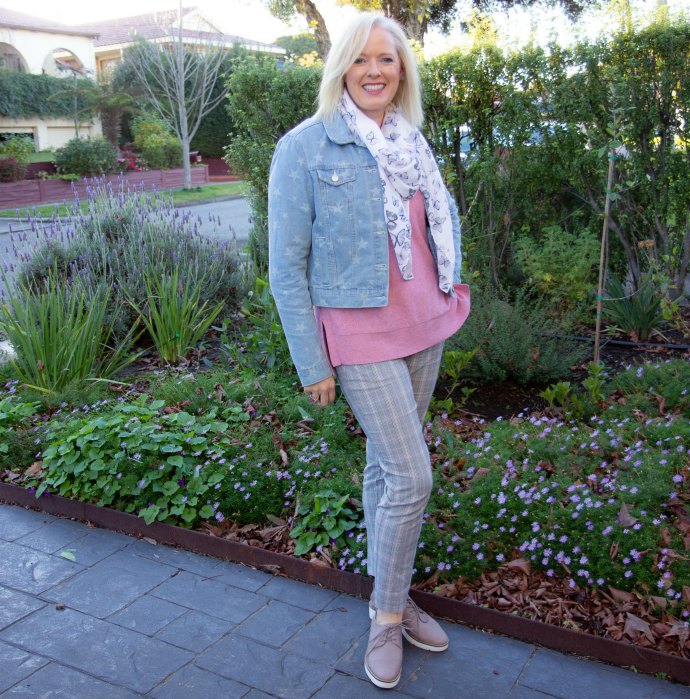 Denim at Work
Depending on your work environment you may or may not be able to wear it to work. If you work in the land of suits, denim is generally not advisable, even on casual Friday. If you work in a casual environment, keep your denim dark and distressing free as this is the most 'dressed up' denim.
Denim Care
Turn your jeans inside out to wash, particularly if they are dark denim, as this will help to prevent fading too quickly.
Washing white denim, pre-treat spots with a stain remover. Avoid bleach as it may yellow your white denim.
Avoid putting stretch denim in the dryer as the heat will cause the lycra to degrade and you will get more bagging and stretching of the fabric.
Before altering your denim (if the length is too long for example) make sure you wash twice so that any potential shrinkage has already happened. Discover how you can hem your jeans here.
Denim Shapes
Bootcut – an easy shape to wear for many body shapes. Ensure they are hemmed as long as possible, without dragging on the ground.
Straight leg – great for slim thighs, or can be balanced tucked into a boot, or worn with a tunic top
Trouser style – a classic cut that can look dressed up, great for many body shapes
Skinny – best for those very slim, or worn under longer tunics
Flared – ideal for taller people or those with broad shoulders
Wide leg – long legs needed, and a wedge heel, no stilettos for this jeans. Great for balancing broad or square shoulders.
Tapered – the old-fashioned "Mom" jean, be careful and don't wear it if you're over the age of 30!
Cropped – a little leg shortening but can be a good summer option. Go for a nude shoe or a wedge if you have shorter legs.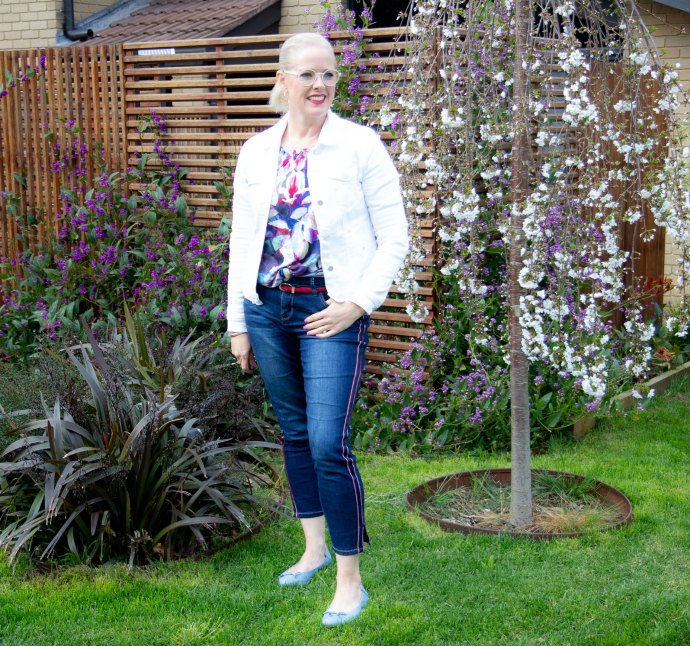 Fitting Your Jeans
Try lots of different brands. Not all jeans are cut the same. Levi's now have a range that work for the curvy shape (who have often found that the waistband gapes at the back of their jeans) as well as those who have straighter body shapes.
The length of your rise will also determine the best rise for your jeans. If you have a long rise, when you sit in jeans, you will often find that they pull down low and expose your underwear. If this sounds like you, look for jeans that are marked as 'high rise', this will not appear high on you but will be a medium rise.
Remember, the labels are just a guide, you will need to try on multiple styles and brands to find the jeans that fit your unique shape.
Further Reading on Denim
Finding the right jeans for your body shape
Choosing jeans that will flatter your hips
Tips on wearing jeans with boots
Choosing shoes to go with your jeans