Petite and curvy can be a little tricky to dress, so how do you take the X shape rules and then make them work for a petite height so that nothing overwhelms?
And of course, your style also needs to relate to your personality too – this is part of the style puzzle that can never be ignored (otherwise you just don't feel like "you" in your clothing) as you won't be confident and you're likely to feel more self-conscious.
So adding that personality style recipe (here our example is creative, strong, bright, carefree and shapely) in with a an X body shape and shorter legs – what to wear?
Dressing the Petite X Shape Body
Here are some outfit examples that would work.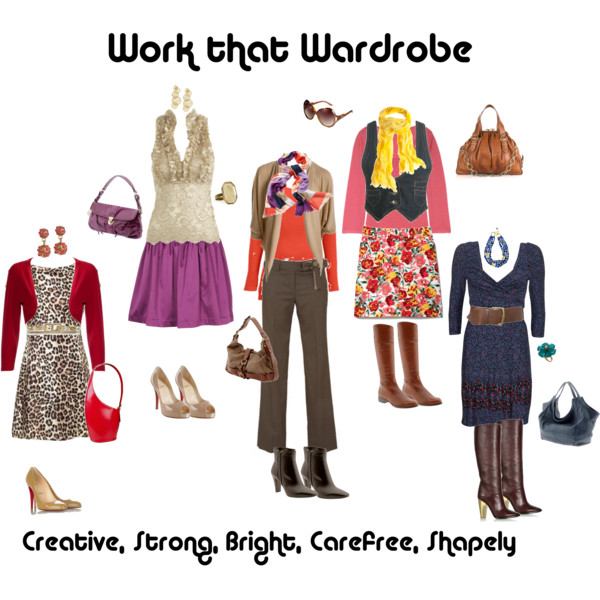 Petite: I've worked with either colour blending shoes to the outfits, used knee-high boots which elongate the leg as they make the leg start right down at the toe, or chosen nude shoes to elongate her legs. I've also used mostly skirts/dresses because they make your legs look longer and are a simple way of creating a column of colour in any outfit. Also, many curvy women find trousers very hard to buy as the fabric through the rise pulls and looks unattractive.
X Shape: The X has a lovely tiny waist, so all these outfits take full advantage of that fact. They're either belted or shaped so that this is a focal point of her body.
Accessories: Attention is drawn up to the face and away from the hips with scarves and jewellery.
Colour: Here I've used colours that would suit a warm blonde who is not afraid of wearing prints and colour. And notice – no black!
Body Proportions – Using the dresses (as columns of colour) and either blending shoes or using nude shoes helps to elongate the body. The shorter cropped cardigans also draw the eye upwards and make the attention on your upper half.
Scale: always a factor when working with the petite body, you never want to overwhelm with too large scale prints, but don't ignore or bypass prints for fear of not being able to wear them at all. Find smaller scale prints that are dense (find out about slimming prints here) which actually keep the eye moving along and not focus on any aspect of your outfit.
Not sure of your shape?
You can do my free body shape calculator quiz here to find out (and grab your body shape bible to download and print) or if you'd like my professional opinion, can get that (plus a colour analysis and an understanding of how your personality influences your style) all as part of my 7 Steps to Style program.