The very lovely Jane from Work that Wardrobe sent me a plea to create a polyvore for her.
Jane is petite and curvy (and a decent bust0, with a lovely defined waist (X shape) . And she sent me a list of words that define who she is, which is what I've worked from with this set of outfits.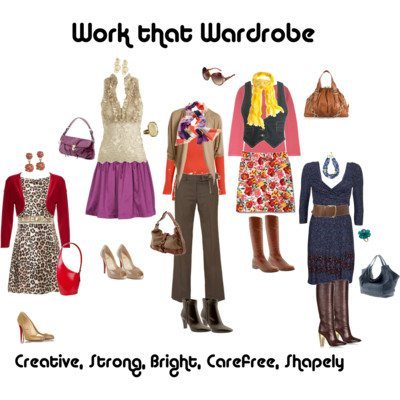 How to dress the petite curvy body – by imogenl on Polyvore.com
Petite: I've worked with either colour blending shoes to the outfits, used knee-high boots (which I've noticed Jane loves), or chosen nude shoes to elongate her legs. I've also used mostly skirts/dresses, partly because I've noticed Jane seems to favour them, and partly because they make your legs look longer. Also, many curvy women find trousers very hard to buy as the fabric through the rise pulls and looks unattractive.
X Shape: Jane has a lovely tiny waist, so all these outfits take full advantage of that fact. They're either belted or shaped so that this is a focal point of her body. Attention is drawn up to the face and away from the hips with scarves and jewellery.
Colour:Jane is blonde, and not afraid of wearing prints and colour, from her photos I think she's got a warm complexion, so this is where I took the colours of the outfits. And notice – no black!
I've created a range of outfits to take Jane to prison (where she works, not resides!), to her PR job, as well as lunch with a friend, to a fancy dinner out with her hubby.
So do you think these would work for Jane?