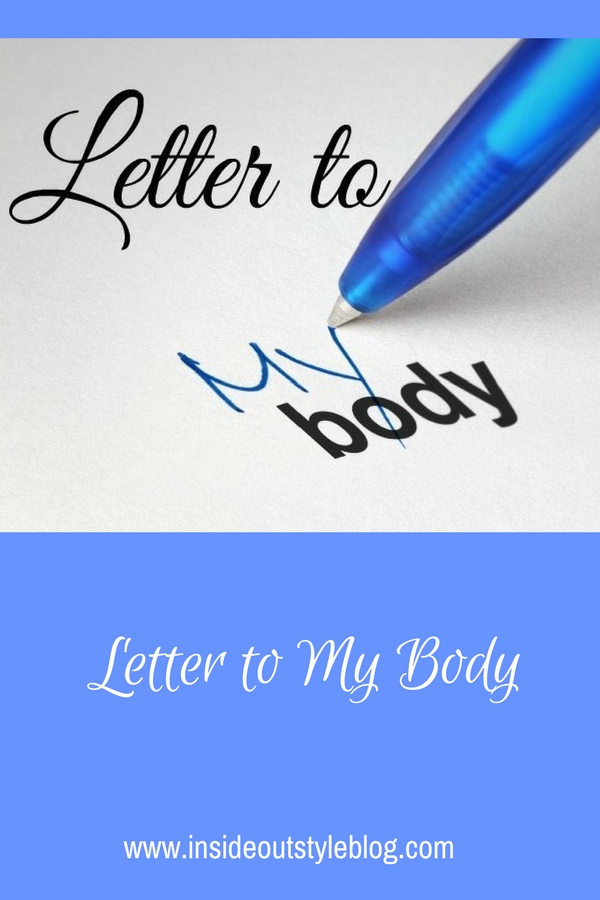 Many of my clients have body image issues, they dislike parts of their body and often have mild (or more) body dysmorphia, where they percieve that a part of their body is much larger than it really is in reality. I was inspired by Sal of Already Pretty and the BlogHer 'Letter to My Body' challenge where you write a letter to your body and actually appreciate it, rather than abuse it, so to inspire you to do the same, here is my letter to my body.
Dear Body,
For 40 years you have performed pretty flawlessly for me, even though I've often given you a really hard time. I've fed you way too much chocolate and other junk, at times forced too much alcohol into you (and you let me know that you weren't happy about that), and have been unappreciative of your shape and form, and often even downright mean to you about it.
Yet here you are, keeping on working for me pretty uncomplainingly. You've taken a week off here and there through illness, but nothing you'd call bad health. I've fed you badly and hardly ever give you enough sleep and yet, every day you let me go to work, pick up my kids and cuddle them and let me have the joy of a belly laugh. Do I let you know how grateful I am about this? No, I'm sorry, this is a major oversight of me. Please let me say now how much I appreciate and value my health and I promise to listen to you when you tell me you've had enough and that I shouldn't push you so hard. I will also listen to you and take your advice when you've had enough food or drink, and even be guided by you on what kinds of food and drink will give you the most energy to keep you healthy and working at maximum efficiency.
Exercise, that too is an area I've been very lax about, telling you that I just don't have the time for it. Yet how can I keep you strong without it? I remember when I was in my early 20s and I used to exercise you lots, I used to love how you worked for me, and I loved your shape and how strong you felt. I know you'd like to feel strong like that again so I promise to do more exercise so you'll feel this way again.
And even though I have many times looked in the mirror and been unhappy with what I've seen, thought mean thoughts and even said out loud how I wasn't happy with you, in less than pleasant language, that I won't repeat here. Really, I need to listen to, and more importantly, believe my husband who is always telling me how beautiful you are. How what I see as a flabby tummy, is really the most beautiful place that grew our two healthy and perfect children. That what I see as a saggy, cellulite covered butt, is womanly and sexy. That you could create my marvellous children at all is indeed a miracle of which I'm eternally grateful.
Instead, I now promise to look at you naked each day in the mirror and tell you how beautiful and wonderful you are and how much I love you.
I pledge to treat you well – you are the only body I have, and I know that replacement parts are difficult or impossible to come by. I will look after you the way I look after my children, with utmost care and total acceptance and love as everything about you is wonderful. I will ignore pictures of photoshopped, ultra-slim celebrities, wishing you were more like them. I will accept your natural weight, rather than wishing it were something different. I know those celebrities starve themselves and exercise to extremes to maintain these very low body weights. It's not natural, and wouldn't make you happy if I treated you like that.
Thank you body, for everything you do for me. I am so lucky to have you.
With love
Imogen