So many women feel that their stomach is a region that they'd rather people didn't notice. Whether it's expanded due to childbirth, was never there to start with, or just age and those extra glasses of wine and chocolates have taken their toll.
So here are 7 easy ways to hide your tummy.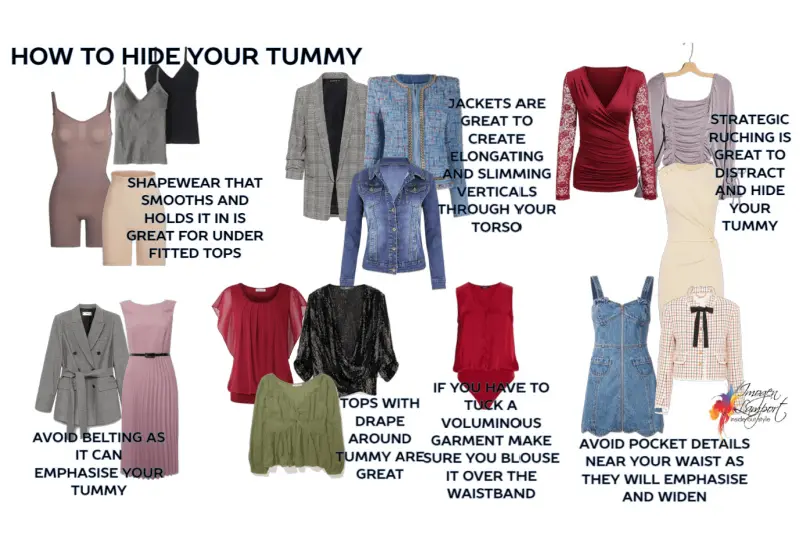 1. Shapewear
My advice is to buy a size LARGER than you wear your clothes – there is so much elastic in them they'll still smooth out the bumps and lumps and hold you in, but you will also be able to breathe, and you won't get the muffin top or spillage that the smaller size will ensure.
I like the ones that go right up to my bra, that way I can tuck them under my bra and there is no double line under my clothes.
Shapewear is often all I need to make me fell a bit better about my waistline, without giving up the chocs.
2. A Jacket
Jackets are made of a more structured material, that skims past all problem areas. Jackets have more structured shoulders which help the drape of the garment. Jackets usually have darting and seams that create shape, without cling, and also provide nice vertical (ie. slimming) details.
A lighter colour jacket left open over a darker colour top will make your stomach recede and become unnoticeable (I discovered this trick when 7 months pregnant, and people didn't even notice me being preggers when I was wearing a black top under a light blue jacket.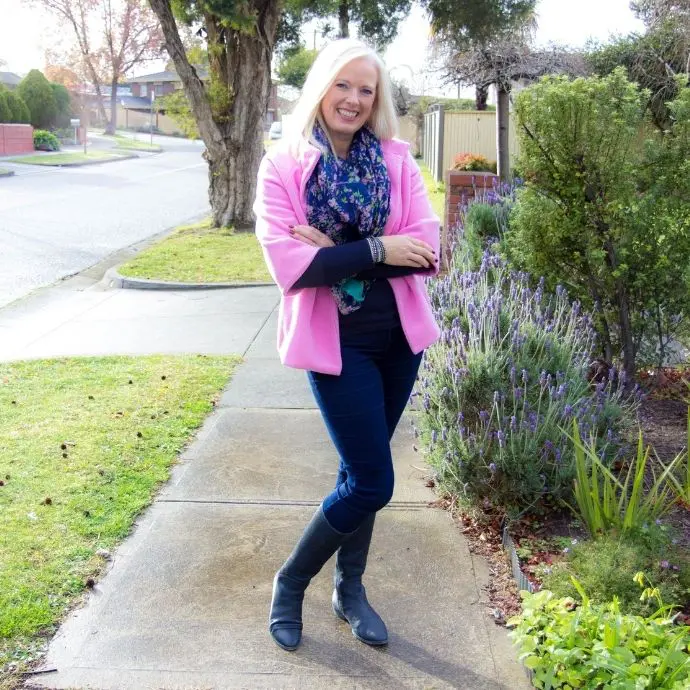 3. Ruching
This is your best friend on knit tops – if the top doesn't come with it and it's a bit long for you, you can easily do it yourself with a needle and thread, just going up the side seam. Ruching hides rolls, and you gotta love that!
4. Don't belt
Belts draw attention to your stomach area – they don't create waists where there is none, they just draw unflattering attention. Don't do it if you haven't got a slim waist (or that your waist is noticeably slimmer than the rest of your upper body). Also avoid garments that have a waist belted appearance.
5. Tops with Drape
Look for tops that have some looseness and drape around the tummy so they skim over and don't emphasise it. Pair a loose top with a more fitted bottom so you look proportionally balanced.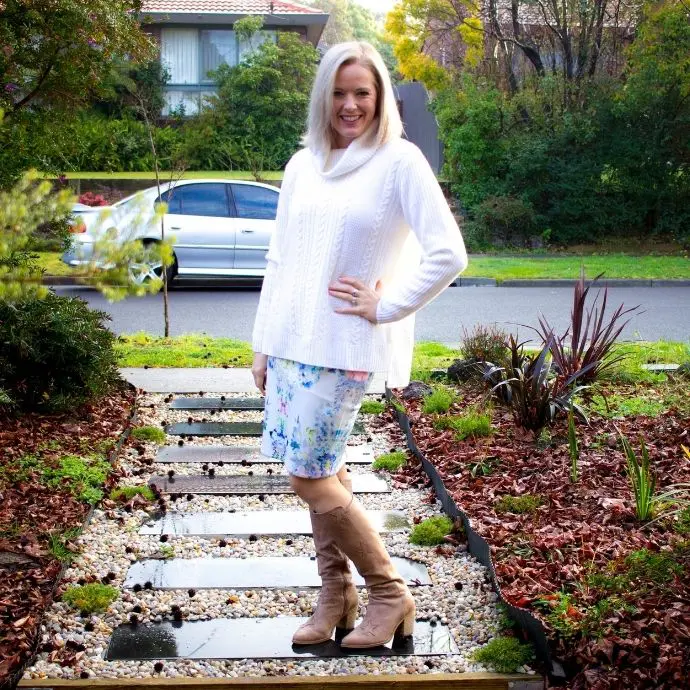 6. Don't tuck
Tucking – like belting, draws unnecessary attention to your waist.
If you have to tuck a voluminous top, either half-tuck to one side, or make sure you blouse the top over the waistband of your bottom.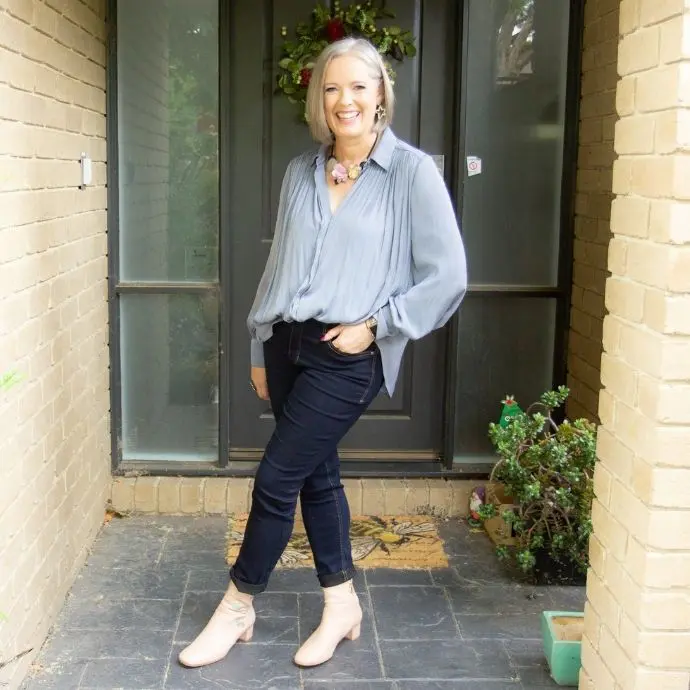 7. Avoid pockets or any detail near the waist
Pockets on cardigans and jackets draw unflattering horizontals across your wider waist – avoid them, keep it clean and free of detail.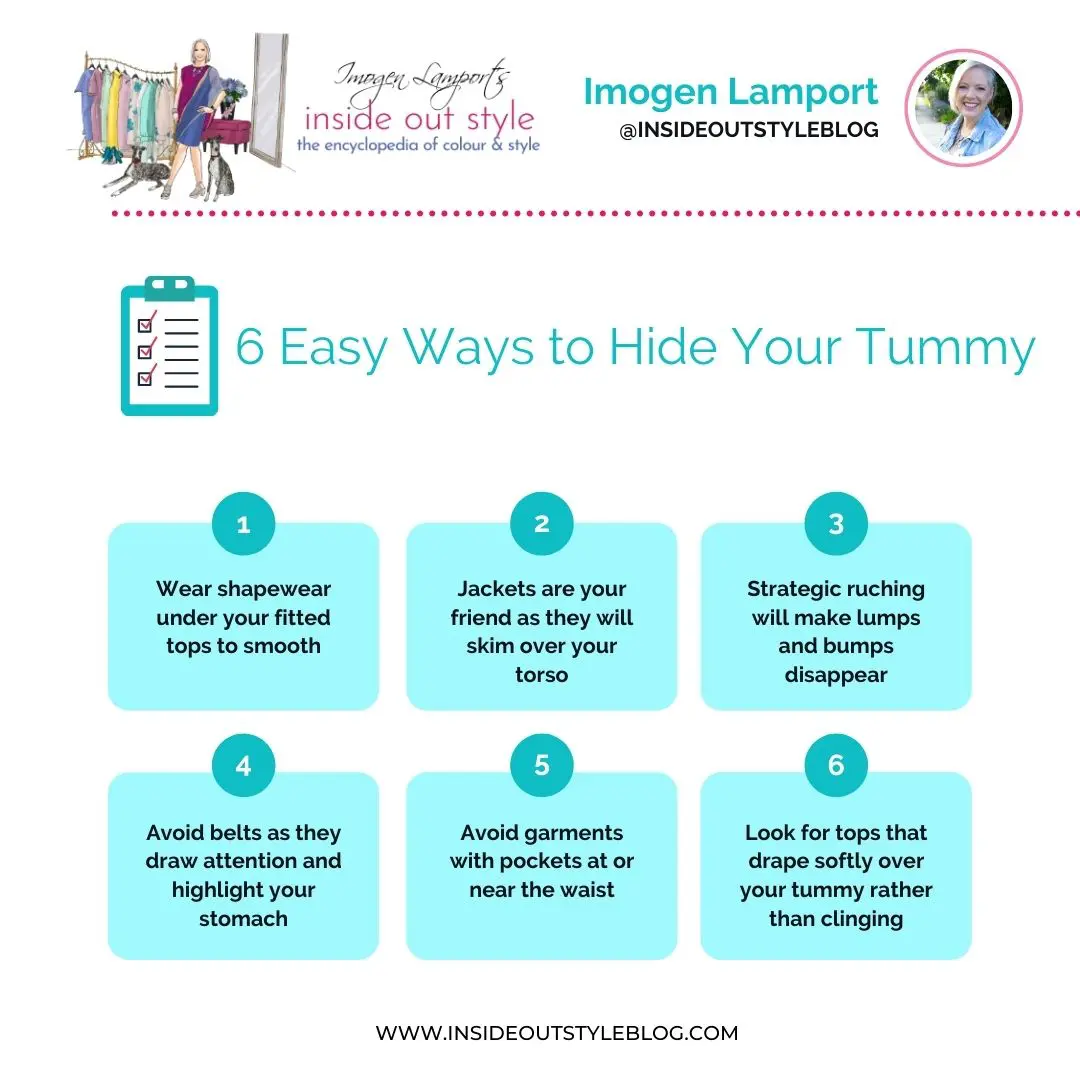 More Tummy Flattering Tips
How to Dress Your Tummy When You have a Caesar Scar or Have Lost Lots of Weight