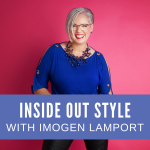 Your Questions Answered in this Episode:
0.15 Why do all my waistbands roll down? What can I do about it?
5.10 Can you chat about Uniform dressing? I'm thinking it could be useful
12.04 How can I tell if a shoulder seam needs to be right on the shoulders or dropped?
Fit Issues
Uniform Dressing
Wardrobe Capsules, Outfit Formulas and Uniforms – Which is Right for You?
Shoulders
Subscribe to my Podcast
You can now get these videos as podcasts subscribe and never miss an episode
Send Me Your Colour and Style Questions
Please do email me your colour and style questions to answer on upcoming videos!