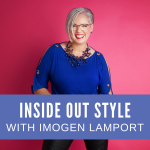 In This Episode
0.09 Can you reinforce for me the difference between cool and warm greens. I know olive is warm but it is those greens that are somewhat sage and those that are mint greens that confuse me.
4.20 I would love to know how to stay stylish and warm in a cold office? I feel my style is ruined as everything nice I wear leaves me cold and I have to always wear a big cardigan. My other issue is that I am slim but often get bloated so what looks good in the morning has me wanting to cover up by evening. Any hacks for this other than more cardigans?
8.25 I don't know how to put things on that are actually flattering. I need clothes that are comfortable and practical as I live on a farm, but when I do go out and want to look more stylish when I see pics of myself I can't believe I went out looking like that.
More about Green
Office Outfit Ideas
Style Education
How to Combine Colours That Will Express Your Unique Personality
If You'd Like to Define Your Style and Discover Your Colours
If you're sick of wasting money on clothes that don't work and you know there is a better way, then join my 7 Steps to Style program and get the right information for you and your style.
Subscribe to my Podcast
You can now get these videos as podcasts subscribe and never miss an episode
Send me Your Questions
Please email me your questions to be included in my Q&A Lucky Dip!