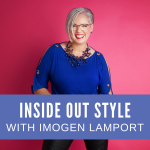 In This Episode
0.10 I have warm mid-dark "autumn" coloring and a medium contrast level. I'm realizing many of the summer clothes I currently own are cool toned (lots of black, stark white and cool blues), and they clash with the few warm toned summer pieces I do have. There don't seem to a lot of "autumn" colors in stores right now. Even the neutral olives and tans seem to have blue undertones. If I do find something in a flattering color for me, either the style hasn't appealed to me, hasn't fit my personal style, or the proportions of the garment were not right for my shape! I live in an area of the U.S. where summers are hot and humid, so my spring/fall pieces are just too heavy. Do you have any summer shopping suggestions or styling tricks for medium/dark "autumn" girls to find clothing in the summer?
3.58 – question about my current hair colour
5.22 Now my hair is silver grey, my eyes are deep bluegrey/greenish and skin is light. I was told some time ago that my best colors are cool and bright but I feel that very bright colors are not good for me. I have been working in corporate business and have many clothes from that time and the colors are dark and black. I have difficulties to blend these items with my wardrobe now when I am retired and use more relaxed clothes. My style is classic.
I have been looking for contrast and like to know when having black pants should I wear also dark knitwear or jacket? I feel that they are too dark for me or if I am having only dark pants and light upper part I am cut in half and that feels not right. During the summer I am wearing colorful clothes, reds, pinks, teal, sea blue and white.