Are you searching for your signature style? There are a few ways of identifying it. Before you move on with the activity in this post, make sure you've read: Asking the Question to find your style statement and What's Your Signature Style.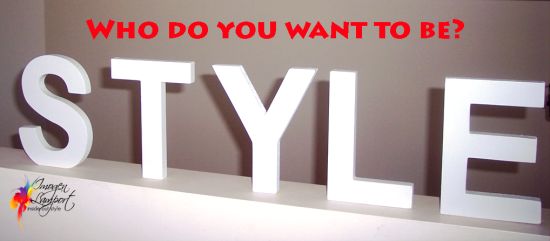 The next question in our search for your signature style is:
Who do you want to be?
Who are you?
How do you want to be perceived by others?
What are the personality traits that are important for you for others to pick up about you?
Here are a list of words to inspire you – pick up to 6 that you feel represent you at work or at play (you may have different words for the different aspects of your life):
Contemporary
Constructive
Modern
Tailored
Comfortable
Current
Bohemian
Creative
Harmonious
Composed
Innovative
Effortless
Comfortable
Elegant
Cultured
Graceful
Practical
Natural
Relaxed
Understated
Cosmopolitan
Feminine
Sensual
Organic
Sophisticated
Classic
Timeless
Dramatic
Responsible
Professional
Successful
Intellectual
Thoughtful
Approachable
Friendly
Fun
Eclectic
Stylish
Exotic
Sexy
Respectable
Powerful
Enigmatic
Pretty
Whimsical
Vibrant
Unexpected
Edgy
Mysterious
Enigmatic
Intriguing
Polished
Warm
Dynamic
Exciting
Interesting
This list is by no means exhaustive so if a word or two come up for you that are not on this list feel free to use them instead!
Now take those words and run them by your wardrobe – do your words express your current style or is there work to be done? Not sure what your clothes are saying? Have a look at the photo below and see what it's saying to you.
Now ask your friends and family about how they would describe you – show them the list of words here and see what they choose for you.
Do they have other words that maybe this list has inspired you to write down? Do you prefer the words you've selected or other words that people have suggested?
You can update this list with the words that resonate best with you and how you want to be perceived. These words should excite you, make you feel great, be a touch aspirational!
What do you want to achieve in your life? Which words in the list relate to your life and career goals?
You may find that your current style isn't quite where you want it to be, but knowing how you want to be perceived can help you move towards your goals and aspirations as you tweak it to represent who you are and what you want to be.
Now hop onto Pinterest and start searching for images of outfits, clothes and accessories that express your signature style list of words.
Share your style words here in the comments!
Finding Your Signature Style Blog Post Series