"Style is knowing who you are, what you want to say and not giving a damn."
In this post you were asked to figure out where you are now with your clothing – it may be a great place and where you want to be, or it may not be.
I like to think of your image/style as your frame – so when a picture is framed, we choose a frame that works with the picture.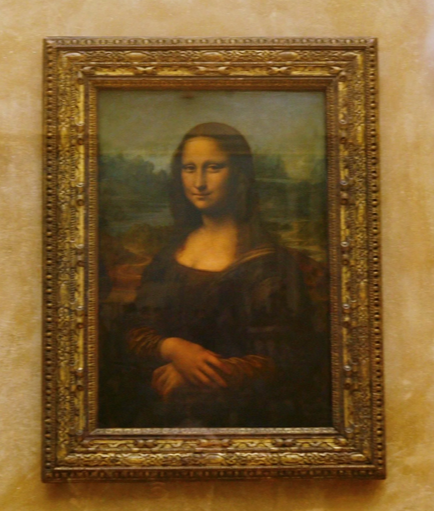 For example – the Mona Lisa is framed in a heavy gilt frame – a frame that suits the style and quality of the painting. If we put a fine black metal frame around the Mona Lisa it would look all wrong – not suit the style of the painting (personality), and would also make her appear cheaper (she might be a fake). Your clothing/grooming is your frame – are you wearing the right one?
Who are You On The Inside?
What we need to discover is who you are on the inside, so the next steps in your search for style are:
Write a list of words (minimum 6 words) that reflect how you'd like to be perceived by others – these should relate to how you are as a person eg. approachable, friendly, professional, successful, elegant, stylish, creative, avant-garde, bold, feminine, calm, down-to-earth, warm, polished, funky,
Looking at the likes and dislikes you wrote down yesterday – do your likes relate well to the words you've chosen in step 1 today? For example, I like comfort and have a down-to-earth personality – these relate, or I love bold colours and the word dynamic relates to each other.
Take out 4-5 favourite garments from your wardrobe – write down what you like about them (eg. their colour, shape, fit, feel, fabric etc). Then write down how they make you feel and look when wearing (eg. smart, different, stylish, slim, tall, successful, versatile etc.). Do you notice a pattern? Are all your favourite clothes comfortable? Are they all different or a little creative? Are they versatile – you can dress them up or down? It's really important to discover what works for you in your life and with your personality, then you can replicate this success.
Looking at the pictures you collected yesterday, do the words that you've listed in Step 1 relate to these pictures? Do they relate to your likes (not dislikes) in Step 2? Do they have some of the qualities you listed in Step 3 of what you already like in your wardrobe? If there is a disconnect between what you 'think' you like (when you look at pictures of clothing), and what works for you in your life (Step 3), think about what is the difference – maybe you love the style of some clothes, but they just aren't you. This is fine, you can admire these clothes on others, but not waste money buying them for yourself.
Collect some more pictures that represent Steps 1-3 from today's exercise. Apply the words you chose in Step 1 to each picture –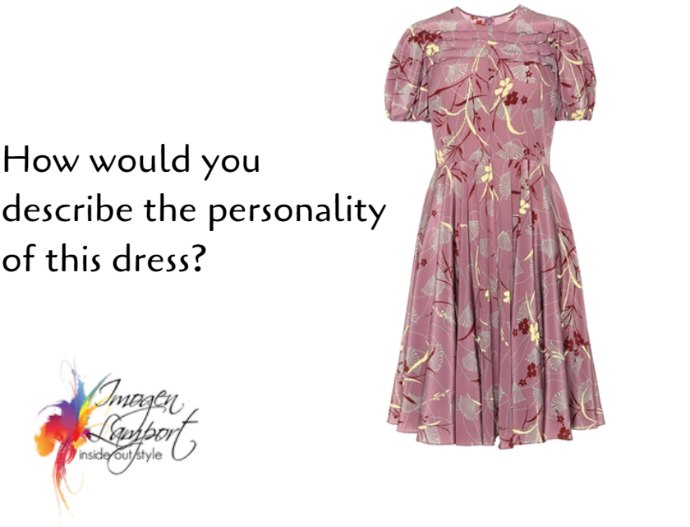 For example, when I look at this dress the words that spring to mind are: whimsical, comfortable, feminine, approachable, youthful, relaxed. If this is how you'd like to be perceived by others, then this is a great style for you, if you want to be perceived as professional, dynamic, successful, elegant – then this dress is not a good fit for you.
Whilst this outfit says dynamic, bold, dramatic, modern, successful, sharp.
Can you see how the clothes are talking and expressing their personality? You want to match your personality with your clothes.
Still unsure of how to read the personality of clothing? This is all explained in my
7 Steps to Style program
that goes into helping you develop your authentic style in an even more comprehensive way. Not only that, it also covers the physical elements of finding the clothes to flatter your body and colouring.
Find out more here.