Overdying clothes into colours that flatter you can be a great way to "save" a garment that is a great shape and style, but the colour just isn't right for you. You can change a colour completely, or just tweak it slightly to a more flattering shade for you.
If you've been thinking about tackling something like this, read on to discover the colours to use and the results you can expect.
How to Overdye Difficult Colours
By Ms MakeitOver Bernadette Lis
These are the experiment results catalogued for those who have "problem" colours which they are attempting to change by overdyeing.
I have used those colours which I get frequent questions about or those which have been notoriously difficult.
Slight changes or tweaking is covered in the following post:
The actual equipment and steps for dyeing with Procion are covered in this post.
Everything You Need to Know to Overdye Your Clothes at Home and Get a Brilliant Result
I have taken on some more difficult changes here.
(Please note that I tried to be professional and iron my samples flat but that ruined my photography efforts to show the colour as accurately as possible! Fabric is seen with light and shadows and I wanted to show the most accurate colour representation.)
How to Warm up Blues and Grey
I used a super strong Procion Lemon Yellow PR1 (primary) dyebath, at least four or five times the regular amount, for these two blues and a grey. (It looked as if I was putting the fabric into pure egg yolks!) The first blue is a NAVY BLUE which is dark and the second a ROYAL BLUE. The GREY is a medium shade.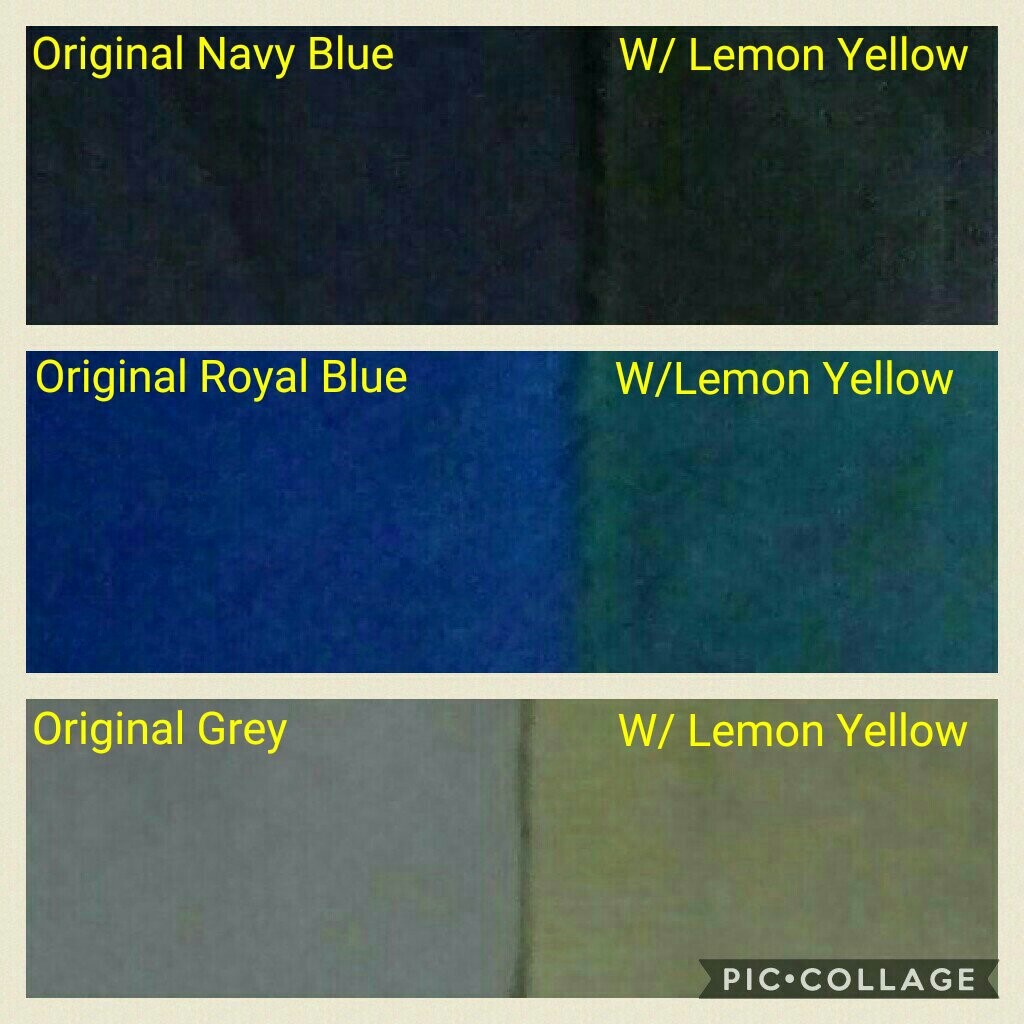 My conclusions:
Navy: This was a pretty dark navy which I got as the most "normal" and one which could look black in some lighting. I think if you just want to have a dark neutral which is warmer, that it gives just enough warmth for that purpose, having just a hint of being a warm marine navy instead of being a purely cool colour.
Royal Blue: The royal blue turned to a beautiful dark teal and I thought it a great result.
Grey: The grey turned to an olive colour so I suspect would do better with just a light wash of yellow if you were just trying to make a warm grey. What made this a difficult exercise was that the colours were, of course, darker when wet, so I was unable to see what they were doing as the colour was forming!
Tips:
If you are going to attempt to overdye navy blue, I would still avoid those which have any purple hints within the navy (a sign there is some red present) and the colour could turn muddy. I also suggest that you may need to go through the process twice since you can't judge the colour when the fabric is wet as it is so dark.
How to Cool Down Orange
Using a strong dyebath of Procion Fuchsia Red PR13 (primary), I tackled the orange colour. The orange was a bright one, so probably the most difficult one to attempt unless, of course, I used black or brown to dye it.
In the first picture, the dyebath was not strong enough to overcome the orange. It was a nice dark coral but still warm.
I added more of the dye and was happy to see a red colour emerge in the second picture.
In the third picture, I took the dyed red and hit it with a light touch (and just a touch) of Procion Blue-Grey PR38A to take the edge off the brightness of the colour.
The orange I selected was very bright! I imagine that most orange garments would not be as bright as the orange which I used and would be easier, especially if it was a lighter or more muted colour orange.
How to Tweak a Beige to Have a Warm or Cool Undertone
This experiment is really just for tweaking a beige to being cool or warm. I selected a beige colour original (one which I had difficulty judging in the store's lighting as being definitely warm or cool) as my best candidate for demonstration.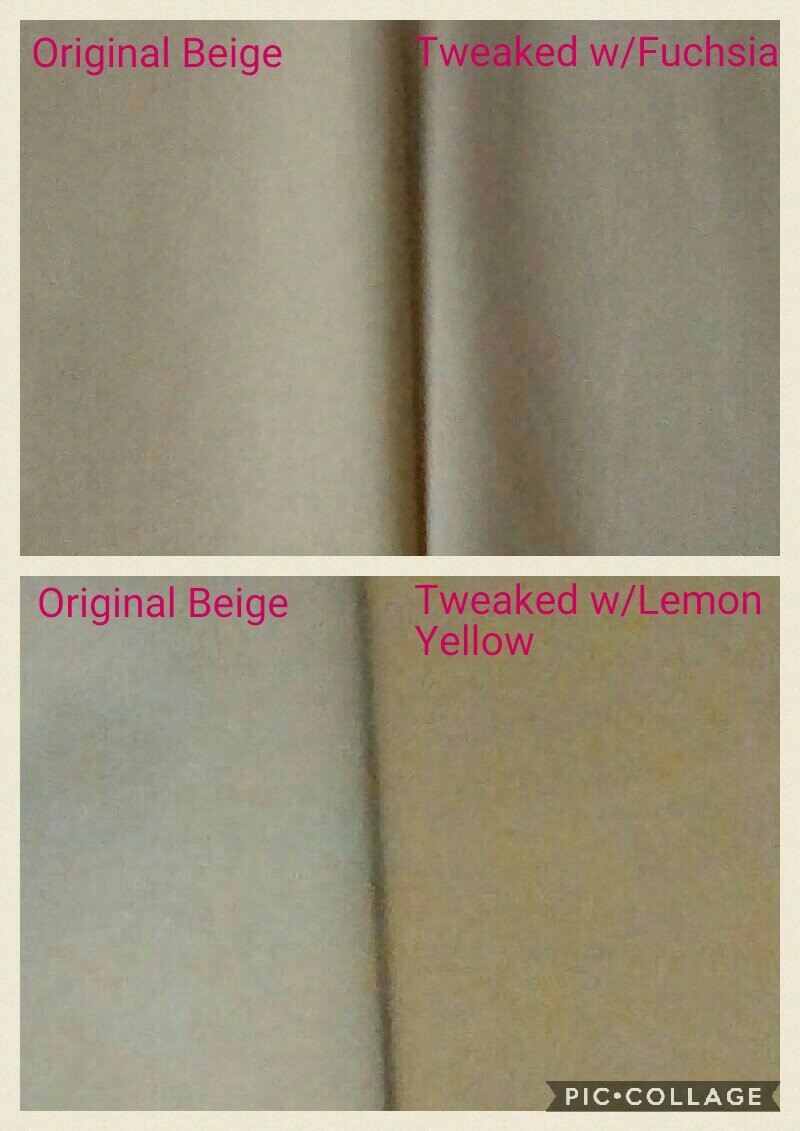 My conclusions:
I was very happy with both results. Both samples were successful and pretty as final colours. I do wish to add a caveat! Do not attempt any dyeing on water-resistant fabrics (such as a trenchcoat) since that special finish will not allow the fabric to accept dye properly!
*Please note that the originals are really the same. This was very difficult to photograph!
How to Warm Up White
Everyone seems to be looking for a "tea dyeing" alternative to dyeing white to an off-white colour!
The first image is Procion Ivory PR114 and the second is a small dash of Procion Camel PR101.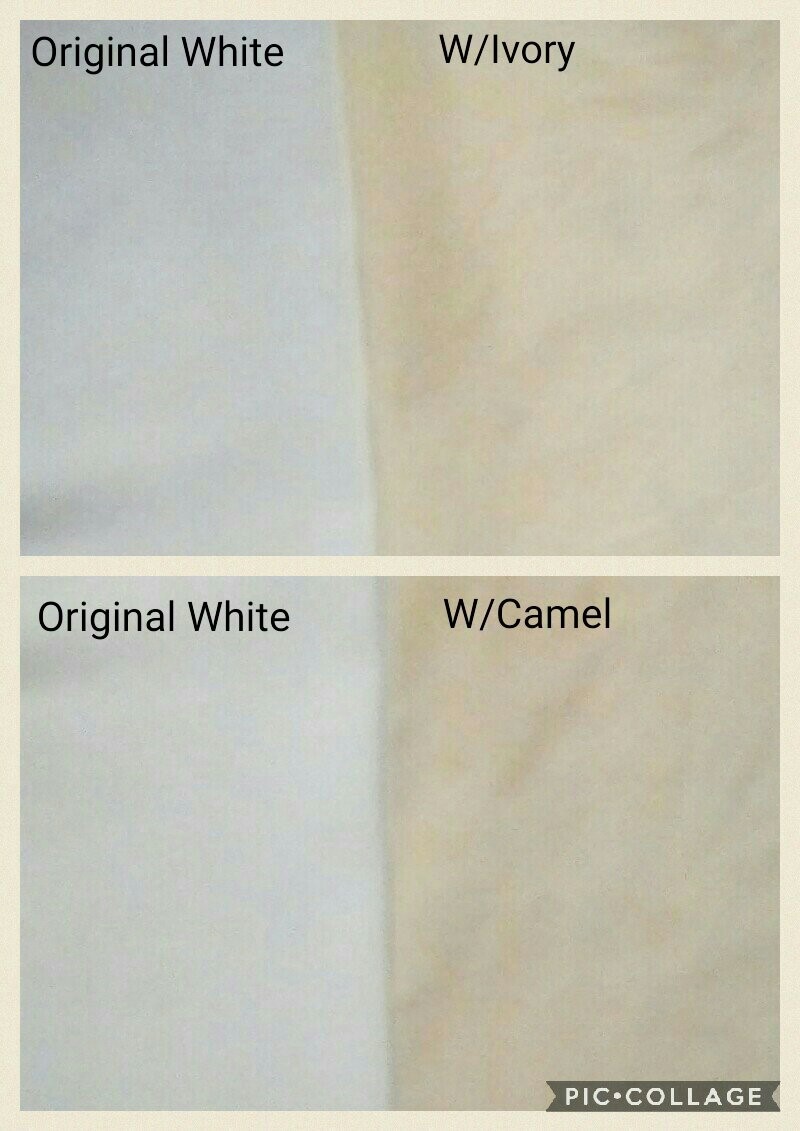 My conclusions:
The Ivory was pretty but more of a very light yellow or "almond" colour which you find in kitchen appliances. The Camel came out the best, looking like a natural unbleached cotton. I did not use the full amount recommended for either colour, using about a third of the Ivory recommendation and just a small amount for the Camel colour. I strongly advise experimenting on a sample for this because it will be a matter of personal taste!